Easy Donut Breakfast Burger Recipe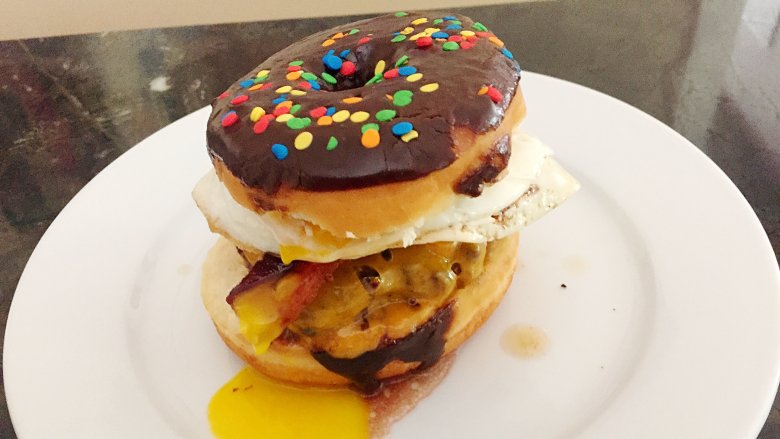 You've likely seen them all over your Instagram feed, that weird concoction of breakfast sandwich, donut, and sloppy cheeseburger. Behold, the donut breakfast burger, piled high with bacon and a freshly, drippy fried egg. This infinitely Instagram-worthy concoction is, to be quite honest, likely the least healthy sandwich to grace the brunch menu of your favorite weekend place, but tastes pretty delightful. 
While it may seem as though a sugary-sweet donut with a thick layer of chocolate icing and dotted with a decorative flourish of multi-colored sprinkles can't possibly taste good when paired with a savory, seasoned burger, sharp cheddar cheese, salty bacon, and a fried egg, somehow, it actually kind of works.
Contrary to what you might believe, you don't need to hit your favorite brunch spot to indulge (and I mean indulge) in this over-the-top breakfast burger. You can make it in your own kitchen without too much trouble. Fire up that frying pan and stun your friends and family with your culinary prowess. Here's what you need to do to have your very own donut breakfast burger on the table in less time than the wait for a table at Saturday morning brunch.
Pick the right ingredients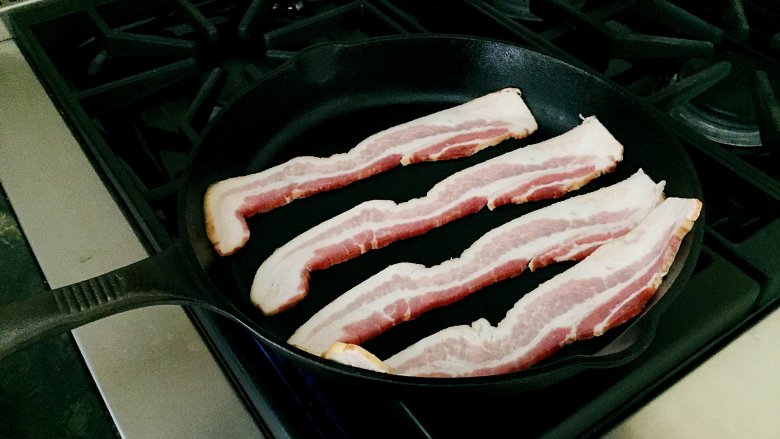 Pick an iced, yeasted donut when searching for the perfect donut. One that's circular with a hole in the center is ideal, but you can cut or shape your burger to fit the donut you'd like to use. Cake donuts are less like bread than the yeasted version, which means they can fall apart more easily, so it's likely not the best choice for a project like this one. 
For your bacon, choose something sliced thickly, so it will hold up to the sandwich rather than immediately crumbling into bacon bits as you try to build your sandwich. A sharp cheddar cheese makes its presence known without overwhelming all the other flavors you've got going on. That being said, you can absolutely mix and match: using your favorite bacon, a donut with vanilla icing rather than chocolate, or another cheese that you prefer to sharp cheddar. Make it your own.
Here's what you need to get started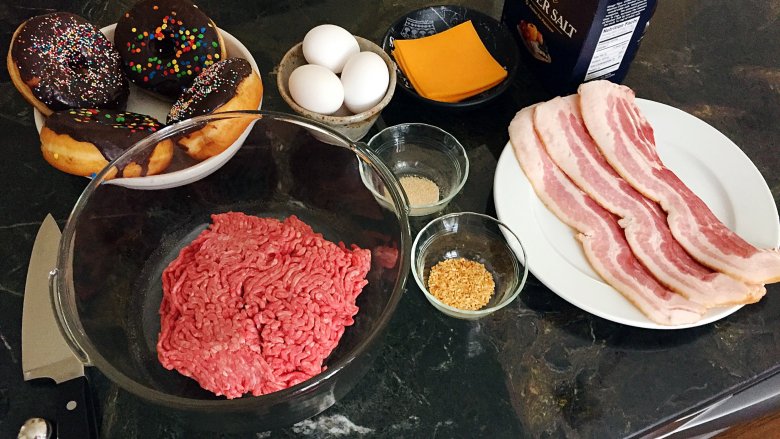 This sandwich features, of course, an iced, yeasted donut as the bun or bread, so you'll need a few of those — depending on how many sandwiches you plan on making. Depending on the size of burger you'd like to make, you need a pound or more of ground beef (though you can make the burger with pork to make it more breakfast-y, or ground turkey or chicken if that is what you prefer), as well as salt and pepper, garlic powder, and minced onion with which to season the meat. You also need bacon or some other breakfast meat product, enough for four sandwiches. You need cheese — one slice per sandwich should be plenty. Finally, you'll need four large eggs, or one for each breakfast sandwich.
Cook the bacon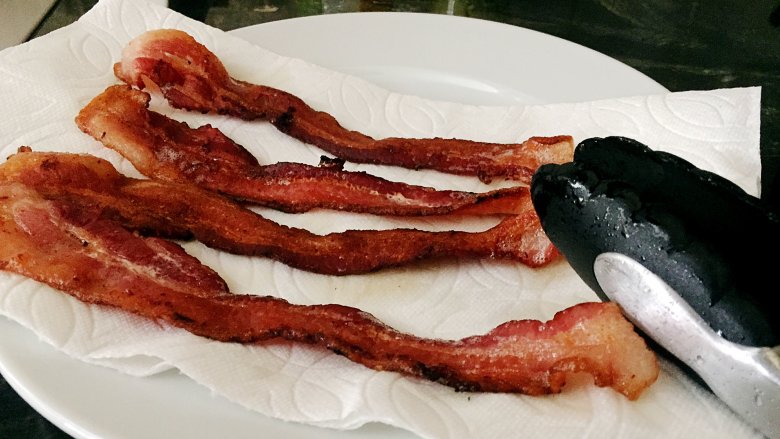 Place the bacon in a heavy metal pan, such as one of a cast iron variety. Then turn on the heat and cook the bacon slices over medium heat until they're cooked through and crispy. When they crisp up, start to shrink a bit, and the fat starts to bubble up, flip each slice over and continue to cook until they've reached the desired level of crispiness and are deeply browned all over. Once the bacon is cooked through, take each slice out of the pan and place on a plate lined with a paper towel to soak up some of the excess grease. Make sure you don't eat the bacon before it's time to make the sandwiches — easier said than done, I know!
Make the burgers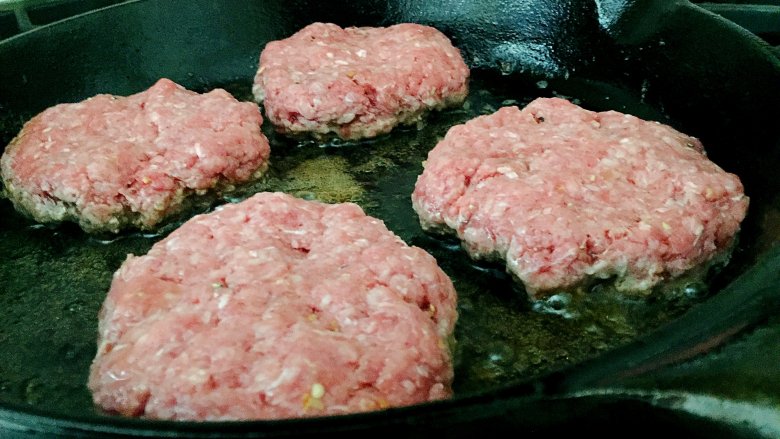 If you haven't already, put your one pound or more of ground meat in a bowl. Add the requisite seasonings needed to make your burger patties taste good — this is all about your tastes. Mix it all up well to evenly distribute everything and make sure the flavor is uniform throughout. Divide the meat into four (or more, if you'd like) portions and form into patties. Leave them in the bowl or set them on a plate until the bacon's out of the pan and you're ready to cook them.
Cook the burgers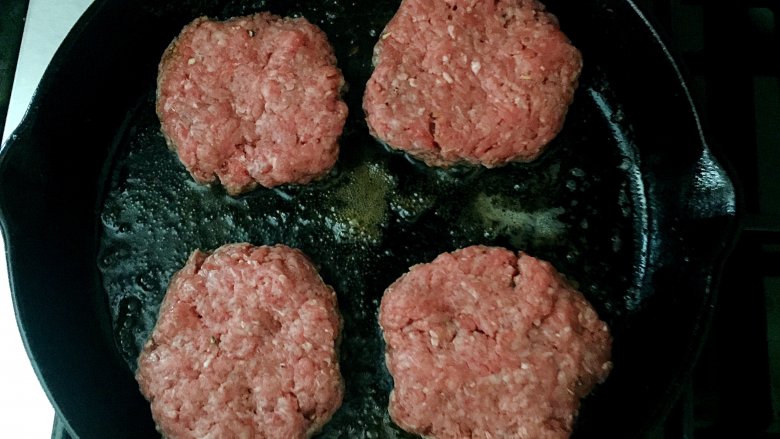 Cooking time depends on how done you want the burgers to be at the end, but a couple of minutes on each side should be just the ticket. Make sure you drain most (if not all) of the bacon grease from the pan before adding the burger patties — but don't throw away the grease just yet. Cook the burgers a little bit on one side (you can watch how fast it's cooking by watching the color change up the side of the patty). Flip and cook a little bit more. You're getting closer to your sandwich, hang in there.
Melt the cheese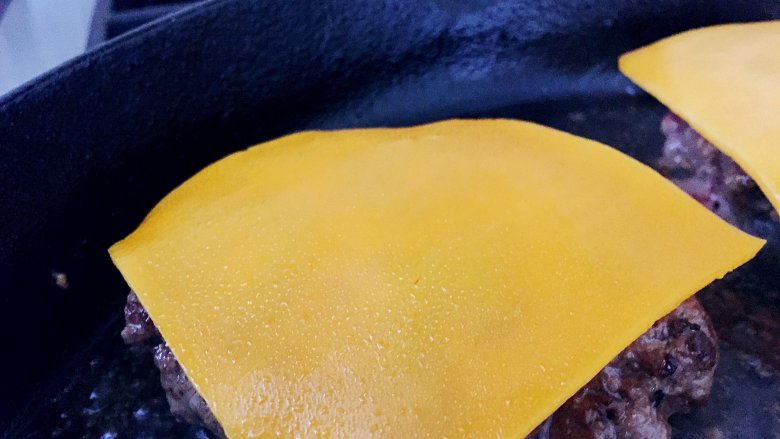 After you've flipped your burger, place a slice of cheese on each patty to melt it. Put a big lid over the pan to facilitate the melting process and make a little bit of a gooey mess (it's more delicious that way). Make sure the cheese gets nice and melty, but don't overcook your burger accidentally.
Fry the eggs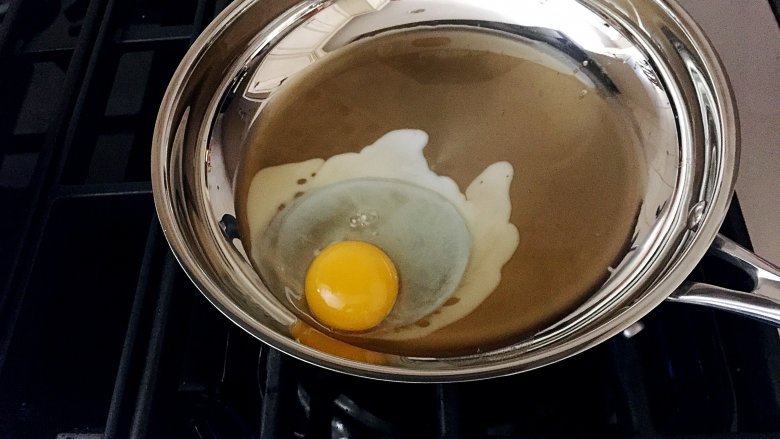 Take another pan out of the cabinet and pour a bit of the reserved bacon grease into it. Heat the pan (and grease) over medium-low heat until hot. Gently crack four eggs on the counter top and put them in the pan. Season with a little bit of pepper if you like — you won't need any more salt than what'll already be in the finished sandwich. Let the eggs fry for a few minutes until the whites are cooked through, but the yolks are still runny. Use a very thin spatula and gently take them out of the pan because you're ready to put it all together.
Time to assemble!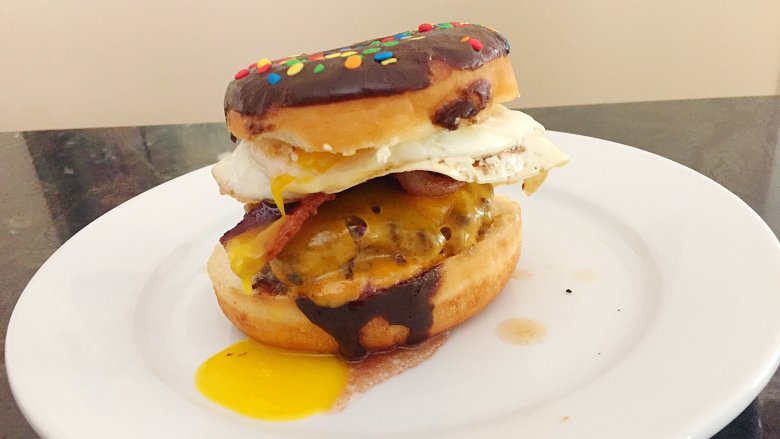 Cut each donut in half with a serrated knife, such as a bread knife. Each yeasted donut will have a handy little marker that tells you where to cut. Cutting along that line will help you make sure you have two even pieces when all is said and done. 
Place the bottom half of the donut on a plate. Put one of the cheeseburger patties on top of that, then top with two slices of bacon that have been broken in half, and a fried egg. You'll need to work quickly to make sure everything is still hot, melty, and runny when you bite into it. Place the top half of the donut gingerly on the top (or press down to break the egg yolk, if that's your thing) and now you're ready to take an Instagram shot and then a bite or two. In that order, of course.
Easy Donut Breakfast Burger Recipe
Contrary to what you might think, you don't need to hit your favorite brunch spot to indulge in this over-the-top breakfast burger. Make it yourself in no time.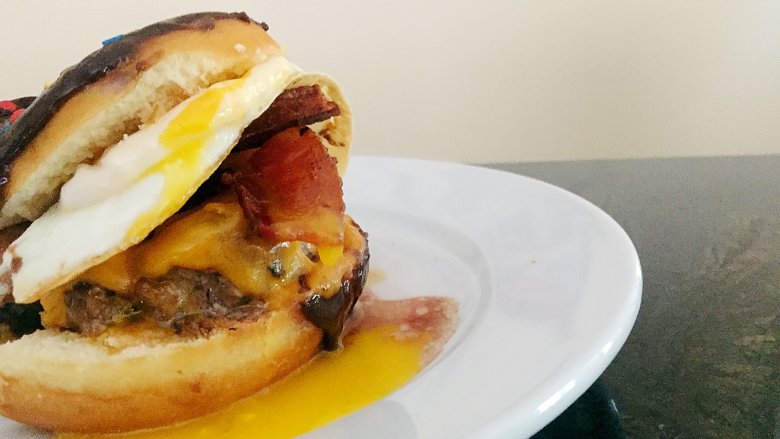 Ingredients
1 pound of ground beef (I used 80 percent lean)
Pinch of garlic powder
1 teaspoon dried minced onion, or 3 teaspoons fresh
Salt and pepper to taste
4-8 slices of bacon
4 large eggs
4 slices of extra sharp cheddar cheese
4 donuts
Directions
Cook the bacon in a heavy-duty frying pan, over medium heat until it's golden brown all over and quite crispy. If need be, divide the bacon into two batches so it you don't crowd the slices in the pan.
Put the ground meat in a bowl and add the garlic powder, onion, salt, and pepper and mix well to combine. Divide the meat into four patties.
Drain the bacon grease from the pan and set it aside.
Add the burger patties to the pan and cook them to desired doneness. Three to five minutes each side should be good.
Top each burger with a slice of cheese and cover with a pan to melt.
Add a small amount of reserved bacon grease to a new, small frying pan and heat over medium heat until hot.
Crack an egg on the counter and break into the frying pan. Add a little bit of freshly cracked black pepper, if you'd like. Cook until the whites are cooked through, but the yolk is still runny. This should happen relatively quickly, so be ready.
Cut each donut in half to form the bun.
Put a burger on each of the bottom halves of the donuts. Top with one to two slices of bacon per sandwich. Use a very thin spatula (metal spatulas work well for this) to gingerly remove each egg from the frying pan and place on top of the bacon. Finish with the top half of the donut. Press the top of the donut down to break the yolk. You're ready to Instagram and eat.
Nutrition
| | |
| --- | --- |
| Calories per Serving | 1,000 |
| Total Fat | 72.7 g |
| Saturated Fat | 29.1 g |
| Trans Fat | 2.1 g |
| Cholesterol | 348.2 mg |
| | |
| --- | --- |
| Total Carbohydrates | 41.0 g |
| Dietary Fiber | 2.0 g |
| Total Sugars | 19.2 g |
| Sodium | 871.4 mg |
| Protein | 43.1 g |