Alex Guarnaschelli's Chef-Filled Post Is All About Female Empowerment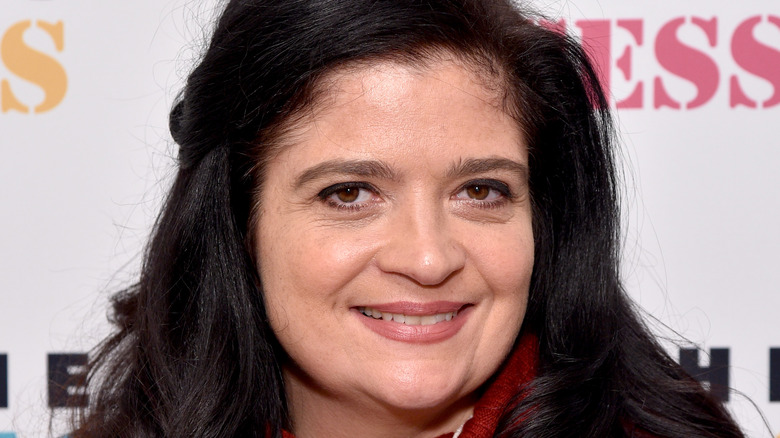 Bryan Bedder/Getty Images
Chef, restaurateur, and television personality Alex Guarnaschelli has an Instagram page that's jam-packed with all kinds of mouthwatering culinary delights, from shots of tempting treats she eats while out on the town to short video clips giving her nearly 1 million followers some helpful cooking tips. Guarnaschelli also often gives her audience a glimpse at the TV projects she's working on, as was the case in a recent share. However, she didn't spill the details of what she was filming — instead, she shared a snap of two of the other talents involved.
The photo Guarnaschelli posted featured fellow Food Network star Giada De Laurentiis side by side with Dominique Crenn, the talent behind the three-Michelin-starred restaurant Atelier Crenn. In the cute image, De Laurentiis was flashing her signature megawatt grin while gazing at something in the distance, and Crenn made a silly face for the camera as she cozied up to her co-star. Guarnaschelli made sure to show the two chefs some love by tagging them (and Food Network) in the image and writing, "Working with these two is too much fun. Makes me happy when women truly lift eachother up!!!" Women supporting women is indeed something that Guarnaschelli seems to be passionate about; as the New York Post reported, she and De Laurentiis were two of the female chefs tapped for a 2018 event geared toward fighting sexism in the restaurant industry.
What fans had to say about Guarnaschelli's pro-women post
Within just a few hours of Guarnaschelli's Instagram post going live, it racked up nearly 7,000 likes and dozens of comments from fans who were all about the female empowerment conveyed in the caption. "Totally agree! Women should always lift each other up!" one Instagram user wrote in the comments section. "So much talent in one area. Love this," another added. Many fans spotted the geotag, noticing that the chefs were shooting in Healdsburg, California, and either raved about the community or gave their recommendations for spots that the trio should visit.
While Guarnaschelli is never one to shy away from praising her co-stars or collaborators on her various projects, empowering female chefs has long been a cause near and dear to her heart. Well over a decade ago in a 2007 interview with Star Chefs, she discussed the history of female chefs in the restaurant industry and said, "There are a lot more of us now and we are growing in numbers! I would like the idea of a woman chef to vanish, actually, and for everyone to be thought of as the same. We are all cooks. We all love what we do." Fans will have to stay tuned to see if Guarnaschelli opts to share any more on-set photos with her fellow female culinary powerhouses by her side.