11 Holiday Cookie Kits, Ranked From Worst To Best
Fusionstudio/Shutterstock
We may receive a commission on purchases made from links.
The holidays can be a busy time, of course, but that doesn't mean you won't want to slow down and do something fun with family and friends to relax. One of the best ways to do that? Getting in the kitchen and whipping up a sweet treat to share. While you can always make cookies and other goodies from scratch, you may not have time to do absolutely everything yourself. That's why we're such a big fan of holiday cookie kits. They can help you get into the spirit of the season, and they take a lot less work than mixing everything up yourself.
These days, there are tons of different cookie kits to choose from, so whether you want to make a classic gingerbread house and gingerbread people or you want to go with something a little different (like decorating cookie shot glasses — seriously), you'll have options at your disposal. We've decided to take a look at some of the most popular holiday cookie kits on the market and rank them. We've started with the ones that we didn't love so much, and then we worked our way to the best of the best. Ready to take a closer look? Happy baking!
Crafty Cooking Kits Kellogg's Rice Krispie Treats Holiday Train Kit
Now, if you love Rice Krispie treats, then the Crafty Cooking Kits Kellogg's Rice Krispie Treats Holiday Train Kit may sound like it's right up your alley. And in fact, it may be ... if you like a messy, overly sweet dessert that you'll get tired of after two bites. First of all, the food itself is just not that good. These treats are really, really sweet — in fact, we thought they tasted sweeter than the Rice Krispie Treats you get pre-packaged. When you add all that candy and icing on top, it gets even more sickly sweet. Little ones may like this stuff, but most adults will turn up their nose at it.
But the worst part? You're not going to be getting that much bang for your buck when you go with this kit. You can only make a few Rice Krispie treats from what's contained in the box. Sure, the fact that it all comes packaged together makes it convenient, but you could do the same project for way, way cheaper if you were to just buy all the ingredients yourself.
While this kit may sound like fun if you want to do something different than your average cookie kit, it's not something we would waste our money on.
Great American Cookies Winter Holiday Take and Decorate Cookie Kit
If you've always been a fan of Great American Cookies, you might want to give their Winter Holiday Take and Decorate Cookie Kit a try. One thing is for sure: The cookies are going to taste good. But is this really a holiday cookie kit worth buying? We don't think so. First of all, the price is a little over the top for what you're getting. Order half a dozen cookies, and you'll pay $19.99 Order a dozen, and you're looking at $31.99. Doesn't sound like a very good deal, does it? You could easily do a similar project yourself for much cheaper.
Plus, you're not going to be designing a gingerbread house here. Instead, you just get chocolate chip cookies that have been cut into the shapes of houses and gingerbread people. That makes for a pretty boring cooking-decorating experience, if you ask us. Plus, these cookies are already so sweet on their own that adding the colorful frosting that comes in the kit makes these cookies nearly inedible if you don't crave super-sweet treats. While we love Great American Cookies, this is definitely not our go-to holiday cookie kit for the season.
Hasbro Candyland Gingerbread House Kit
Wondering what we do like about the Hasbro Candyland Gingerbread House Kit? Well, we love the sense of nostalgia it evokes, and we love that it's so much fun for kids. But when you open this kit up and actually start making the cookies, you're going to realize that this is not the cookie situation you want to be in. While the design of this gingerbread house is super-cute and colorful, the main issue we're having is the fact that everything falls apart so easily. Seriously — the cookie pieces seem to crumble into dust almost immediately, and the colorful candy isn't much better. This is bound to be a serious mood-killer if you're trying to have fun with your family.
In fact, plenty of Amazon reviewers took to the site to discuss how unhappy they were with the product. One writes, "There were six pieces of gingerbread in the kit. Now I realize there is a chance there could be cracks, etc. BUT five of them were shattered and broken. So very disappointing. I thought maybe I could try and put together, after all icing is glue. Not gonna happen, too many pieces." Another notes, "Very sad and a waste of money, not to mention the children were so heartbroken​ over this family time craft."
Yikes. If you don't want your little ones to be disappointed, you may want to forget about this kit entirely.
Wondershop at Target Holiday Barn Gingerbread House Kit
Have you heard? Target is out with a whole line of gingerbread house kits this year, and we have to admit, most of them are incredible. They have quirky, interesting designs, whether you choose something on the classic side or want to go for something more creative. One that we're not massive fans of, though, is the Wondershop at Target Holiday Barn Gingerbread House Kit. Let us make this clear: We don't dislike this option because of the quality of the kit. You'll get everything you need to make your gingerbread house, and all of it is pretty solid. So, wondering why this one ranks so low? It pretty much all comes down to the fact that the barn doesn't look that festive.
We love the cute farm theme that you'll get with this barn gingerbread house. But is it the right kit to help get you in the holiday spirit? Not really. Apart from a few holiday-themed touches, this basically just looks like a farm scene. In fact, it almost feels more appropriate for spring than it does for the holidays. This one won't be a huge disappointment, but we wouldn't choose it over most of the others in this list.
Hershey's Build Your Own Chocolate Cookie House Kit
Calling all chocolate lovers! Do we have the holiday cookie kit for you: The Hershey's Build Your Own Chocolate Cookie House Kit is filled with all of the chocolate-y goodness you've come to expect from Hershey over the years. We like this option because, let's be honest, how many people truly think gingerbread is the best kind of cookie out there? We definitely don't. And with this cookie kit, you're going to get chocolate cookies instead of gingerbread ones. These cookies aren't incredible, but they are a lot better than a lot of gingerbread house cookies out there, and for that, we're grateful.
It also comes with icing, candy, and tools to build your house. Don't worry, though — it's really easy to put together. If you have older kids, they should be able to construct it without a problem. This holiday cookie kit would be more interesting if the cookies tasted better, but we at least appreciate that Hershey is giving us a sweeter option. Just make sure you don't start eating the cookies before you put the house together — that may complicate things.
Oreo Holiday Chocolate Cookie House Kit
For all those who love Oreos, the Oreo Holiday Chocolate Cookie House Kit may seem like a fantastic idea. Truthfully, we do like it more than the Hershey's version. The cookies in this kit are also chocolate, but they're a lot richer than the kind you'll get in the Hershey's kit. In fact, these cookies actually do taste pretty good — so good, in fact, that you may have a hard time stopping yourself from taking a bite before you can fully construct the house. It also comes with Oreo icing, and cookies and candy to decorate your house with. The result is cute and colorful, and it actually tastes good, unlike some of the gingerbread varieties you may be used to.
So, if this kit has so much going for it, you may be wondering why it isn't higher on our list. Well, it all comes down to the fact that the cookie pieces break apart quite easily. Therefore, you don't really know if all of the pieces will be intact when you decide to purchase this kit. If that's a risk you're willing to take, you should try it out. If not, there are better kits out there for you.
Sensitive Sweets Gluten-Free and Vegan Gingerbread House Kit
For those with food allergies and dietary restrictions, finding diet-appropriate holiday favorites can sometimes be a struggle. But now, you can enjoy a gingerbread house just like everyone else with the Sensitive Sweets Gluten-Free and Vegan Gingerbread House Kit. It doesn't contain any gluten, soy, eggs, dairy, sesame, coconut, oats, peanuts, or tree nuts. Therefore, you won't have a problem enjoying this kit no matter what restrictions you have — and that's enough to make anyone feel jolly.
You can get this kit in two different sizes. If you're making this house on your own or you have a small family, you may want to stick to the basic size. However, if you want to go all out in your holiday food celebrations, you should opt for the deluxe size. It's huge, and you'll get everything you need right in the kit. We love that this is a more affordable option too, which we didn't expect from a specialty product. It doesn't taste the best out of the holiday cookie kits on this list, but it's definitely not bad.
Williams Sonoma DIY Gingerbread House Kit
If you're looking for something that's a little more upscale, then you're going to love the Williams Sonoma DIY Gingerbread House Kit. This one is on the expensive side, so you're definitely not going to get the most bang for your buck here. And considering how small it is, you may be a little disappointed when you first take it out of the box. Even with that caveat, though, we have to admit that this cute gingerbread house is what holiday dreams are made of.
That's because this gingerbread house really sticks to the classic look we all know and love. The tiny house isn't overly extravagant, but the decorations are. While a lot of the other kits on this list include more modern candy, this one still stays true to the gumdrops and the candy canes, and we can't get enough of it.
Plus, you'll love the fact that everything in this kit actually tastes really, really good. The cookies themselves are better than a lot of other types of gingerbread you'll try, and the frosting is on point as well. While the price tag may be a little steep, if you can swing it, this gingerbread house will make your kitchen look extra festive this holiday season.
The Dirty Cookie Winter Wonderland DIY Cookie Shot Decorating Kit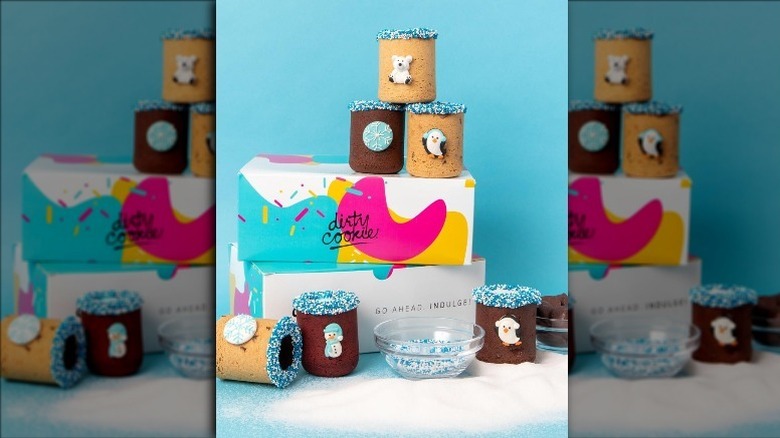 The Dirty Cookie
You can always keep things classic and just go for a gingerbread house like you always do. But what if you want to try something a little different this holiday season? Well, you're in luck with The Dirty Cookie's Winter Wonderland DIY Cookie Shot Decorating Kit. Yes, you read that right. Instead of decorating a gingerbread house, you're actually going to be decorating shot glasses ... made of cookies. It's a lot easier than putting together a gingerbread house, so if you happen to be a little bit tipsy while completing this project, it won't be a problem. You'll get different types of cookies to decorate, so everyone can choose the one that looks best to them. Then, you can choose from different frostings, sprinkles, and decorations to create the cookie vessel of your dreams.
Of course, these shot glasses don't do well with most types of liquor. You could add some Bailey's to the dessert if you really wanted to, but we think they're great with just a little bit of milk to soften the cookie and make it a bit more moist (plus, it's kid friendly too). Don't worry though — you can always enjoy your libations on the side.
Wondershop at Target Holiday Beach House Sugar Cookie Kit
We already discussed how we don't love the Wondershop at Target Holiday Barn Gingerbread House Kit, but that's not all that this brand offers. If you're looking for something a little bit different, you can't go wrong with the Wondershop at Target Holiday Beach House Sugar Cookie Kit. Just like the barn, this one feels a little random, but we actually like it that way in this case. It still feels really festive and fun, so you won't forget that you're ultimately celebrating the holidays. However, we love imagining that we're at the beach instead of pondering a white Christmas.
Even better, this cookie kit isn't made with gingerbread. Instead, you get to chow down on sugar cookies once you're done displaying it in your kitchen. Considering that sugar cookies have a wider appeal, it just makes sense that this one would be one of our favorites. If you're looking for a super fun and funky holiday project to take on with your family, this beach house sugar cookie kit should be at the top of your to-get list at Target.
Dylan's Candy Bar Gingerbread House Kit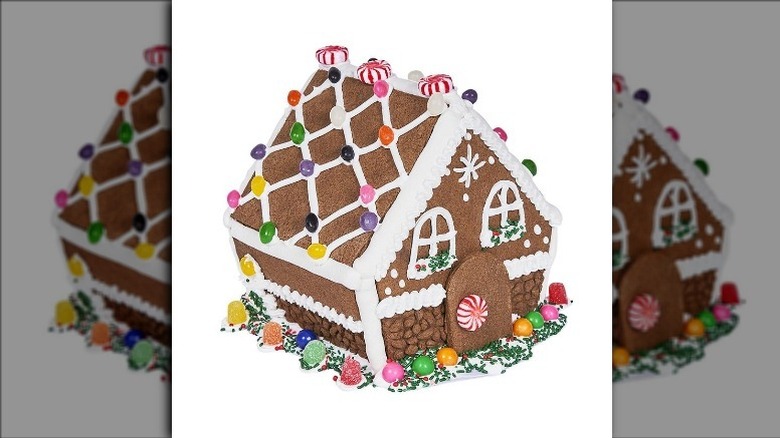 Dylan's Candy Bar
And finally, we've come to the best of the best: Dylan's Candy Bar Gingerbread House Kit. This one is our favorite option for so many reasons. First of all, everything that comes in this kit is delicious. That does mean that you'll have to restrain yourself when you're putting everything together, but it also means that you'll enjoy every bite of it when you're finally ready to eat it. Second of all, you don't have to spend an hour trying to get all the pieces of this gingerbread house to stick together because it already comes pre-assembled. That makes this project pretty much foolproof. And if your kids are doing the work, you can ensure they'll have a good time decorating without getting frustrated with building.
Most of all, though, we love the look of this classic gingerbread house. It has all the candy and frosting of our dreams, and you can really let your creativity go wild when you choose this option. So, what are you waiting for? Order it and get ready for some fun holiday celebrations in the kitchen.