Why Martha Stewart's Party Outfit Is Receiving Some Backlash Online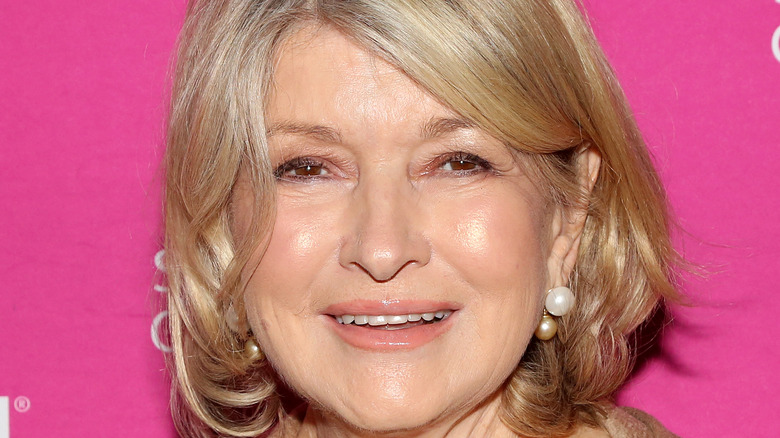 Bruce Glikas/Getty Images
Martha Stewart may be known for her chops in the kitchen and her multi-million-dollar lifestyle brand, but she's also no stranger to fashion. In fact, Martha Stewart started her career as a model. Stewart has had her own fashion lines over the years, featuring everything from shoes, to short-sleeved puff jackets (via Martha.com), but after posting a recent photo on Instagram, the star is facing backlash for her choice of outfit.
In the photo, posted on December 9, Stewart is standing next to public relations executive Susan Magrino Dunning, whose birthday they were apparently celebrating. She wrote, in part: "I made a faux pas and dressed in white. Susan, who is famous for her incredible 'emerging from the door' fashion statements every day was gloriously attired in a fitted sequin long dress. I wore @silviatcherassi sequin pants and a new satin blouse with pearl decoration. The little shawl is a vintage piece I found in a thrift shop years ago. Blouse by @andrewgn_designer."
Both were dressed to the nines in shades of winter white. But it was Stewart's shawl that had fans fuming. 
Fans were not happy with Martha's 'fur' wrap
Instagram commenters were quick to notice what looked like a fur wrap draped around Stewart's shoulders, and many of them weren't pleased. "Don't promote wearing fur! Geez, Martha!" exclaimed one fan.
"The faux pas was wearing a fur," another wrote. "You are an animal lover. Don't excuse yourself by saying it came from a thrift store." 
Others just seemed to think the accessory looked silly. "Martha, you have a squirrel stuck to your shirt," one commented.
However, fans might not have as much cause for concern as they think. In 2005, Stewart actually became a PETA spokesperson, after corresponding with PETA Senior Vice President Dan Mathews while she was in prison (via Today). Stewart said in a video for the organization, "I used to wear real fur, but, like many others, I had a change of heart when I learned what actually happens to the animals." Apparently, it was Stewart's daughter, Alexis, who motivated her to stop wearing fur all those years ago, and Mathews encouraged her to speak out. 
Now, we can't confirm or deny if Stewart's stole in the recent Instagram photo was real or fake, but considering that she's spoken out against wearing real fur in the past, it seems plausible that her accessory was just a fashionable faux fur item, and her concerned fans can breathe a sigh of relief.