One-Dish Meals That Will Change The Way You Camp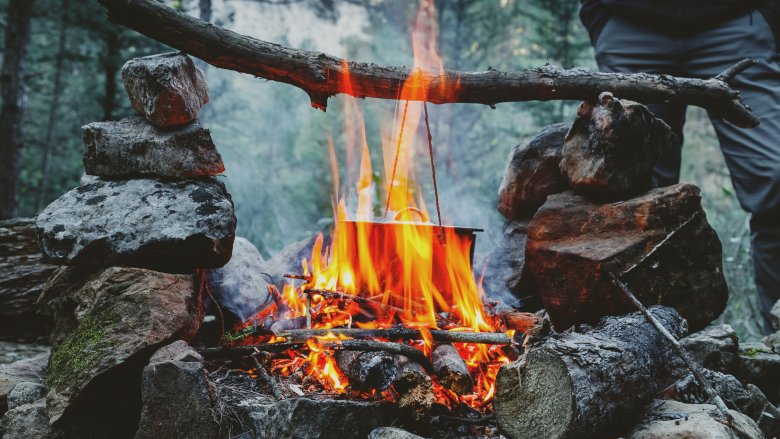 Shutterstock
Camping means a lot of different things for a lot of different people, but whether you're the type that roughs it in a tent or brings along a fully-stocked camper van, there's a good chance your camping trip is defined by your food. It's what brings everyone around the campfire in the evening no matter what activities the family has planned for the day, and there's no reason you need to settle for old standbys like hamburgers and hot dogs. There's nothing wrong with those, of ocurse, but let's talk about some one-pot meals that are going to leave any camper looking for seconds.
Dutch oven lasagna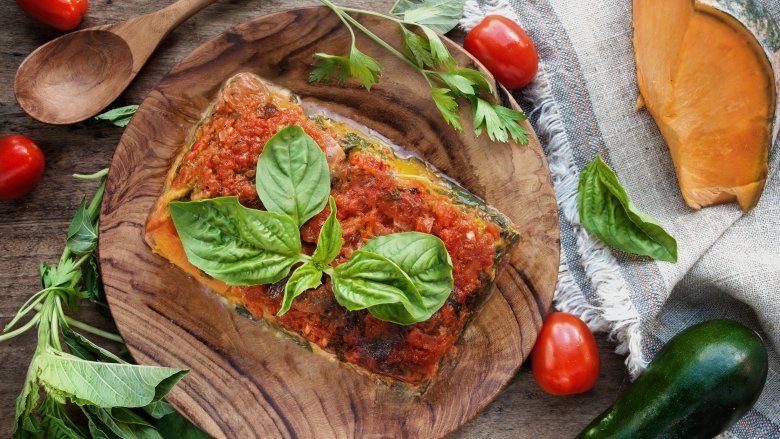 Shutterstock
When it comes to revolutionizing the way you cook around the campfire, a good Dutch oven is a must. If you've never used one before, this recipe for a Dutch oven lasagna from Camping Cafe is a great place to start. After using it to brown your ground beef, you simply transfer your meat to another bowl and mix in sauce. Mix your cheeses and spices, then use your Dutch oven just like you'd use your lasagna pan at home. Layer in noodles, meat, and cheese, add in any other favorite ingredients that have become tradition in your house, and put the oven in the campfire. It should take about an hour to cook, but that depends on your fire, and you'll need to check it often.
Blueberry banana pancakes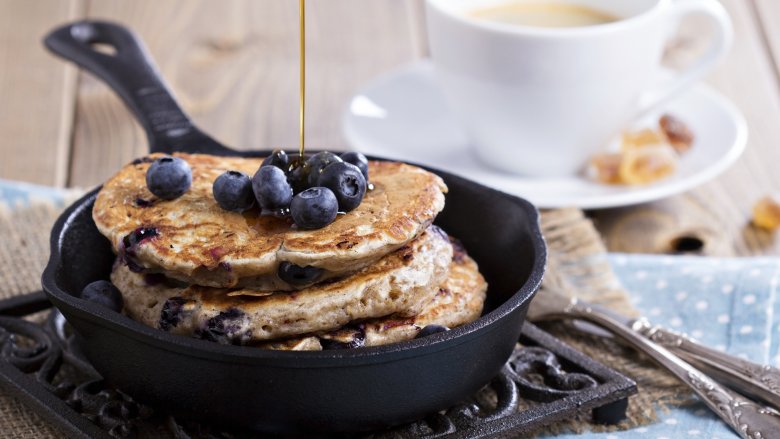 Shutterstock
Just because you're camping, that's no excuse to resign yourself to a breakfast of store-bought muffins or protein bars. Fresh pancakes might seem like unlikely camping food, but Fresh Off the Grid has perfected their recipe for blueberry banana pancakes, and they've discovered some tricks along the way. Just a few ingredient swaps make this camper-friendly, and they promise the combination of banana and berry is something you won't soon forget. 
Make-ahead lentil chili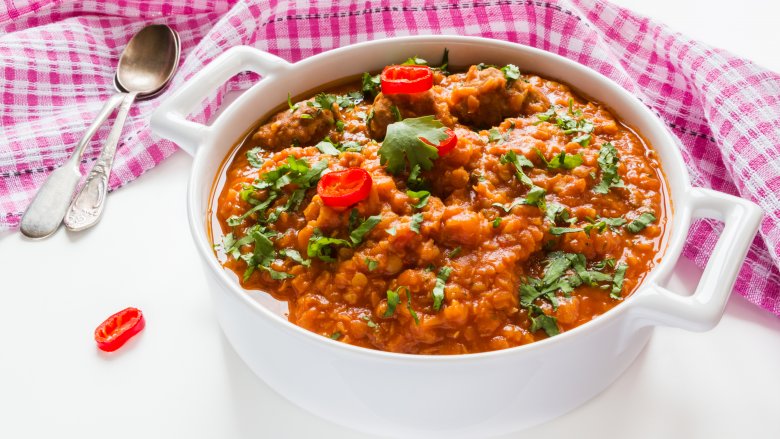 Shutterstock
Even the most enthusiastic campers probably don't like the whole process of setting up a campsite and then breaking it down again. While that's probably your least favorite part of camping, you can make it a little bit better by the promise of a hearty chili that's finishing off over the campfire while you're busy elsewhere. Today's Parent has a healthy, vegetarian recipe for lentil chili that's nothing short of perfect for your first evening camping.
The great thing about this recipe is that it's perfect for prepping ahead. Put it together in your kitchen, and cook this vegetarian chili until your potatoes are just starting to get tender. Cool, chill, and stash it in your cooler for when you get to your site. Once you get your campfire started, all you need to do is pour this into a pot and let it cook away while you're setting up tents and getting yourself settled in. By the time you're done, it'll be piping hot, your potatoes will have finished cooking, and the beans and lentils will be absolutely perfect for a hot meal with minimal on-site work.
Pizza pull apart bread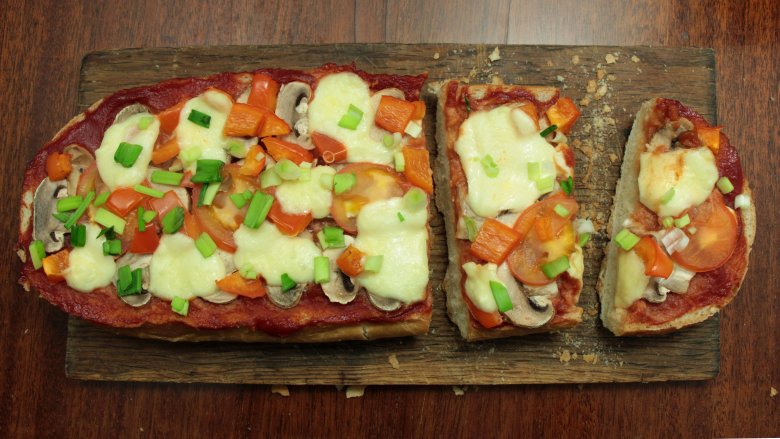 Shutterstock
Whether you need a snack or a side-dish, you have to try this amazing pull-apart bread from Cafe Delites. In this case, the one dish you'll need is simply some tin foil — and when you're camping, that's the kind of clean-up everyone likes. Just take a loaf of your favorite bread, slice across the top in two different directions to make diamond-shaped wedges, and fill those wedges with whatever toppings you have on-hand. Depending on what else you have planned for meals, this can be a great way to use up leftover sauces, cheese, and meat, and you're can't go wrong with having traditional pizza toppings on standby for this one. Wrap it up, let it cook over the fire until the inside is hot and melty, and since everyone is going to be digging in with their hands, there won't even be any utensils for you to clean up. Win!
Orange blueberry muffins and cinnamon rolls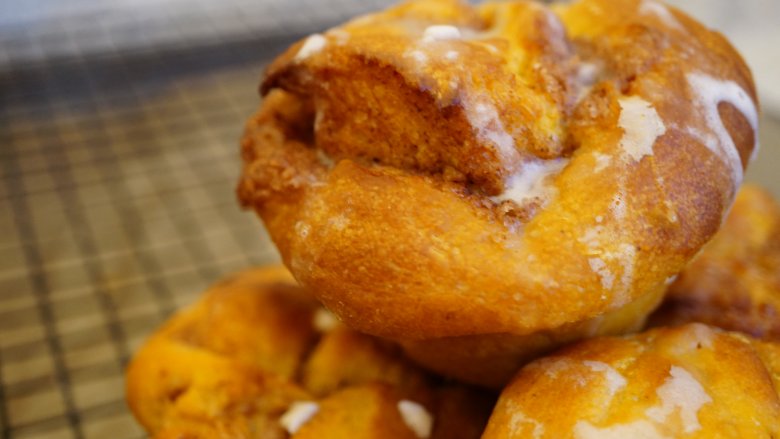 Shutterstock
This incredibly creative breakfast idea from Tasty Kitchen isn't just tasty, but it's fun, too. Start with a handful of oranges, cut them in half, and scoop out the middle to leave a bowl-like peel. Stir up a batch of blueberry muffins, spoon the mixture into the hollowed-out orange peels, and wrap with tin foil. They suggest just tossing them into the fire, but to make them a little easier to handle, you can definitely line them up in a skillet.
That's the suggestion that comes from Rugged Thug Life, who makes a version of these with cinnamon rolls instead of blueberry muffins. Not only do both cook up with a wonderful orange flavor, but everyone will be 100 percent impressed with your creativity.
Dutch oven avocado-baked eggs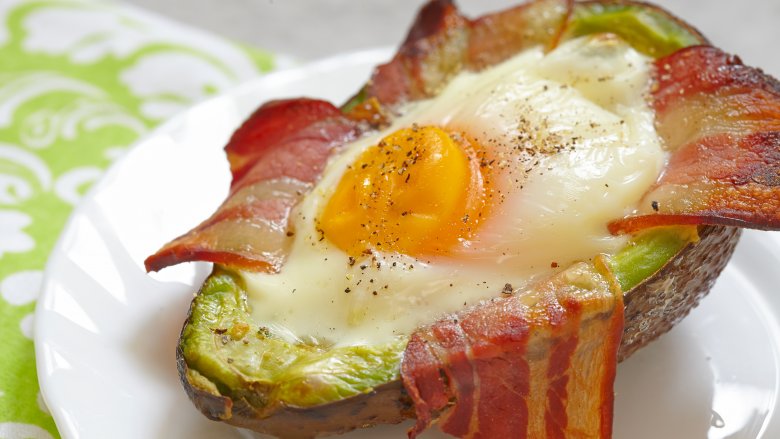 Shutterstock
This suggestion from Camping for Foodies is seriously amazing for those mornings when you just want something light before setting off on your day's adventures. This is one that's even doable before your morning coffee, and all you need to do is slice your avocados in half and twist out the seed while you're pre-heating your Dutch oven. Scoop out a bit more, crack an egg into the avocado bowl, and put them into the oven. Let them bake for around 15 minutes — or until the eggs are done just the way you like them — and you have a quick and easy breakfast that's just what you need before you head off on your day's adventures. Another bonus to this one is that not only are there only two ingredients (plus your seasonings), but it's one meal that's not going to take up much room in your cooler at all.
Shakshuka
Shutterstock
Shakshuka is a traditional dish from the Middle East, and if waking up to a hearty breakfast of a spicy tomato sauce and perfectly poached eggs sounds good to you, this is a must-try. Outdoor Appetite suggests prepping ingredients for their shakshuka ahead of time, but it's not necessary. (Since this one is heavy on the spices, you may want to make the spice mix ahead of time so you're only carrying one jar, even if you don't prep the rest.) 
It's a recipe that's easy enough even for first thing in the morning, and simply requires you to dump your ingredients into a skillet over the fire (or camp stove), simmer your sauce, then crack your eggs onto the top of the boiling liquid. Cover and let it sit until the eggs are done to your liking, and you have a hot, spicy breakfast that's perfect for the chilliest mornings.
Beef and ale stew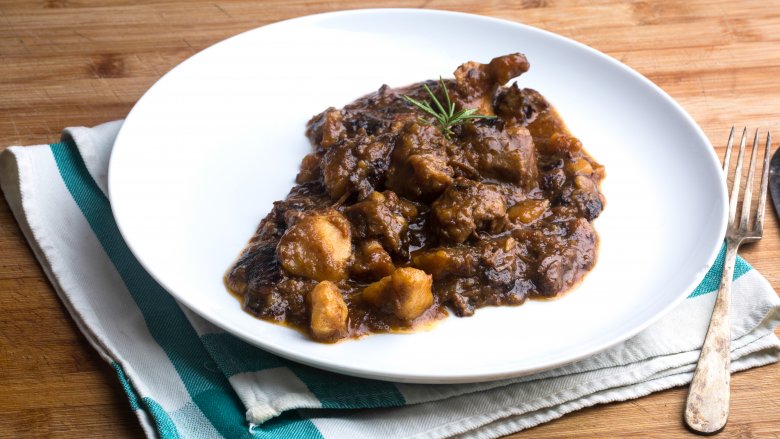 Shutterstock
Camping is about camaraderie, and catching up with family and friends. There's no better way to do that than sitting around the campfire, and let's be honest, no one wants to be the one that's stuck cooking, but everyone wants a great meal. That's where beef and ale stew comes in.
This recipe from The Telegraph is perfect for dumping into a pot, putting over the fire, and forgetting about until it's time to eat. Since you're using stewing steak, letting it simmer and bubble away isn't just possible, it's necessary to make the meat tender. Add some of your favorite ale — whatever you prefer — and some potatoes, and your cooking duties are done. There's no reason the cook shouldn't be able to relax around the fire, too, and this traditional British recipe was made for exactly that.
Jambalaya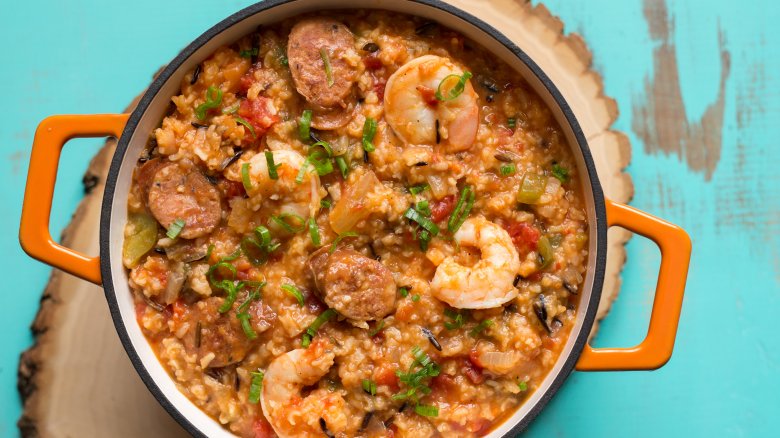 Shutterstock
If you're looking for something hot and hearty that's not only going to fill you up after a day of hiking, rafting, and kayaking but also something that's going to be burbling away over the fire and ready for whenever the group starts returning to the campsite, you can't go wrong with this jambalaya recipe from Great American Country. This dish can be prepped and piled into your Dutch oven while you're waiting for your fire to burn down to coals, and it can definitely be adjusted for your own tastes. Their recipe calls for sliced sausage, shrimp, Cajun seasoning, and diced veggies like celery, peppers, and tomatoes. Throw in some rice, add some chicken broth, and you'll have a hearty stew that's ready and waiting no matter when friends and family get back from their daily activities.
There' are plenty of variations you can make on this idea, like this one from Macheesmo. They use vegetable stock instead of chicken, add in extra sausage in lieu of the shrimp, and some more rice. Make it as hot and spicy as you like, jazz it up with some extra chili powder, and discover just how perfect a bowl of this goes with a nice cold beer from the cooler.
Chicken, apple, and sweet potato skillet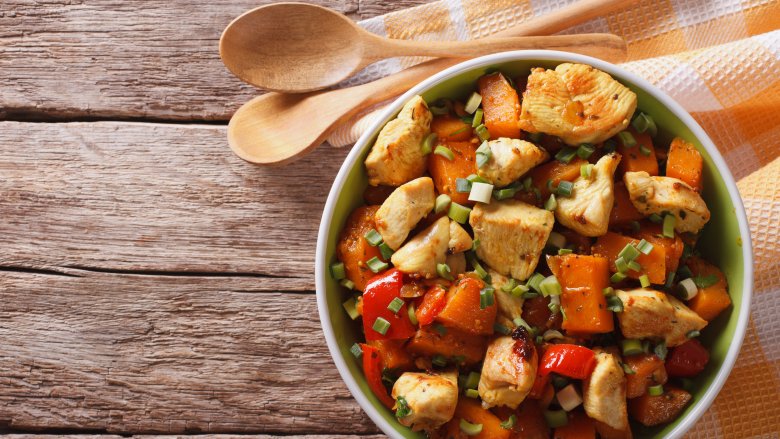 Shutterstock
How many times have you gotten back from a weekend camping only to realize you've eaten nothing but meat and packaged breakfasts in the last few days? By the time you get back to civilization, you could be feeling a little off, and there's no reason for that with this recipe from Well Plated.
You're going to cook the chicken through first, then render the bacon. Get rid of the bacon fat, then pile everything into the skillet. That includes most of your food groups, from the chicken and bacon to sweet potato, brussel sprouts, onion, and finally some apples to add an extra bit of sweetness. Not only is it incredibly easy and ready in a flash, but it's the perfect way to get all those healthy things that so many of our camping trips leave out. A fun weekend in the woods shouldn't come with a week-long recovery period, and this dish is one that's sure to help keep you feeling like yourself.
Bacon-wrapped trout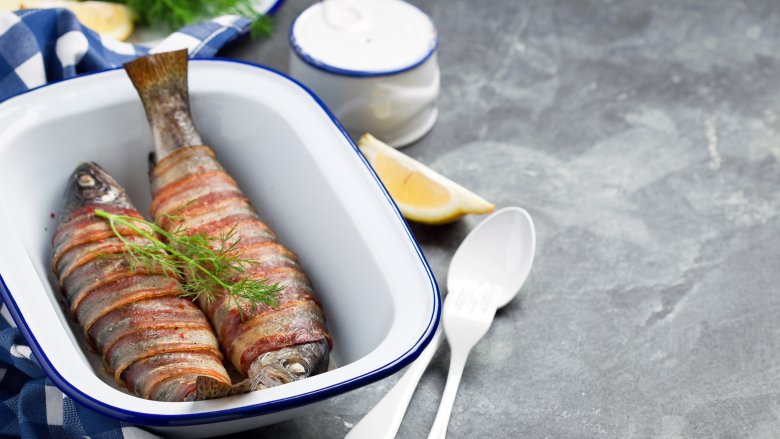 Shutterstock
Here's something a little different for you that will definitely appeal to any fan of classic literature. Anyone who's familiar with Ernest Hemingway knows he wasn't just one of America's most famous writers, but that he was a huge outdoorsman, too. He once wrote, "[...] the real woodsman is the man who can be really comfortable in the bush," so it's not surprising that his idea of comfort extended to a good meal. The literary food blog Paper and Salt has tracked down some of his recipes for turning any campsite into comfort, and they've updated his take on bacon-wrapped trout for the modern camper. According to Hemingway himself, the best way to keep trout from drying out over the open coals was to wrap it in bacon to let the the fat drip into the fish as it cook. It was so good that he wrote of it, "If there is anything better than that combination the writer has yet to taste it in a lifetime devoted largely and studiously to eating."
If that's not a glowing recommendation, nothing is. While Hemingway was undoubtedly fishing for his own dinner, no one's going to tell if you bring some fish with you. Have it cleaned and prepped, but go with Hemingway's suggestion to cook the bacon a bit first. Then, put the fish in the bacon grease, let magic happen, and eat like the greats.
Dutch oven nachos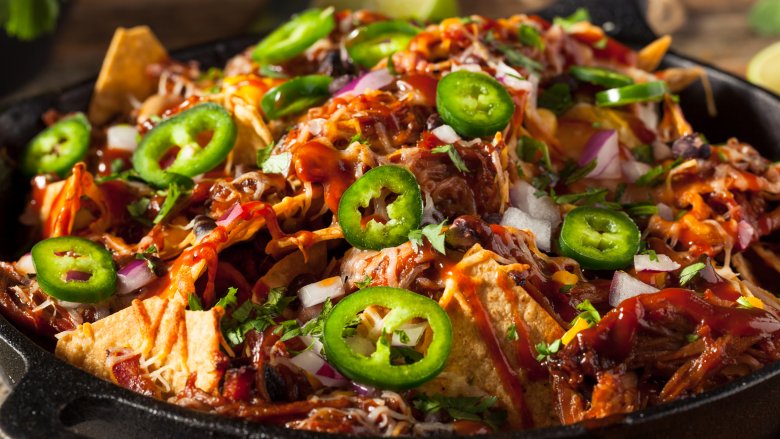 Shutterstock
Who doesn't love nachos? This is one incredibly versatile dish that's probably a favorite, and it's almost shockingly easy to make over a campfire. Camp Chef perfected a version that uses a Dutch oven and a pizza pan liner. The basics are easy: preheat your Dutch oven in the campfire, and use the pizza pan to start building your nacho plate. Add chips, meat, and layers of cheese and toppings, then put it in the preheated Dutch oven and your nachos will be done in around 15 minutes.
Building nachos while you're camping is just like building them at home. Use any kind of toppings you like, and there are definitely some tips that will make this one easier. Cans of beans aren't going to need to stay in the cooler, and neither are jars of salsa, olives, and jalapenos. If you're lucky enough to pass a fruit and veg stand on the way, pick up from fresh peppers, onions, and tomatoes to finish this one off right.
Campfire mushrooms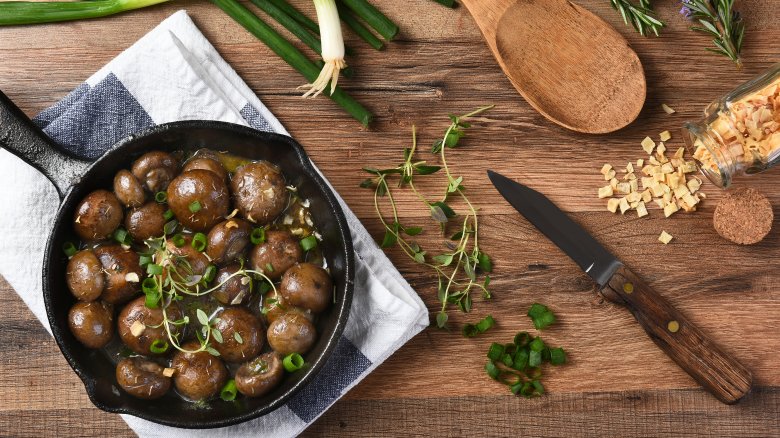 Shutterstock
This easy dish from The Mushroom Council and Chez Us can be an accompaniment to your meat of choice, but it's so hearty and delicious that it might be the perfect healthy dish to serve as your main course — given, of course, that your family is made up of mushroom lovers. With three different kinds of mushrooms — brown crimini, morels, and portabella — shallots, some fresh rosemary, and a dash of red wine, not only do you just need a skillet for this one, but it's easy enough to adjust the portions if you want to turn it into a completely vegetarian meal. It's only appropriate, after all, to enjoy some mushrooms perfectly cooked over an open fire while you're surrounded by nature's beauty. As an added bonus, it only takes about 15 minutes to prepare, so if you're looking for a quick and healthy treat before you turn in for the night, this one is next to no effort at all.
Dutch oven apple cobbler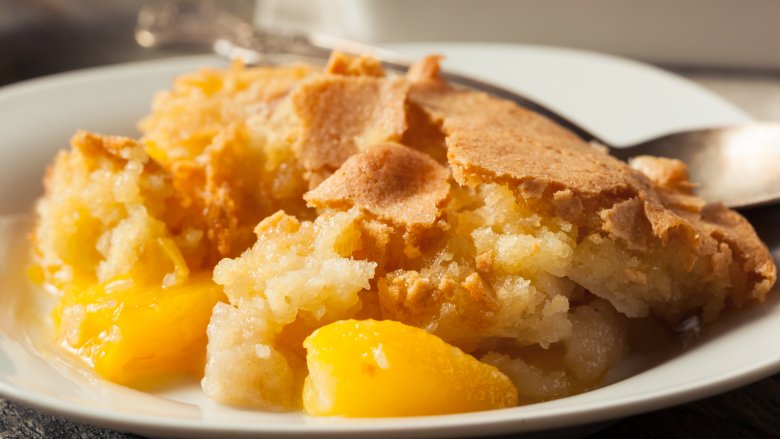 Shutterstock
While s'mores might be your go-to dessert while camping, you might add another option to your weekend plans once you try this recipe for Dutch oven apple cobbler from Trek Southwest. It calls for a box of vanilla cake mix, and while you might hesitate at that when you're at home, the rules are completely different when you're camping. You want things that don't need to be refrigerated, or that are going to keep in a cooler at the very least, and that makes this one — and its boxed cake mix — an absolute win. Line your Dutch oven with parchment paper for easy cleanup, then just pile in the apples, the cake mix, lemon-lime soda (really!), and butter, then let it cook away. It really is that easy, and you'll end up with plenty for everyone. Cut your apple slices thin to make sure they turn just the right texture, and if you happen to see some amazing fruit at a farmers' market on the way, this recipe can work just as well with pears, peaches, or a combination of them all.
Hot s'mores dip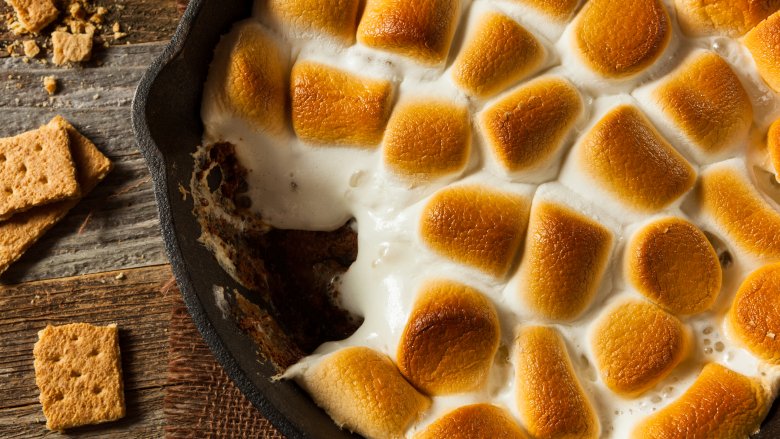 Shutterstock
The whole process of making s'mores is fun when you're a kid, but when all you really want to do is relax around the fire with a drink or few, it can be a complete hassle to make your nighttime snack one marshmallow at a time. That's no reason to go without, and Spend With Pennies has put together a way to make s'mores much more convenient.
Rather than mucking about with marshmallows and getting your hands all sticky, they just mix chocolate chips, milk, and marshmallows in a skillet and warm it until it melts. Add another layer of marshmallows on the top, and when you cover it and put it back on the fire you'll end up with that toasted crust that makes campfire marshmallows so incredibly amazing. Put it in the center of the table, hand out the graham crackers, and you have a s'mores dip that's every bit as delicious as the standard treat with a fraction of the time and mess. For an added twist, Dabbles & Babbles suggests adding a bit of Bailey's over your marshmallows for a treat the adults are going to love.