Hot Ones Has A New Kid-Friendly Offering. Here's What It Tastes Like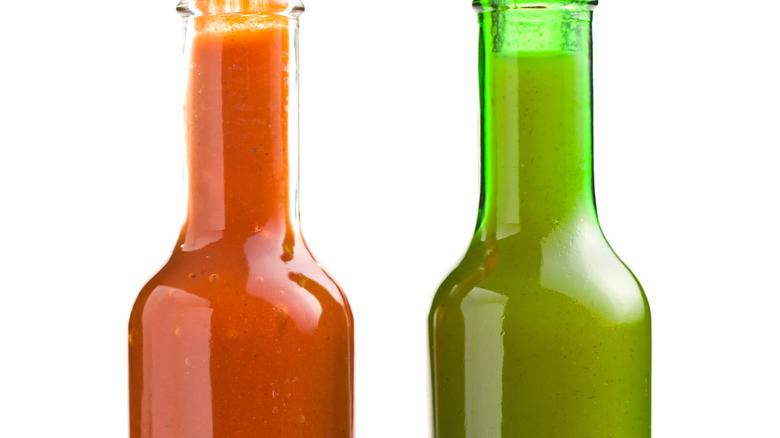 Jiri Hera/Shutterstock
Feeling spicy? Get your hands on some hot sauce. Hot sauce is one of those ultra-versatile condiments that go well with just about anything: chicken wings, tacos, pizza, pasta, scrambled eggs, sandwiches, you name it. Some people even put it on ice cream sundaes and swear by the seemingly bizarre juxtaposition. 
All in all, a dash of hot sauce can give virtually any dish an extra kick of bold, zesty richness. The intensity of hot sauces is quantified in Scoville Heat Units or SHUs, which is the official measurement of the pungency of chili peppers used in the recipes.
As it turns out, hot sauce isn't only for brave adults with mature taste buds and refined palates. Because now, even the little ones in your life can jazz up their meals with a "hot sauce" thanks to some of the most purveying culinary experts on Earth. That's right! Kids can now enjoy their very own bottle of hot sauce. So, step aside, ketchup — it's time to meet your newest dinner table rival.
The new hot sauce for kids makes food even more fun and flavorful
Hot Ones, the company behind the web series "Hot Ones" with Sean Evans, has launched a new product line called Hot Ones Jr. Its first offering, The Green, packs a kid-friendly flavor marketed as "a super mild celebration of warm jalapeño and tart green apple," according to Heatonist. "Formulated with the help of one of Sean Evans' favorite makers, Queen Majesty, and produced by fan favorite Heartbeat Hot Sauce, you can trust that this squeeze bottle hot sauce is one of the most unique we've ever delivered," the product description states.
Other wholesome ingredients in the new sauce include sweet onion, lime juice, baby spinach, banana, extra virgin olive oil, and fresh basil. The Green pairs well with chicken nuggets, pizza, grilled cheese, fries, and other noms that kids may want to (or have yet to) explore. It also comes in an easy-to-squeeze bottle for a mess-free experience. The label even includes an illustrated anthropomorphic pepper and apple jumping rope. Can't get much cuter than that, really.
The goal of The Green is to help even the pickiest eaters expand their palates and have some fun dipping, dunking, and devouring. And of course, even grown adults are welcome to love it — especially if you're not the biggest fan of burning your tongue or sweating profusely while trying to indulge in a seasoned appetizer or entrée.