Tyler Florence Wows Instagram With Perfectly Deboned Dover Sole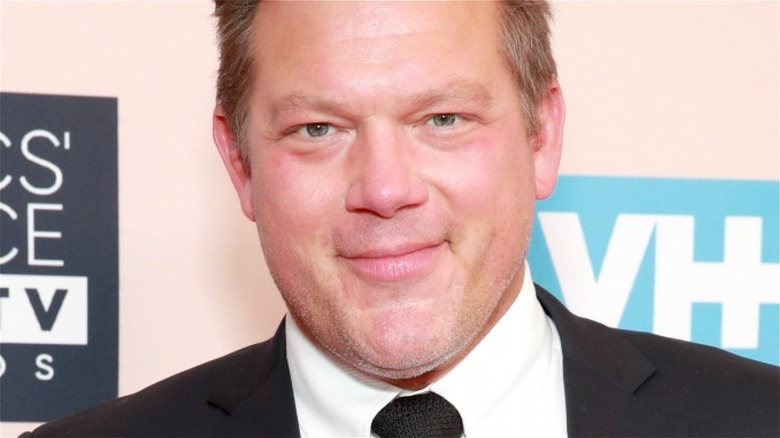 Rich Fury/Getty
A few key skills separate the chefs from the cooks. For example, a talented chef can effectively manage themselves and others, has an elevated understanding of both baking and cooking methods, and is knowledgeable about various cuisines, per hosco. And perhaps most importantly, a chef must have great knife skills. Chef Tyler Florence evidently knows this, having showcased his knife aptitude with an Instagram photo of his perfectly deboned Dover sole — done tableside, no less — that has his followers in awe.
According to Food Network, Florence built his foundation in the culinary arts at Johnson & Wales University. After earning his degree, he got right to work in New York City, where he quickly rose in the ranks while cooking at reputable restaurants for distinguished chefs. Food Network took notice of the young chef and elevated him to celebrity status by hiring him to host popular shows like "How to Boil Water" and "Food 911." Florence also has multiple restaurants, his latest being the elegant waterfront steakhouse Miller & Lux in San Francisco (via San Francisco Chronicle). This is where he recently wowed guests with his tableside fish deboning.
Florence shows off his knife skills at his new restaurant
It's always exciting to witness some tableside preparation at a fancy restaurant, and even more so when it's done by a celebrity chef like Tyler Florence. In his recent Instagram post of an expertly deboned Dover sole filet, the entire skeleton is shown perfectly intact with all of the flesh removed from the bone. Fans seem seriously impressed by the chef's culinary talent. One follower said, "Whoa, nice! Skills!!!" and @ourcabincouture commented, "This is something I'd absolutely love to see in person!" Of course, the chef's wife, Tolan Florence, had to chime in, "I'm always so nervous when I watch you do this. It looks so complicated! Love you @tylerflorence."
According to Food & Wine, tableside preparation of dishes like Dover sole and flambéed bananas Foster was once a signature of fine dining restaurants. After returning to the back of the house for some time, the showy trend appears to be making a comeback at Florence's Miller & Lux restaurant. If you can get a reservation, you might be able to watch chef Tyler Florence himself prepare your fish dinner.