This Outrageous Tip Reportedly Got A Restaurant Server Fired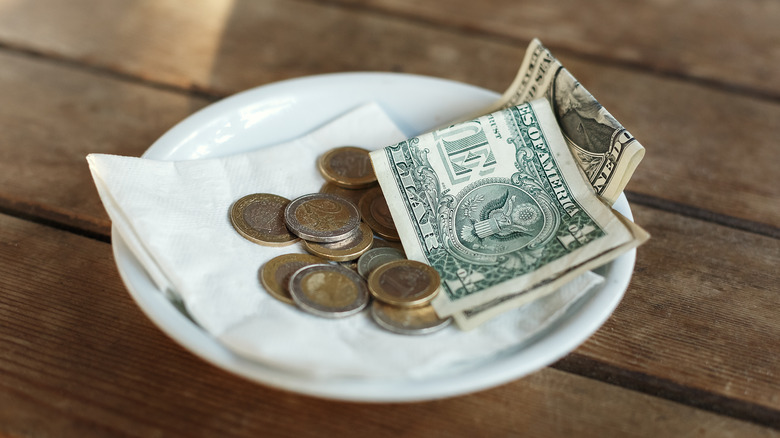 Anastasiya Aleksandrenko/Shutterstock
It's no secret that many servers and food delivery people have a story to tell about dealing with outrageous treatment and sometimes equally outrageous tips. A Reddit thread discussing the worst tips employees have ever gotten has plenty of examples: being handed a dime after driving through a blizzard to deliver pizza, getting snarky comments on receipts instead of tips, and even being asked to cover part of the bill.
But it's not all dreary. There are also times when employees have shared the most outrageously good tips they've gotten! In 2009, a waiter at Gibsons steakhouse in Chicago reportedly received a $4,000 tip from none other than Johnny Depp (via Radar Online). And in 1984, a waitress got a $3 million tip in the form of shared lottery winnings after accepting a customer's offer to split a ticket before the drawing. 
Of course, some tip stories start off seeming outrageously good and then go wrong. For example, recently a server at Oven and Tap in Bentonville, Arkansas received a generous tip. Per KNWA, Ryan Brandt and one other server were assigned a table of more than 40 people when much to her astonishment, the party left behind a tip of $4,400 to be split equally between the two servers. Shockingly, however, Brandt said she was fired from the restaurant after receiving the tip.
Ryan Brandt was asked to share her tip with all employees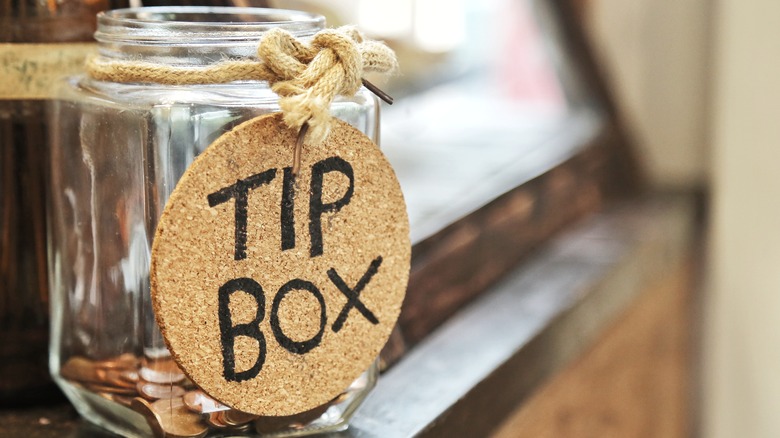 nutcd32/Shutterstock
KNWA reports that real estate company owner Grant Wise, whose party left the $4,400 tip for Ryan Brandt and her co-worker, intended it to go just to those servers. Wise said he even called the restaurant in advance to confirm the tipping policy. However, Brandt alleges that she was told to hand her generous tip over to the shift manager who would then split it among all the employees and leave Brandt 20% of the amount. An employee at Oven and Tap for over three years, Brandt claimed that this was the first time she was asked not to keep her whole tip. She told Wise about the situation. 
Wise withdrew the tip and then gave it back to Brandt outside. According to Brandt, she was fired for telling Wise. Oven and Tap told KNWA that to preserve worker privacy, it wouldn't address the circumstances of Brandt's termination. Nonetheless, it said in a statement, "The server who was terminated several days after the group dined with us was not let go because she chose to keep the tip money." The server who split the $4,400 tip with Brandt wasn't fired, the statement said. The company insisted that it has "always" pooled tips but admitted, "We recognize and regret that a recent incident in our restaurant could have been handled differently by reminding our team how we would be splitting any tips prior to the event."