This Is Sunny Anderson's Favorite City For Food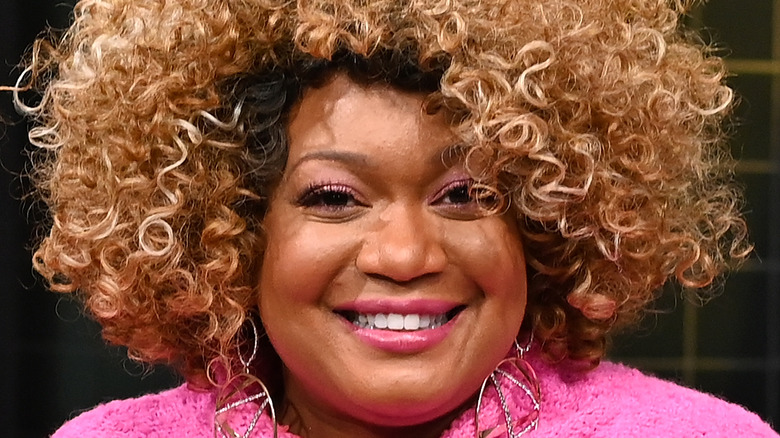 Slaven Vlasic/Getty Images
Sunny Anderson is a force in the world of celebrity chefs, and it's not just because she is a fan of "Star Wars." What is it that makes Anderson so successful? Perhaps it is because of how she began her career. It's hard not to admire someone who joins the Air Force to serve their country, and then successfully transitions out of the military, only to discover her true passion. Also, anyone who, according to Food Network, likes frozen candy bars and macaroni and cheese and readily admits it in the world of entertainment, is someone we can definitely relate to. Because, well, us too!
And while "The Kitchen" co-host has been all around the world thanks to the military lifestyle, Anderson shared with talk show host and "SNL" alum Dennis Miller during a conversation on the "Dennis Miller +1" show that there is one city that takes her to gastronomic ecstasy. In fact, Anderson told Miller that she may not be able to remember the streets she grew up on as an Army brat, but when it comes to this favored food city in the U.S., she knows exactly what streets to get the best gumbo and debris sandwich.
It's always delish in New Orleans, according to Sunny Anderson
Sean Pavone/Shutterstock
Sunny Anderson told the Food Network that her favorite food city is New Orleans, but the "Cooking For Real" star really explained her love for this city's cuisine when she was chatting with Dennis Miller on the "Dennis Miller +1" show. 
Anderson shared with listeners that, on the corners of Poydras and Tchoupitoulas — specifically, the location of Mother's — is the best "debris sandwich, gumbo... but you must stay there for bread pudding." Anderson notes that whether she is eating at Commander's Palace — one of the most famous restaurants in the world — or The Ruby Slipper, the food in New Orleans is incredible. She said, "I've never had a bad meal in New Orleans."
The cookbook author also revealed that the Big Easy turned her from a seafood hater to a seafood lover. Anderson told Miller while working as a journalist, she was on assignment covering U.S. military boxers, and one of the boxers took her on a date to Mother's. He did the ordering, and as it turns out, all the dishes he chose contained seafood. Anderson said, "I was raised to eat," and so she dug in and thought to herself, "This isn't bad." And, thus began Anderson's love affair with the food of New Orleans.