This Wendy's Parking Lot Find Has Everyone Scratching Their Heads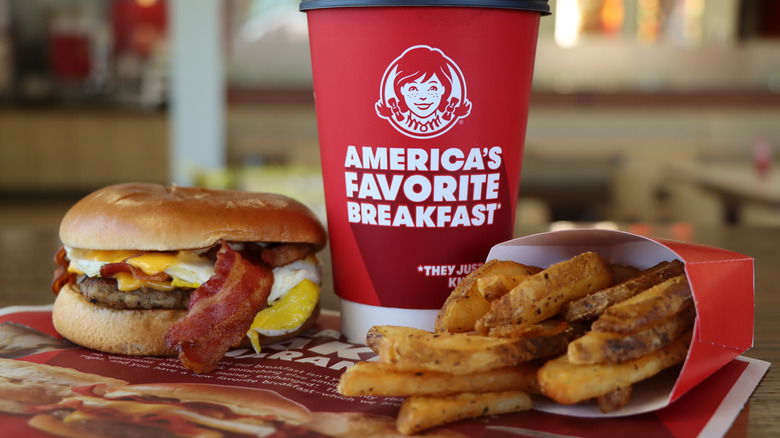 Deutschlandreform/Shutterstock
Wendy's is not predominantly known for grand achievements outside the food world or for being the source of comfort beyond what one gets from some great comfort food. Aside from the Baconators and Frostys that have gained a ton of praise for Wendy's, the most famous thing about the chain might be its mascot, the smiling face with fiery red hair in cute pigtails and seemingly dime-sized freckles on her cheeks. But recently, a very different smiling face has been associated with Wendy's.
News 12 The Bronx reported that half a dozen years ago, Star Wahnon was in the parking lot of a Wendy's on Jericho Turnpike in Jericho, New York when she found a WWII service pin. Inscribed with the text "Fort Benning, Georgia U.S. Army," the pin also displays an ID number as well as a photo of a smiling woman's face in the middle. The news outlet describes the person pictured as a "military base worker. 
The importance of this pin is not lost on Wahnon who is married to a Marine and also happens to be the daughter of a soldier who fought in the Korean War. She seemed to believe the pin was an heirloom and that "if there's somebody in this person's family that's military, this means an awful, awful lot." Unfortunately, this face isn't nearly as famous as that of Wendy's mascot, and identifying the family it belongs to won't be nearly as easy.
Searching far and wide
Unlike the WWII service pin, there's no mystery behind the smiling face of Wendy's. It was inspired by Wendy Thomas, daughter of Wendy's founder Dave Thomas. As Wendy explained to The Square Deal, her dad wanted a mascot to rival KFC's Colonel. So he told her, "Wendy, pull your hair up in pigtails," and began snapping photos. "There was no marketing research, no nothing. Just boom. That's it," said Wendy. If only it were that easy to identify the face on that pin and explain how it came to be.
News 12 The Bronx reports that Columbus Museum curator Rebecca Bush described such pins as a way to combat spying: "During World War II, there was concern about possible espionage or sabotage at different U.S. factories and especially military installations. So several military posts developed their own forms of ID badges for civilians who were coming onto posts or onto the base." In an effort to track the owner down, Star Wahnon contacted the Army at Fort Benning and publicized the pin on Facebook. But it remains unclaimed.