How Black Cake Became A Christmas Staple Of Caribbean Cuisine
Whether you prefer to celebrate your holidays by crunching into some candy canes or cracking into a carton of eggnog, this festive time of year offers a host of traditional treats. Many of the celebratory desserts enjoyed this time of year have a past as storied as the holidays themselves. One such dessert is black cake.
If you have ties to the Caribbean or you've watched the Apple TV Series "Dickinson," then you may already know that black cake is laden with booze-soaked fruits and spices. It's an impressive dessert that can make for a meaningful gift. As Global Travel Adventure explains, "Considering the cake can take months to prepare, hours to bake, and is full of fancy fruit (in the Caribbean dried raisins and cherries are much harder to come by than, say, a banana), Black Cake is a sign of real love." Making and enjoying black cake is a part of the holiday season enjoyed not only in the Caribbean, but also in the States by Caribbean Americans, according to NPR. But, how did it get started in the first place?
Black cake likely descended from British plum pudding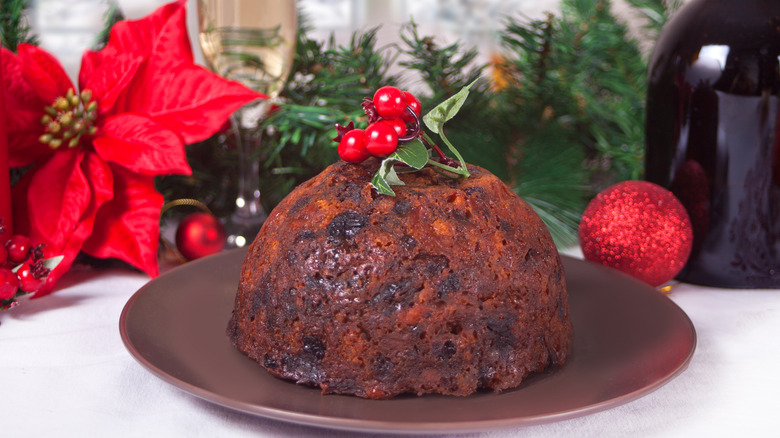 Zulfiska/Shutterstock
It turns out, black cake probably had its beginnings in another boozy dessert. According to NPR, Britons who colonized the West Indies in the 18th century brought along recipes for holiday plum pudding. The British dessert, also known as Christmas pudding or Figgy pudding, is made up of ingredients like currants, raisins, and brandy. After arriving in the Caribbean, the recipe was altered by locals to include local ingredients and spirits, according to NPR. The dessert eventually evolved into the boozy black cake served today at holiday get-togethers.
Of course, no two Caribbean islands are the same, and neither are their black cakes. According to The Local Palate, though the namesake color and deep flavor of the cake that comes from the dark rum and burnt sugar syrup or molasses are integral to the finished product, other ingredients can vary. The site points out that Bermudian black cakes are lighter while their Jamaican counterparts are denser. Even now, this beloved holiday dessert continues to evolve through time and place. Today, Guinness offers a recipe from Chef Corwin Hemming that includes their stout. Thanks to the courageous bakers who follow traditional recipes (and tweak them accordingly), holiday desserts loaded with liquor are here to stay.