Why This Pic Of Padma Lakshmi With Her Daughter Worried Some Fans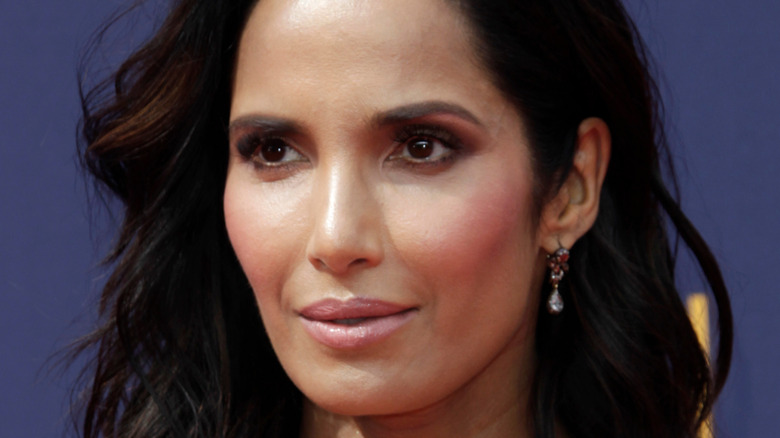 Kathy Hutchins/Shutterstock
Model, TV personality, and actress Padma Lakshmi is used to being in the limelight and knows that fame can be notoriously difficult to deal with. She found herself appalled at the stories that made it to news websites when she got pregnant with her daughter in 2010 and realized that people were trying to figure out who the father was (via Vanity Fair). Lakshmi said, "I was sort of between relationships without going into the specifics. It definitely complicated the situation, and as we know, our society is a patriarchal society, so I knew that it was not the ideal way, obviously, to be in the situation I was in."
However, Lakshmi didn't lose track of the big picture and celebrated the fact that she was going to be a mother. Lakshmi is now a hands-on parent who knows what she wants to teach her daughter. She told Esquire last month, "The biggest thing I hope I can foster in Krishna, my daughter, is to listen to her gut. It's something my mother taught me when I was very young, and I hope I can cultivate that muscle — because it is a muscle."
Occasionally, Padma Lakshmi offers glimpses into her life as a parent to Krishna with adorable posts on her social media accounts. However, one of her recent Instagram pictures, a post dedicated to the holidays, has left some fans concerned.
Some people voiced their concerns
Padma Lakshmi took to Instagram yesterday to wish her fans well during the holiday season. She shared rare photos of herself with her daughter on a colorful ladder, decorating a giant and brightly-lit Christmas tree. Some of her fans were delighted by what they saw and couldn't get enough of the mother-daughter duo. However, others were afraid, and pointed out that being on a ladder at the same time wasn't the best strategy and could have been dangerous for them. 
A worried commentator wrote, "Nice tree...but that doesn't look safe." Another fan mentioned that the ladder isn't meant to support two people at a time, implying that it was a really risky move. "Oh @padmalakshmi thats really not the best way to make sure your daughter doesn't fall down...stay safe," a fan advised the actress. Padma Lakshmi hasn't responded to any of the comments so far.