Padma Lakshmi Shares Rare Pic Of Daughter Krishna And She's All Grown Up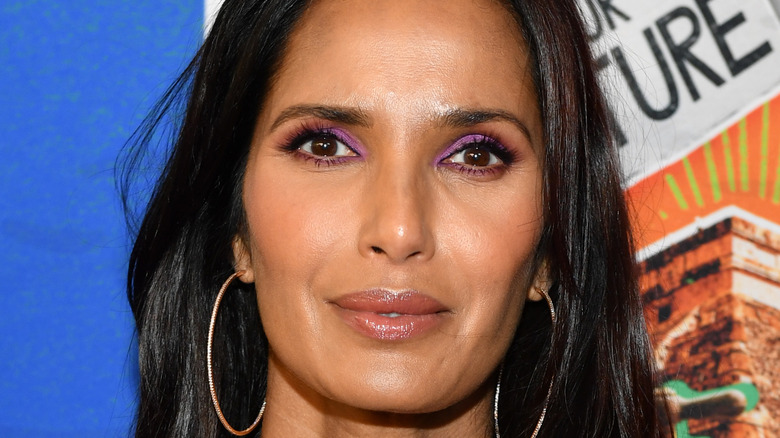 Noam Galai/Getty Images
Padma Lakshmi, host of "Top Chef" and "Taste the Nation," is accustomed to life in the spotlight. Lakshmi is a regular on the red carpet and has dozens of TV and film credits to her name (via IMDb). She is also an outspoken activist who doesn't shy away from public demonstrations. But when it comes to her 11-year old daughter, Krishna Thea Lakshmi-Dell, Lakshmi is more private. It is a rare occasion when she shares photos of Krishna, whom she shares with her former partner Adam Dell (per People).
However, Lakshmi recently shared a photo from a very special event on Instagram. Recently, she was named the United Nations Correspondents Association's 2021 Advocate of the Year, and she brought at least one family member for the ceremony. In one photo, Lakshmi, in a long black floral gown, is shown alongside a smiling Krishna. Krishna is looking more and more like her mom and so grown up in a smart, double-breasted deep green suit, which she paired with a cute choker, chunky patent boots, trendy winged eye makeup, and long, beachy waves.
Lakshmi captioned the post: "I am deeply humbled to receive the Global Advocate of The Year Award. Never in my wildest dreams did I ever imagine that I'd be involved in something so-much-bigger than I am." Followers liked the post more than 62,000 times and were full of congratulations for the star. Naturally, there were plenty of oohs and aahs over Krishna as well.
Fans say Krishna has a great role model
Padma Lakshmi's fans were full of congratulations for the "Top Chef" host when she was honored by the United Nations Correspondents Association. They loved the Instagram post, which expressed Lakshmi's belief in a world where empathy and shared values can bring people from different walks of life together more powerfully than personal differences can drive folks apart. In that vision, people see beyond nationality and behold each other's fundamental humanity.
Commenters praised the optimistic post and the person who wrote it, highlighting the great role model they believe Krishna has in her mother. "Congratulations. Well deserved and you set a great example for [y]our daughter and others," one fan wrote. A second impressed follower said, "Beautiful words from a beautiful human! What an amazing example for your daughter." Perhaps noting how much Krishna has grown, a commenter mentioned her as one of the "young women" Lakshmi's speech could inspire.
Some fans just sounded happy to see how happy the mother and daughter looked together, with one writing, "So love the connection you have with your daughter. It's [e]verything." Of course, others couldn't help but appreciate the chic fashion choices of the former model's daughter. Those who admired her attire posted such compliments as "your daughter looks adorable in her suit" and "Also, whats the share of green little ones wearing? Emerald? Cause it's [fire emoji] & I need a suit in the same shade." Well done, Padma and Krishna.