Gordon Ramsay's Photo Of His Cat Has Instagram Divided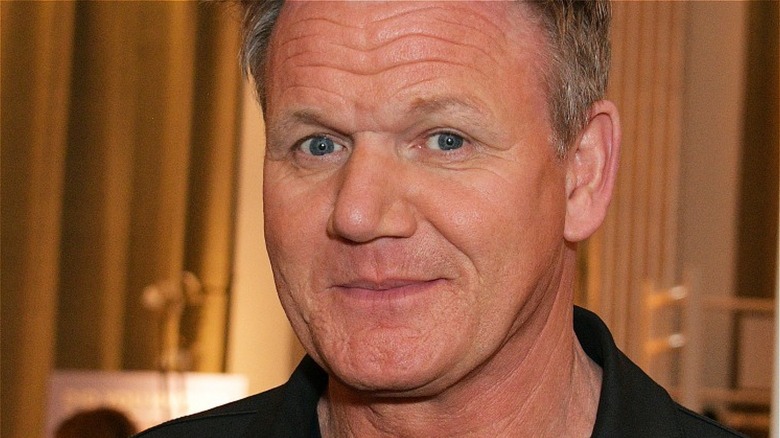 David M. Benett/Getty
It's known that celebrity chef and TV personality Gordon Ramsay likes to entertain his fans with a variety of updates on social media on a regular basis. One adorable and oft-appearing character in Ramsay's social media posts is his youngest son, Oscar. According to Closer Weekly, Ramsay and his wife, Tana, had Oscar in April of 2019. Since then, the chef has taken to social media to post photos of Oscar through different milestones, such as getting a new haircut and playing with his dad in the backyard (via Instagram).
Oscar was recently spotted spending time with the Ramsay family's cat, and his dad wasted no time taking several photos of the pair. The chef posted the pictures on Instagram and wrote, "@oscarjramsay on a cat walk." The cute series shows tiny Oscar trying to hold the large cat in his arms, and Ramsay's fans couldn't resist leaving a few comments.
Fans have mixed opinions about the way Oscar is holding the Ramsay cat
When looking at the photos of Oscar and the family cat, some fans were quick to notice the feline's facial expressions that indicated displeasure with the whole being-picked-up situation. One Instagram user pointed out, "The cat looks so pissed off in the second pic" and added laughing emojis to illustrate their point. Another fan joked that Oscar could get away with his antics because he's a kid, whereas an adult would not have been spared by the cat. Some users went so far as to leave comments like, "Leave the cat alone, it's not a prop!" and "It's absolutely not appropriate to let your children handle cats like this."
Others, however, had a more lighthearted response to the post, calling it funny and remarking on how "big" and "cute" Oscar has gotten. Someone said that they could relate to the images because their daughter treats the family cat in a similar manner. As for what, exactly, Oscar was doing in the photos, the Daily Mail explains that he was attempting to teach the family cat to master the art of walking "on two legs."