Wendy's Latest BOGO Gets You A Free Dave's Single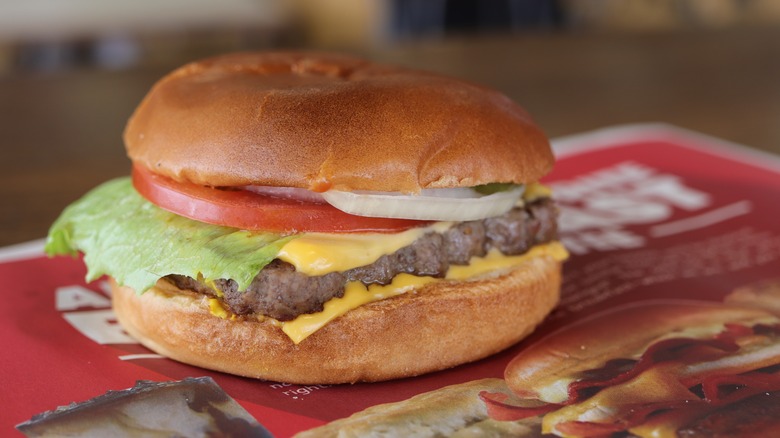 Deutschlandreform/Shutterstock
If you need to fuel your holiday shopping with a good old fashioned burger, and you happen to have a penchant for the offerings at Wendy's, you're in luck — the fast food chain has a new buy one, get one free offer for their Dave's Single burger (via Chew Boom). The item in question is served up "just the way Dave intended," as the Wendy's website explains, featuring a quarter-pound beef patty, American cheese, a variety of fresh toppings and condiments, including lettuce, tomato, pickle, ketchup, mayo, and onion, all atop a toasted seedless bun.
Anyone with a hankering for a Dave's Single between December 13 and 19 will be able to get a second completely free of charge with the offer. Why not treat your colleague, friend, neighbor, or family member to a juicy burger? All you need to do to claim this order is use the Wendy's app — you can either apply the promotion to your mobile order, or if you prefer to pick up your juicy spoils in person at the counter or drive-through, allow the Wendy's employee to scan the same offer. 
There's just one restriction: Unfortunately, anyone looking to get their two Dave's Singles delivered right to them via their preferred service will have to pay a little more, as the BOGO offer doesn't apply to delivery via third-party apps, as per Thrillist.
Other current budget-friendly offerings from Wendy's
Not super into the Dave's Single, even if it's crafted the way that Dave Thomas himself intended? Not to worry — there are a few other offerings available at the fast food chain that just might entice any diners on a budget. If you purchase something else at Wendy's in that same December 13 to 19 time period, you can get a free order of fries — any size. And, let's be honest, is there really such a thing as too many crisp, golden French fries, especially with the "hot and crispy" guarantee that Wendy's offers? (via Food and Wine).
Or, if you're more of a breakfast sandwich lover, as Popculture reports, you can pick up a Sausage, Egg & Cheese Biscuit or Bacon, Egg & Cheese Biscuit, both for just $1 apiece. With a price that low, it may as well be a BOGO item. And, if your preferred Wendy's order doesn't have any promotions right now, just keep your eyes peeled because the fast food chain has been releasing different offerings every week, with a previous deal on their Spicy Chicken Sandwich. At the very least, if you decide to download the chain's app, you'll be receiving 10 points for every $1 spent, so after a few orders you may be able to create your own BOGO situation as a reward.