This Is How Long Rachael Ray Plans To Keep Her Show On Air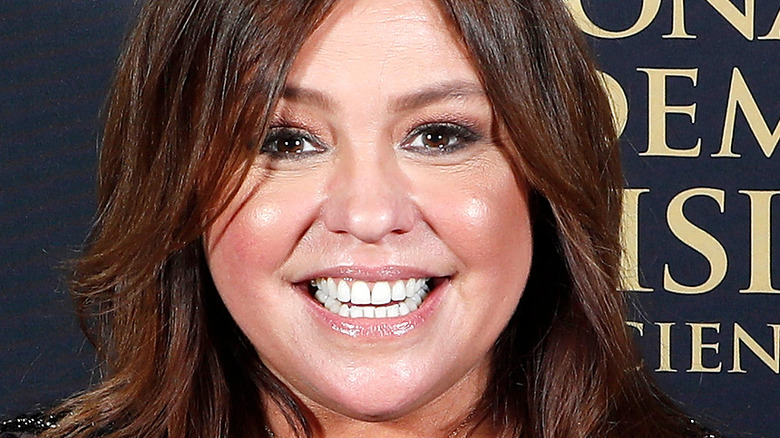 Joe Seer/Shutterstock
Rachael Ray has been the face of simple, easy cooking since 2001, when she first joined the Food Network family as the host of "30 Minute Meals" (via Food Network). From there, she catapulted to celebrity stardom with the launch of her syndicated daytime show in 2007. Sixteen seasons later, "The Rachael Ray Show" is still going strong, though Ray has had to navigate obstacles along the way, the pandemic being the most trying. With the help of her husband, John Cusimano, she was able to continue filming from the comforts of their home in the Adirondack Mountains, which Ray explains as a difficult but necessary adjustment. "Our home here was always very, very private," she told The Hollywood Reporter. "This is where I write the shows... where we entertain our sliver of life that was just ours. The first hurdle we got over was a loss of privacy, quite frankly."
Not even a pandemic could deter Ray from doing what she loves. In fact, she told THR that if and when her TV career ends, it'll be up to the viewers, not her. "It's up to the people that watch and how much they enjoy it or not. I feel like we go to work with sincerity and whole hearts every day, and when it's time to go, it'll be time to go," she said. Ray is optimistic even though a departure could be on the horizon: "We've really felt so incredibly lucky to be here."
How Rachael Ray is keeping it real in season 16
One could argue that not being able to pivot and adapt to modern times is one of the easiest ways for a longtime TV host to go out. However, that doesn't seem to be a concern of Rachael Ray's. In a chaotic, unprecedented time of turmoil and fear, Ray has created a place of comfort, community, and hope in her home studio. She's hoping to replicate that same ambiance in season 16 with her cozy, brand new set at the New York City studio where filming was originally conducted prior to COVID-19.
"The studio we changed again to make it try to feel more intimate, more like what has become the new normal for our show over the past year and a half," she told The Hollywood Reporter. During quarantine, Ray filmed over 200 episodes at her home kitchen with her husband playing the role of producer, lighting guy, cameraman, and kitchen helper. Now, she's hoping to "marry those two worlds." Described as "a cabin in the city," Ray's new set features beam work similar to that of Ray's home and soft wood textures and finishes, per "The Rachael Ray Show." The audience section was renovated with oversized sofas and loveseats so fans feel like they're sitting at Ray's home.