Omaha Steaks' Holiday Jingle Teaches You How To Make A Perfect Steak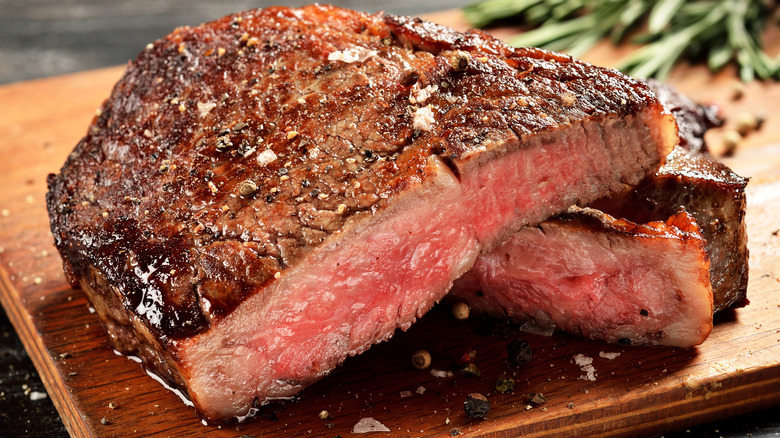 Davidchuk Alexey/Shutterstock
No matter how experienced you are in the kitchen, cooking the perfect steak is no easy feat. First, you have to choose the right cut. Do you want a ribeye, filet mignon, or hefty porterhouse? Then you have to follow so many specific instructions — you have to take it out of the fridge at just the right moment, season it enough but not too much, and decide whether you should pan sear it, grill it, or put it in the oven. And that's all before you even start cooking it! At that point, you then have to worry about cooking it to the perfect temperature (rare, medium, well done, etc.) and ensuring that it's nice and juicy when you finally cut into it. 
If you thought you could just wing it when it comes to preparing steak, you may want to think again. After all, according to one survey, over half of Americans wouldn't date someone who likes their steak cooked differently than they do (via People). Those are some high steaks, er, stakes. Fortunately, to help you out, popular meat delivery service Omaha Steaks has a handy way to prevent you from ever ruining a steak again. All it takes is singing the retailer's new holiday jingle while you cook.
The steak song is set to the tune of 'Deck The Halls'
Suteren/Shutterstock
As one of the largest meat delivery services in the United States — it ships out some four million orders of beef, poultry, pork, and more every single year (via Insider) — Omaha Steaks knows more than a thing or two about preparing the perfect hunk of beef. And now, just in time for the holiday season (and all of your Christmas parties and dinners), the brand has released a handy song that will help you cook up the juiciest, most delicious steak. 
Titled "Deck The Steaks," the catchy jingle is written to the tune of "Deck The Halls." Of course, rather than singing about boughs of holly, you'll be singing about your guests' grumbling bellies.
The song teaches you the basics, from what to do prior to putting the steak on the stove to how long to cook it. "At 140 pans will sizzle, that means medium, in the middle," one lyric explains, going on to add that your steak should never reach 160, as "well done should be avoided strictly." Even better? Listening to the song will provide more than just a few minutes of entertainment for your family. Omaha Steaks says that for every play of "Deck The Steaks" on Spotify from now through December 31, it will donate money in the amount of five meals (up to 250,000 meals) to Feeding America to fight hunger in the U.S.