How TikTok Is Fighting World Hunger This Holiday Season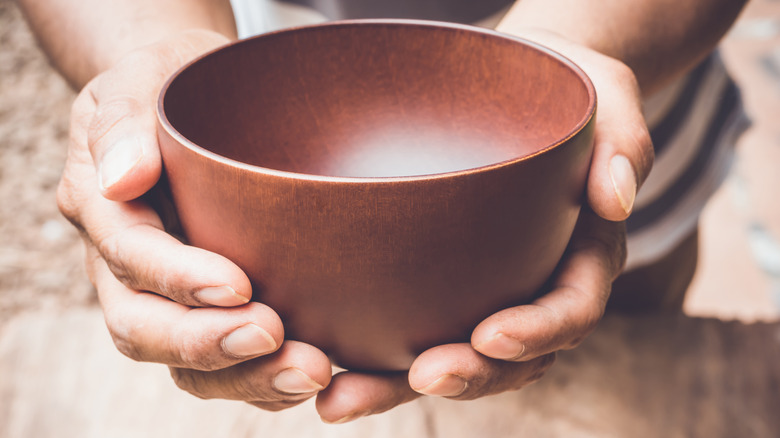 Sayan Puangkham/Shutterstock
TikTok may be known for game-changing hack videos, but the social media platform is also used by both individuals and organizations to spread awareness about important issues. As just one example, TikTok users participated in a May 2021 campaign aimed at raising awareness about world hunger. For the #InvisibleMeal TikTok challenge, participants were asked to come up with a "cooking video with no ingredients," according to the World Food Programme. 
The campaign was fairly successful: video clips received over two billion views on TikTok and several popular digital creators participated in the campaign. One of them was Nthabiseng Ramaboa, also referred to as Chef Nti, a successful culinary professional and Food Network star from Soweto, South Africa. Describing why she created a no ingredient video for her own Spinach Pesto Pasta recipe, she said, "The message needs to be spread further and louder because COVID-19 has been an amplifier in worsening the dire situation — so many people live hand-to-mouth."
A new challenge was announced earlier this month, encouraging more TikTok users to participate and fight hunger on a larger scale during the holidays (via PR Newswire.) This challenge is a partnership between musician Brandy and retail brands T.J.Maxx, Marshalls, and HomeGoods. 
The campaign has a festive twist
According to PR Newswire, the campaign is called #SnowballFightAgainstHunger and is exactly what it sounds like: TikTok users can now use a video filter to participate in a "virtual snowball fight" between December 2 and December 26. Every time someone uses the snowball filter, The TJX Foundation will donate $1 to nonprofit Feeding America, with a cap of $1 million. Emily Trent, SVP, Marketing Director for HomeGoods said in a statement that the company is happy to collaborate with the "Have You Ever" singer "for the second year in a row" to spread some cheer during the holidays. "We encourage everyone to get into the holiday spirit and participate in our #SnowballFightAgainstHunger campaign by making their own TikTok to help spread joy and support this important cause," she said.
The COVID-19 pandemic has left at least 38 million Americans vulnerable, according to the Chief Development Officer at Feeding America, Casey Marsh, who said that their organization is "grateful for this important partnership with T.J.Maxx, Marshalls, and HomeGoods to help make a difference in the lives of neighbors in need." TikTok users have started creating content for the campaign that has generated millions of views so far. Brandy herself has posted a clip with the filter on TikTok (above) and requested her fans to follow suit.