Impossible Foods Just Opened Ghost Kitchens For This Fast Food Chain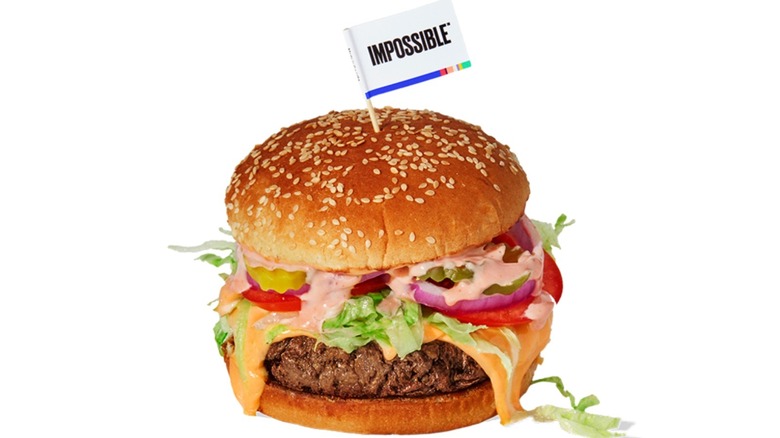 Impossible Foods
The popular plant-based meat company Impossible Foods has teamed up with an unexpected partner to launch their first venture into the fast food space. 
According to Food & Wine, Impossible Foods has partnered with the gourmet hot dog chain Dog Haus to set up a series of delivery-only ghost kitchens across the United States. Impossible Foods — a pioneer in the alternative meat space, having launched their enormously popular flagship product, The Impossible Burger, in 2016 — have launched a wide variety of plant-based products in recent years, including Chicken Nuggets and Meatballs. With that in mind, it's not a huge surprise that the company is joining the growing trend of ghost kitchens, a type of delivery-only restaurant with no dining room, waiters, or public areas, which has become enormously popular with companies like Wendy's and Nathan's Famous in recent years, driven by the rise in food delivery demand as a result of the COVID-19 pandemic.
The newly launched Impossible Shop, which offers a slate of Impossible protein-based dishes, will be operated out of 40 select Dog Haus locations in Arizona, California, Colorado, Illinois, Maryland, New York, Texas, and Wyoming and is currently available to order via DoorDash, Uber Eats, GrubHub, and Postmates, depending on your location.
The delivery-only restaurant will offer a few different preparations of The Impossible Burger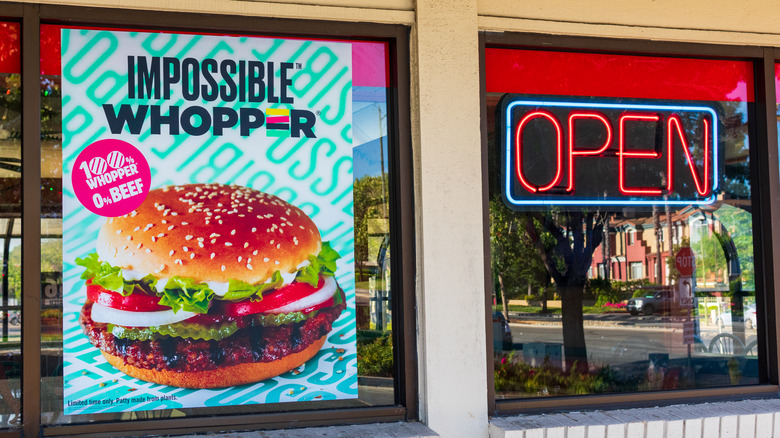 Michael Vi/Shutterstock
The Impossible Shop will feature two preparations of The Impossible Burger. These include the Shop Burger (with a quarter-pounder patty, lettuce, tomato, pickle, onions, plant-based cheese sauce, and Shop sauce, retailing for $11.99) and the Chili Cheese Shop Burger, which is topped with Impossible Chili, plant-based cheese sauce, diced onions, pickles, and Shop sauce, retailing for $15.99. Both of the burgers are served on a toasted, plant-based brioche bun, and have the option to "Double Down" by adding an additional patty.
In addition to the duo of burgers, other plant-based menu items include cheese fries and chili cheese fries, topped with plant-based cheese and Impossible chili, as well as Impossible Nuggets that are served with a sticky sesame sauce. There is also the Impossible Pat-B Melt, featuring an Impossible Burger patty, plant-based cheese sauce, cola-caramelized onions, and pickles on grilled sourdough bread.
As for the early risers, the menu also features an Impossible Breakfast Sausage Burrito, with plant-based egg, cheese sauce, and chipotle crema, crispy tater tots, avocado, and tomatoes in a flour tortilla, priced at 14.99. According to Food & Wine, Impossible also teased that in the future, the menu — which was created by the company's head of culinary, Chef J. Michael Melton, in collaboration with Dog Haus — will potentially feature newly developed plant-based products that haven't been formally launched yet.
Impossible's move into the fast food space is their next big business venture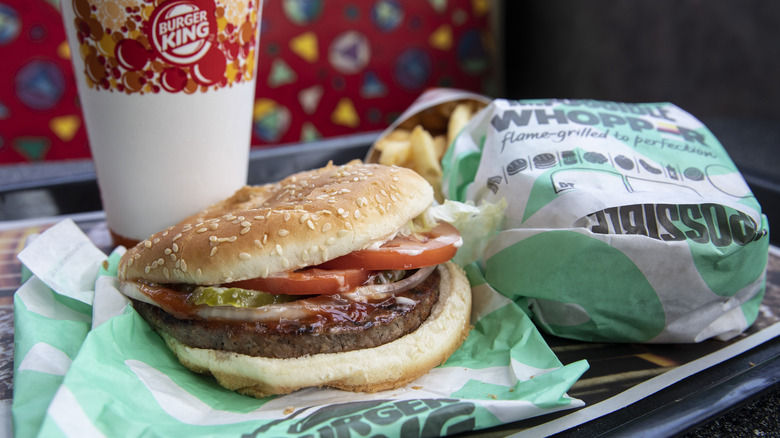 Drew Angerer/Getty Images
While The Impossible Shop will initially only be available in eight states, plant eaters who live outside of the delivery zone still have numerous options for trying the popular meatless burgers. In addition to their large presence in over 3,000 grocery stores across the country, the brand has also partnered with Burger King since 2019 on the vegetarian Impossible Whopper, which is still available on menus across the United States.
Earlier this year, Impossible also launched The Impossible Foods Shop in partnership with specialty food delivery platform Goldbelly, featuring chef-created meal kits like Spicy Ragu Rice Cakes from Momofuku, an Impossible Cheesesteak kit created by Questlove, Impossible Kebabs from the NYC-based restaurant chain Taim, and an Impossible Salpicón Tostadas Kit created by Chef Traci Des Jardins.
According to an Impossible press release, the company — which just recently secured an additional $500 million in funding from investors — is the fastest-growing plant-based meat company, citing data that shows that Impossible's recent sales have outpaced the next 10 most popular plant-based meat competitors combined. Now, with the launch of a new chain of cross-country delivery locations, Impossible Foods seems poised to continue their dominance of the plant-based burger industry, one vegetarian quarter-pounder at a time.