Why Disgusting Grocery Pranks Aren't Going Away Anytime Soon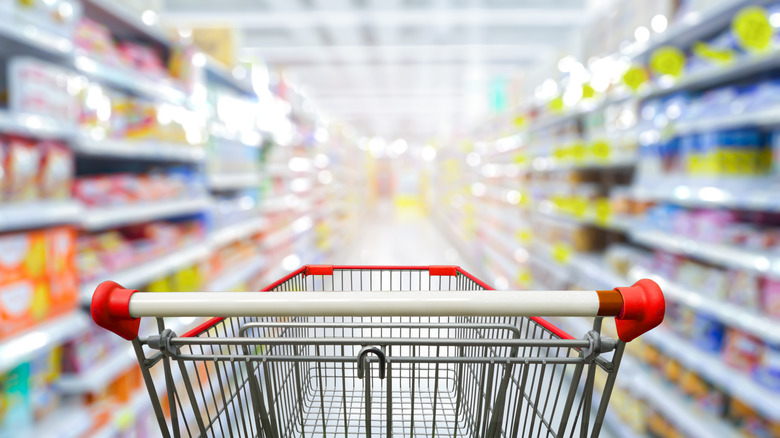 non c/Shutterstock
Nothing will make us spit out our food faster than discovering it's been tampered with. Unfortunately, the internet is full of disturbing videos of people meddling with food in grocery stores. Take, for instance, the popular 2019 #icecreamchallenge that encouraged teens on social media to head to the frozen food section, open a container of ice cream, lick the top, reseal it, and put it back into the freezer for someone else to buy. According to Parents, a teen who participated in this trend was arrested. Someone who finds themselves in this position could now potentially face $10,000 in fines and up to 20 years in prison. While state laws regulating food tampering safety vary, according to the United States Department of Justice as updated in 2020, federally, this act is very much illegal. 
Another example includes the case of a Pennsylvania grocery store that had to discard $35,000 worth of produce, bakery, and meat products after a woman coughed all over the food in a "twisted coronavirus prank" (via Daily Mail). Obviously, when these so-called "pranks" are pulled with sincerity, the perpetrators face serious consequences. However, oftentimes these pranks are staged, and, as some of them are perennially entertaining and going viral on the internet, they don't seem to be going away anytime soon.
Grocery store gags might be here to stay
One prank that was featured on IcePop's website suggests that people place a fake snake among the vegetables in the produce department. While this is a stunt that might make a buyer squeal, it's ultimately harmless and certainly might elicit a chuckle in the end.
Then there's the story of a woman who was featured in one viral video which showed her in a Kroger grocery store, opening a bag of chips, tasting some, spitting the chips back into the bag, resealing it, and placing it back on the shelf. While this stunt seems gross, it was, in fact, a prank that was not done maliciously, and therefore laced with a twinge of humor. Kroger said in a statement that all the groceries that were tampered with were bought by the conspirators behind the video. "Through the quick action of our team, we were able to verify that the items used for the video were not left behind on the shelf and were purchased by the individuals involved," the statement given to TooFab said in part.