Everything You Need To Know About The Dried Fruit Recall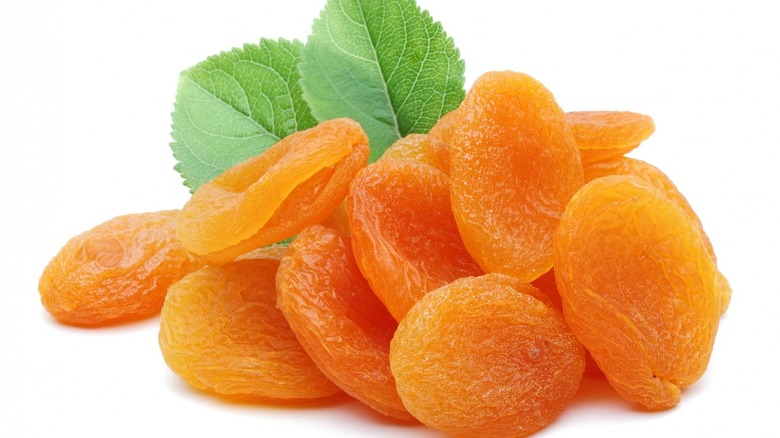 mahirart/Shutterstock
With recent recalls of cooked ham and pepperoni products — as well as two recalls arising out of potential arsenic contamination, one of which involved baby food — on the brain, it might appear as if food recalls are on the upswing. However, a quick review of the data suggests that what is actually "up" is not so much the volume of recalls but the fact that food safety standards are improving, along with the technology for monitoring food safety. In fact, there has been a downward trend in recalls since at least as far back as 2016, according to data supplied by Statista and a 2021 food recall trends report from Aon.
Of course, none of this will be of much comfort to you if you are among those who purchased dried fruit in any of three East Coast states during four-and-a-half-month period between July 10, 2021, through November 24, 2021. According to a December 10 announcement by the FDA, a Massachusetts company, Bokhary Foods Inc., doing business as Ekta Foods, has recalled two of its dried apricot products that were distributed in Connecticut, Massachusetts, and New York between July 10 and November 24 of this year. Here is everything you need to know about this dried fruit recall. 
Check your pantry for dried apricots that may have been recalled
On December 10, the FDA reported that Bokhary Foods Inc. (doing business as Ekta Foods), has recalled its Godavari-brand dried apricots that are sold in clear plastic packages of 14 ounces (UPC 0 03657 5001 5) and 7 ounces (UPC 0 03658 50001 4). The relevant UPC number appears below the barcode on the label. These dried fruit products were distributed to stores in Connecticut, Massachusetts, or New York between July 10 and November 24 of 2021, so if you purchased the product in another state during a different time frame, the announcement does not apply to your apricots.
The reason for the recall is the potential presence of undeclared sulfites, which can cause a serious or potentially life-threatening reaction in people with an allergy or severe sensitivity to sulfites. The recall was initiated after the New York State Department of Agriculture and Markets discovered undeclared sulfites in the 14-ounce packages. Fortunately, there have been no reports of illness or allergic reaction involving either of these two dried fruit products. The FDA urges any customers who purchased the affected apricots to return them to the stores where they bought them. Even if you didn't buy Godavari apricots recently, you might want to rethink eating dried fruit at all.