Instagram Isn't Happy About Martha Stewart's Support Of Elon Musk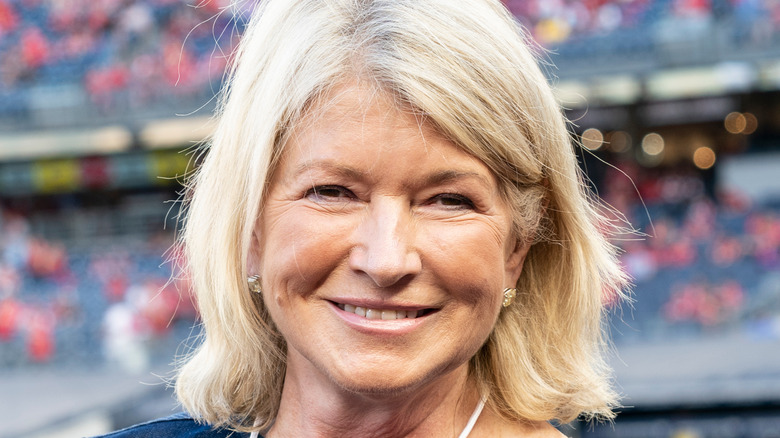 lev radin/Shutterstock
Elon Musk has been known as an eccentric and controversial character in the news for as long as he has been in the public eye. According to the South China Morning Post, some of the billionaire business magnate's most memorable moments range from buying a wildly out-of-his-price-range car (well before he had made his fortune) to purchasing and selling 20,000 flame-throwers and even making plans to populate Mars. 
Martha Stewart is similarly eccentric. The ex-con has reinvented herself as a pro-pot personality who is close friends with Snoop Dogg, with whom she talks about everything from recreational drugs to thirst traps on the duo's talk show (via HotNewHipHop). She posts plenty of offbeat yet charming photos on social media, such as her recent lawnmower post that had fans in stitches as she danced on an industrial-sized mower. Although some people may not understand the appeal of Elon Musk, it stands to reason that Stewart would support another free spirit — but that does not stop fans from disagreeing with her support of the Tesla and SpaceX CEO.
Stewart shared Musk's new Time Magazine distinction on her Instagram
It was recently announced by Time that Elon Musk is the publication's Person of the Year, thanks to his status as the richest man in the world and other noteworthy accomplishments and plans. Martha Stewart, for one, appears to be in full support of the designation. She recently posted a photo of Musk, his son in hand, to her Instagram with the caption, "@elonrmuskk was announced "person of the Year" by @time magazine He accepted this honor on stage with his charming young son."
Based on their comments, it seems that most of Stewart's fans are not quite as supportive of Musk, with feedback flowing in like, "Definitely don't agree with this. Time dropped the ball on this one" and, "Time magazine is not what it used to be." Others thought Stewart's post must have stemmed from her "chomping on a lot of weed." However social media feels about Musk's latest distinction, he's already been slated for the special 2021 issue of Time.