The Reason Mackinac Island Considers Itself The World's Fudge Capital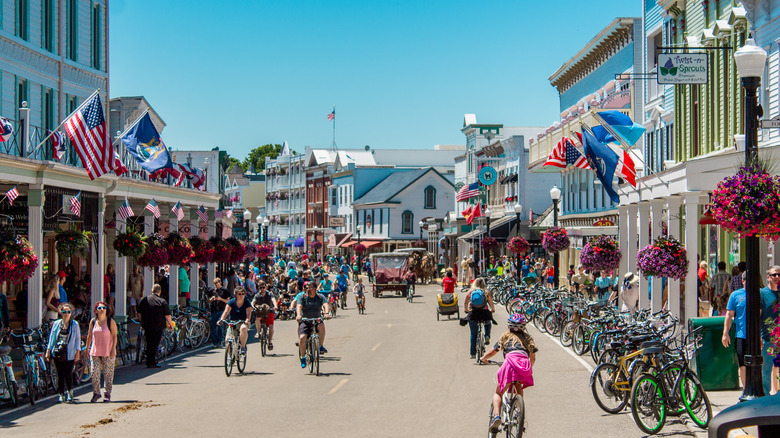 Michael Deemer/Shutterstock
One of the best treats this world has to offer is fudge. The traditional milk chocolate fudge is an unmatched classic in our humble opinion, but there are countless other flavors: peanut butter, sea salt caramel, dark chocolate, mint, white chocolate....
You can make it with as few as three ingredients. You can make it with a dozen ingredients. You can make it in the microwave (via Food). You can make it on a stovetop. You can find thousands of recipes online. You can even find recipes for fudge on people's gravestones (via Today).
For fudge aficionados, there's one place you absolutely have to go: Mackinac Island. Located about five miles northeast of Michigan's Mackinac Bridge, this tiny island welcomes over a million tourists each year (via Mackinac Island). Yes, tourists come for the breathtaking views and the carriage rides, but let's be real: The best part of visiting the island is getting your hands on some fudge. 
Mackinac Island has more than a dozen fudge shops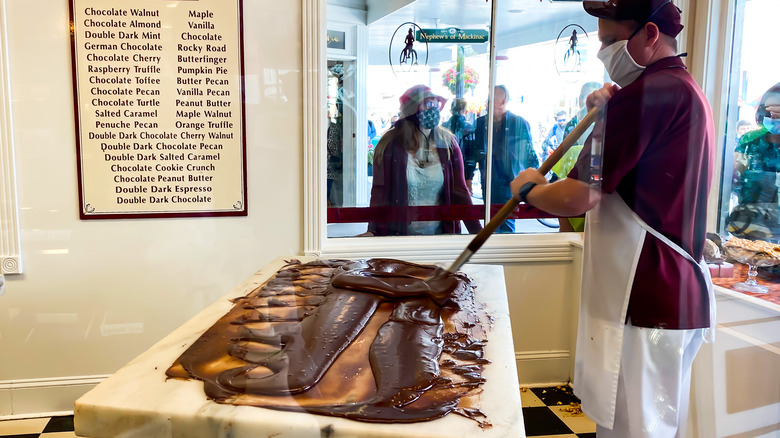 gg5795/Shutterstock
According to Mental Floss, Mackinac Island's first fudge shop, Murdick's Candy Kitchen, opened in 1887. Since then, more than a dozen other fudge shops have popped up on the small island. Take your pick among Joann's, Ryba's, Sanders, or one of the many other shops — and you can go in and actually watch the fudge being made.
With so many tourists coming in, you'd expect Mackinac Island to make a lot of fudge. Try about 10,000 pounds daily! This much fudge requires about 10 tons of sugar to be shipped in each week, and 10 tons of butter each year, says Pure Michigan.
From s'mores to butter pecan to blueberry cheesecake, the island's fudge shops have you covered on just about any flavor you can think of. However, if you can't make it to the island to satisfy your fudge cravings, you can make your own at home. Try your hand at a marshmallow fluff peanut butter fudge or a candy corn fudge. Happy snacking!