This Eggplant Parmesan Is Supposed To Help With Childbirth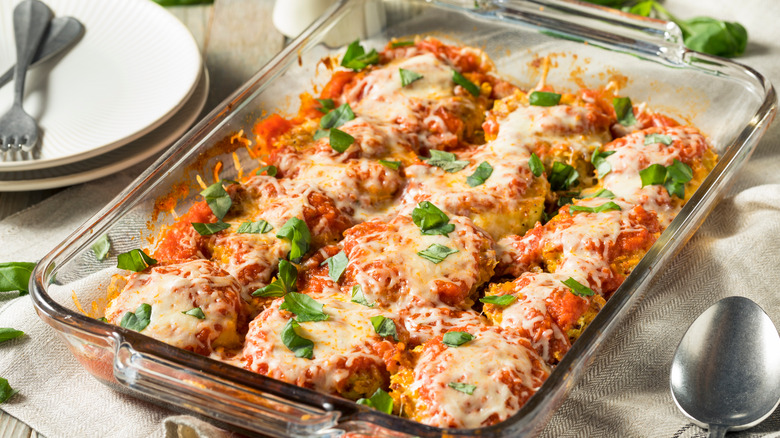 Brent Hofacker/Shutterstock
If you're local-ish to Atlanta and your new addition is past due, swing by Scalini's for their legendary eggplant parmesan. The Italian restaurant has long been known as a hotbed for expectant parents looking to give birth. The reputation recently got a little more epic thanks to Food Network, which tweeted, "The eggplant parm at Scalini's is said to induce LABOR (Yes, 300+ pregnant women have given birth within 48 hours after eating it!)."
Locals know that this isn't exactly "news," so to speak. Smyrna-based Scalini's has a storied 30-plus year history of feeding preggos eggplant parm with the possibility of inducing labor. The 300 number is a conservative estimate, in all likelihood. Owner John Bogino told the Atlanta Journal-Constitution that he long ago lost count, but that he guesses the true number is actually "well above 1,000." For the record, if you've never had eggplant parm, it is absolutely divine and able to be enjoyed in any state, pregnant or not.
The perks of the eggplant parm club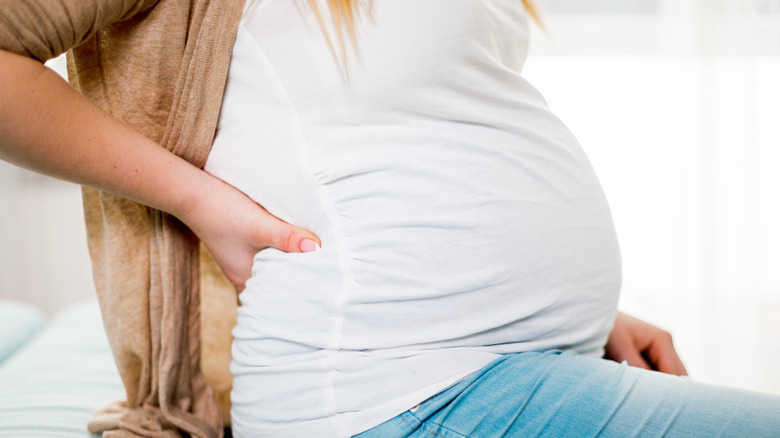 Leszek Glasner/Shutterstock
Per Scalini's site, the reputation that the "breaded eggplant smothered in cheese and thick marinara sauce" induces labor started only a couple of years after the restaurant opened. Customers would come back in and mention to the owner that they gave birth shortly after noshing on the dish.
There are even benefits to joining the "Second Generation Club," as it's known. According to the AJC, if a person delivers a baby in 48 hours or less after enjoying Scalini's eggplant parm, they are treated to a Scalini's T-shirt and a free dinner! That's not a shabby push present. The little one can also have their photo proudly displayed on the Eggplant Baby photo wall, and even showcased on the restaurant's site!
If you've never been pregnant or gone past your due date, it can be hard to understand why this is a big deal. Many of the expectant parents who hit up Scalini's do so because they're incredibly uncomfortable in late-stage pregnancy, are ready to meet their little one, simply enjoy the novelty of having an "eggplant baby," or a combination of all three. Really, who among us doesn't enjoy a novel birth story?