Shepherd Salad Recipe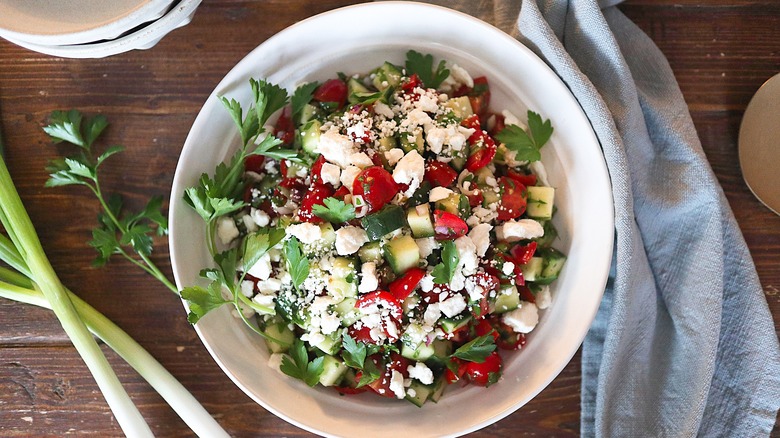 Cecilia Ryu/Mashed
There's nothing quite like a refreshing salad for lunch or as a side dish with dinner, and shepherd salad is one of the tastiest options out there. The dish hails from Turkish origins and contains tomatoes, cucumber, red onion, scallions, and fresh parsley — it's pretty easy to see how it fits into the "refreshing salad" category! Recipe developer Cecilia Ryu has crafted this simple and flavorful shepherd salad, and she loves how all of the vegetables come together with a subtly tangy bite. 
"The salad has a nice bite of saltiness from the feta cheese, crunchiness from the cucumbers, all tossed in a tangy and bright dressing," Ryu describes. "The addition of scallions and red onion give it a little kick and the fresh parsley rounds out all the flavors." Not only does Ryu love the flavors of this dish, but she also loves its simplicity. "It doesn't require too many ingredients and I usually have all of them on hand," she explains. "Plus, the salad is so versatile. It pairs with everything! Pasta, steak, etc." We love a dish that can adapt to many meals, and especially a healthy one at that. So, let's dive right into this shepherd salad recipe!
Gather the ingredients to make this shepherd salad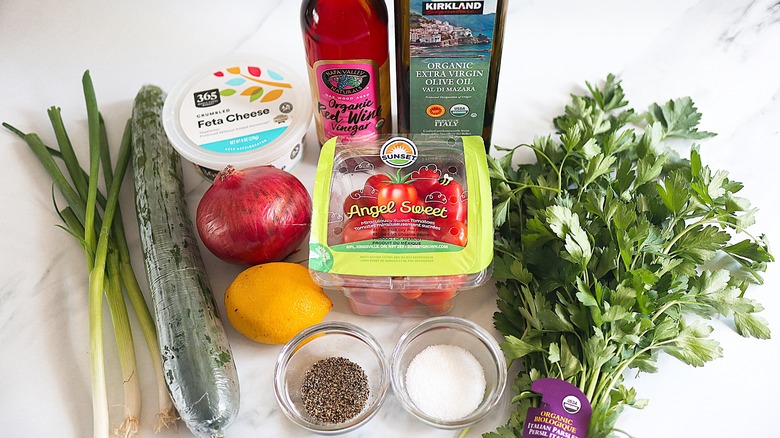 Cecilia Ryu/Mashed
Before you can make the salad itself, you'll want to make sure that you have the right ingredients. First things first, you'll need tomatoes, a cucumber, and a red onion, all of which should be chopped. Next, you'll need some scallions and fresh parsley, also chopped. To infuse the salad with some acidity, you'll want to use freshly squeezed lemon juice, along with red wine vinegar, balanced off with olive oil. To help the flavors pop, some salt and black pepper will do the trick. Finally, to top it all off, you'll need some crumbled feta cheese.
Mix the vegetables together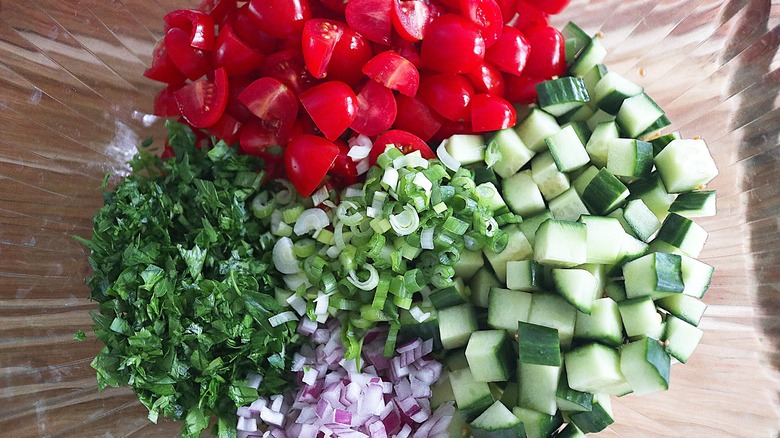 Cecilia Ryu/Mashed
Now that you have your ingredients ready to go, you can begin making this dish. Grab a large bowl and toss in your chopped tomatoes, diced cucumber, diced red onion, scallions, and parsley. "I used to not like the taste of fresh parsley, but this is the dish that made me fall in love with it. It requires A LOT of chopped parsley but as I said before, it completes the salad," Ryu says of the core ingredient. "I also sometimes top the salad with sliced avocado or even toss in baby arugula." As you're adding the base ingredients, you can get creative depending on your personal preference!
Make the salad dressing and toss it in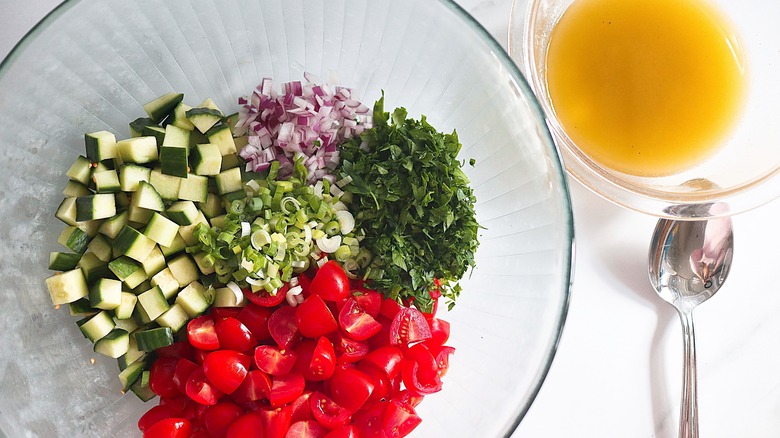 Cecilia Ryu/Mashed
Next, you can make the dressing. To do so, whisk the fresh lemon juice, red wine vinegar, olive oil, salt, and pepper together, creating a tangy, irresistible dressing. Once you've thoroughly mixed the dressing, pour it over your vegetable mixture and then toss everything together. You'll want to mix enough to ensure that each piece of tomato, cucumber, and onion is evenly coated in the dressing. Ryu notes that you may have some leftover dressing, and you can either save it to use for a different salad or you can toss it in if you like extra dressing on your salad.
Top the shepherd salad off with feta cheese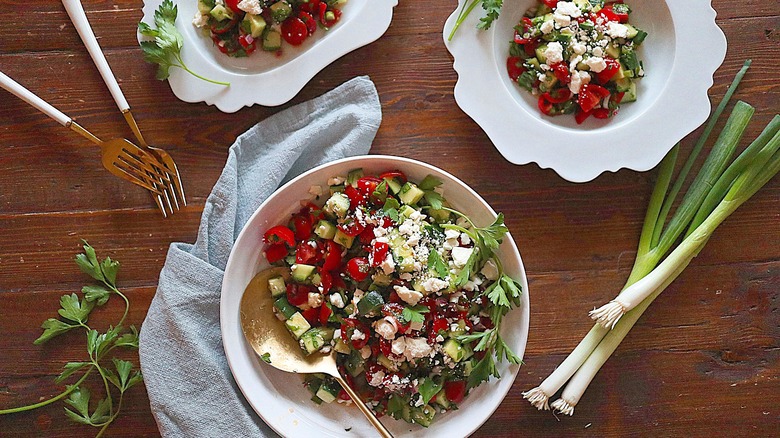 Cecilia Ryu/Mashed
Now that your salad is all mixed together, you're almost ready to enjoy it! To finish it off, simply sprinkle some crumbled feta cheese over top and you're ready to serve. "This dish usually is served as a side dish/appetizer but [it] can be served as a main dish by topping [it] with chicken or grilled shrimp, or any type of meat or seafood," Ryu says. "As an appetizer, I like to eat it with warm pita or bread." And, if you're looking for the perfect beverage pairing, Ryu notes that you can't go wrong with a good glass of wine. However you enjoy this shepherd salad, we're sure that you'll appreciate the freshness of the veggies along with the tanginess of the dressing — truly a perfect combination!
Shepherd Salad Recipe
This easy shepherd salad recipe is perfect for a quick weekday lunch or served as a side dish with dinner. Mix it up to make this versatile salad your own.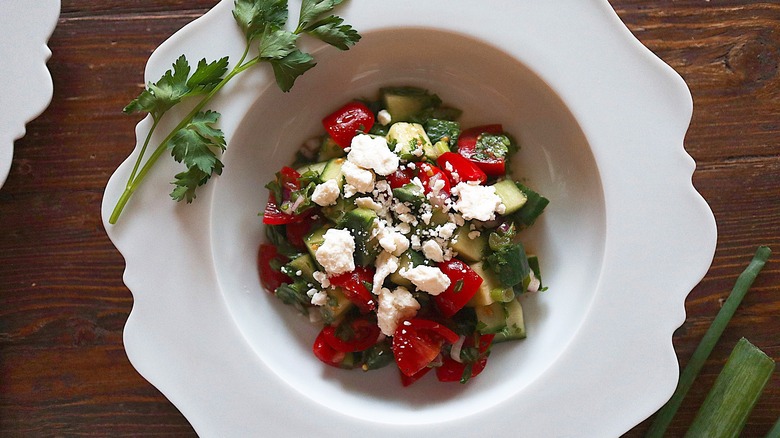 Ingredients
2 cups tomatoes, chopped (any variety)
1 English cucumber, diced
¼ cup red onion, finely diced
¼ cup scallions, chopped
½ cup fresh parsley, chopped
2 tablespoons lemon juice, freshly squeezed
2 tablespoons red wine vinegar
½ cup extra virgin olive oil
½ tsp salt
½ tsp black pepper
½ cup feta cheese, crumbled
Directions
Combine the tomatoes, cucumber, red onion, scallion, and parsley in a large bowl.
Whisk the lemon juice, red wine vinegar, olive oil, salt, and pepper in a small bowl.
Slowly pour the dressing over the tomato and cucumber mixture and mix well. (You may have some extra dressing.)
Top the salad with crumbled feta cheese.
Serve immediately or cover and refrigerate until ready to serve.
Nutrition
| | |
| --- | --- |
| Calories per Serving | 326 |
| Total Fat | 31.3 g |
| Saturated Fat | 6.6 g |
| Trans Fat | 0.0 g |
| Cholesterol | 16.7 mg |
| | |
| --- | --- |
| Total Carbohydrates | 9.0 g |
| Dietary Fiber | 2.0 g |
| Total Sugars | 4.8 g |
| Sodium | 474.7 mg |
| Protein | 4.3 g |