Sam's Club Shoppers Will Want To Try Kevin Hart's New Sundae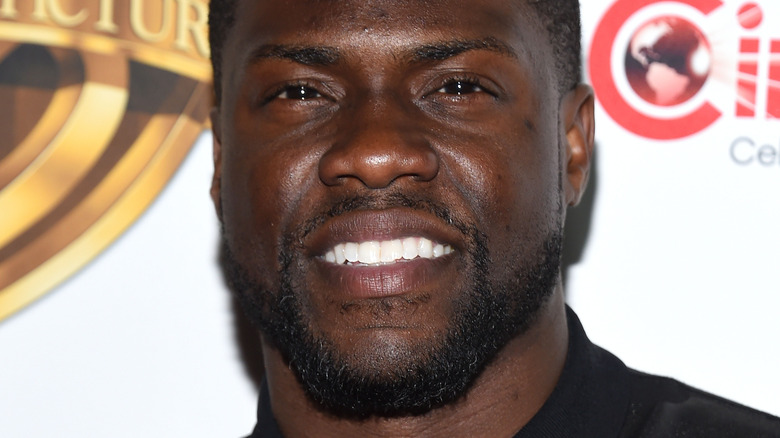 DFree/Shutterstock
Comedian Kevin Hart has partnered with Sam's Club just in time to make your holiday shopping a touch more cheerful. The Kevin's Club promotion allows new members to join Sam's Club by December 24, 2021 for $45, and, bonus, they'll also receive a $45 eGift card to the store (via Sam's Club's website).
In a video promoting the collaboration, Hart greets staff members, joking that he is the new manager, and hands out new uniforms: blue hoodies that read 'Kevin's Club.' "I just want to say, this holiday season is about to be lit ... We're rebranding. We want to change things from Sam's Club to Kevin's Club," Hart announces in jest. He goes on to highlight Sam's Club's curbside pickup and scan and go services, small touches the store offers to make holiday shopping just a little easier (via YouTube).
What's more, if you stop by the Sam's Club cafe while shopping, you can get something extra sweet: a brand new Kevin Hart-inspired sundae (via Instagram).
Relish in the new delish Kevin Hart sundae at Sam's Club this holiday season
The Kevin's Club Special, which Sam's Club is marketing as a 'new secret menu item,' is available through Christmas Eve (via Instagram). Sam's Club reported on its Facebook page that the tasty dessert (shown above) is made from vanilla-flavored frozen yogurt, caramel, chocolate powder, and garnished with an oatmeal cookie. "Just tell them Kevin 'the one and only manager' sent you to get this delicious treat off the secret menu!" Hart commented on the Sam's Club Facebook post. As for the reviews? "I had it today and it's pretty good ... 10/10," reported one Reddit user.
Kevin Hart is not only spreading holiday merriment at Sam's Club through the "Kevin's Club" membership deal and his new signature sundae, but he also participated in collaborative event with Sam's Club that brought gifts to kids in need and provided $100,000 donations to each of five child-based organizations across the country, including Boys & Girls Clubs (via Business Wire). "I've always had people in my life that believed in me, and I believe in the power of passing that onto others," Hart said of the collaboration, adding, "The donations we made went to organizations that believe in the future of kids and their families. I'm proud we were able to work together to make a big impact."