Marc Murphy Called This Pizza Dish The Best Thing He Ever Ate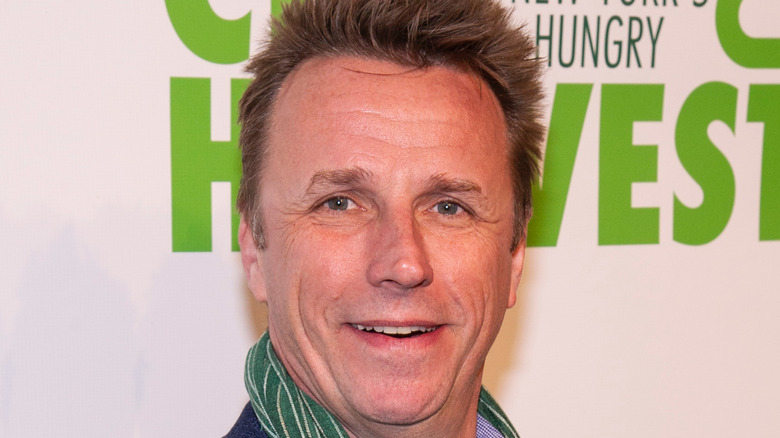 lev radin/Shutterstock
If you're an avid watcher of the competitive cooking show "Chopped," then you know that the judges taste an endless number of dishes, that range from good to bad to ugly. And, as a regular judge on the show, Marc Murphy has had his fair share of all of the above. So, how does that impact the way he eats and what he enjoys? "If I'm shooting 'Chopped' and I've been eating all this whackadoodle food all day, I go home and the last thing I want is something complicated," he told Serendipity. "I would want a Caesar salad, with maybe some salmon on it, something straightforward that doesn't attack my senses too strongly," he said. 
What about food that has stood out from the rest ... in a good way? When asked recently by Food Network what his most memorable meal was, he responded, "Most recently I went to New Orleans and ate at the famous Commander's Palace. It was such a memorable lunch with my family that lasted for hours. I especially loved the Snapping Turtle Soup!" This legendary soup, according to their official website, is an "authentic Louisiana favorite with rich veal fond, chopped egg, and crushed lemon — finished tableside with aged sherry."
But, there's one other dish that has left a lasting impression on Murphy — and, this one is for the pizza fans out there.
It's a pizza pot pie and you can only get it in Chicago
For Marc Murphy, the best thing he said he ever ate was in Chicago — and it was a unique take on pizza in the city that does it best. Nothing says the Windy City like deep dish pizza, but the pizza pot pie from Chicago Pizza and Oven Grinder Co. really takes things to the next level. What exactly is it? Their official website describes it as a dish "made with triple-raised Sicilian bread-type dough; a homemade sauce consisting of olive oil, fresh garlic, onions, green peppers, whole plum tomatoes, and a special blend of cheese; sausage made from prime Boston butts; and doorknob-size, whole, fresh, mushrooms." It's then all baked in a bowl, encased by the dough. The pizza is then flipped over at your table by your server and you are left to somehow devour it without making a complete mess (via Serious Eats). Marc Murphy raved about the item on Food Network, saying, "This is one of the weirdest and tastiest things I've ever had. ... It's a pizza party." 
And, Murphy isn't alone in his enthusiasm for the cheesy concoction. Food Network's video all about the pizza pot pie has garnered more than 316 million views on Facebook and the restaurant has received approximately 3,128 reviews on their Facebook page for the delicacy. It's even said on Serious Eats that enthusiastic fans line up really early (Chicago Pizza and Oven Grinder Co. doesn't take reservations) and wait until their name is called — sometimes waiting hours just to get their hands on this prized dish. Besides the famous pizza pot pie, the establishment also offers a variety of oven-baked grinders (hence, the name of the restaurant), Mediterranean bread, antipasto, oversized salads, and tortoni for dessert.