Santa Put Gordon Ramsay On The Naughty List And TikTok Is Loving It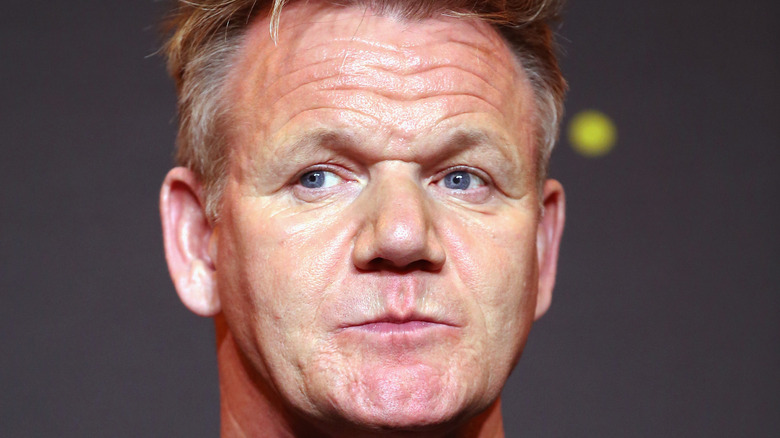 Robin Marchant/Getty Images
Celebrity chef and TV personality Gordon Ramsay is known for getting carried away when he's on a show and needs to give feedback to contestants and voice his opinions. Per The Guardian, the chef got into serious trouble in 2009 when he allegedly used a swear word over a 100 times in a span of 40 minutes on the show "Great British Nightmare." Viewers were so upset that they sent complaints to the channel, protesting against the "frequency and sustained nature of the use of the most offensive language."
Ramsay was recently reminded of this nasty habit on his new show, "Gordon Ramsay's Road Trip: Christmas Vacation." According to TV Insider, Ramsay's show is a lighthearted watch that features Gordon Ramsay and his friends, chef Gino D'Acampo and renowned maître d' Fred Sirieix, as they head to Finland, hoping to meet Santa himself. Safe to say, they succeeded and met Santa, but things didn't go too well for Ramsay.
Santa called him out
Gordon Ramsay was seen looking quite embarrassed in an entertaining video clip from "Gordon Ramsay's Road Trip: Christmas Vacation" that was posted yesterday on his TikTok account. Santa himself addressed Ramsay's swearing habit and told him, "Just a note about your swearing ... you're just a little bit of a potty mouth." Their interaction quickly led to Ramsay saying that he's sorry about his behavior, something that delighted many fans who couldn't believe what they were hearing.
An amused commentator wrote, "I think this is the first Gordon has apologized" and used several laughing emojis to illustrate the point. Another TikTok user hilariously noted that this "was a slow day on the curse words." Luckily for Ramsay, Santa decided to be a little charitable and let him off the hook, which prompted a viewer to write, "Gordon you are back on Santa's nice list because you apologized. Now watch that potty mouth!"