The Tater Tot Eating Contest You Didn't Know Bar Louie Once Hosted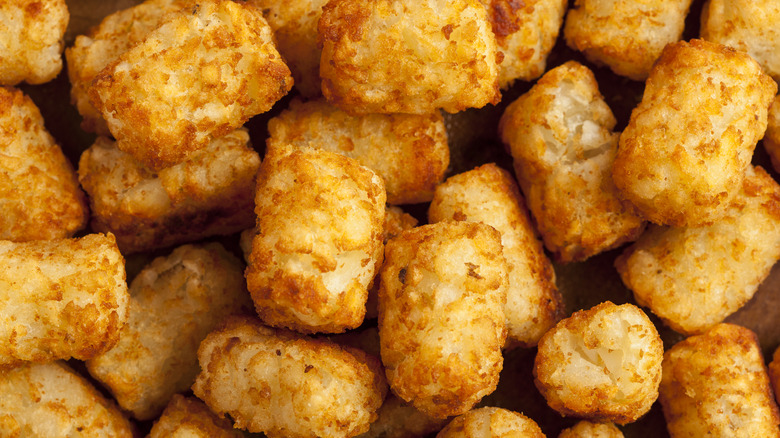 Brent Hofacker/Shutterstock
Gluttonous feats of competitive eating are nothing new. Most people are aware of the annual Nathan's Famous International Hot Dog Eating Contest held every July 4th in Coney Island, New York, in which modern food gladiators compete to see how many buns and dogs they can force down in 10 minutes while vying for the coveted Mustard Belt. In the men's category, the only real question these days is whether 14-time champion Joey Chestnut will break his own personal record (it currently stands at a gut-busting 76 hot dogs consumed in 10 minutes).
Competitive food eating contests have increased in popularity over the years, bolstered by reality TV shows such as Man v. Food, where the host travels around the country participating in different eating challenges promoted at various restaurants. There is even a Major League Eating circuit that is recognized as the official professional league of competitive eaters.
But what you might not know is that nationwide restaurant chain Bar Louie once hosted an annual tater tot eating contest called "Rock the Tot," where competitors were asked to cram as many tots as humanly possible into their craw within a six-minute time limit. The winner one year, Carl Deselm, a Washington University medical student, swallowed "nearly three-and-a-half pounds of Tater Tots" within the allotted time (via Riverfront Times).
Eyes on the competitive eating prize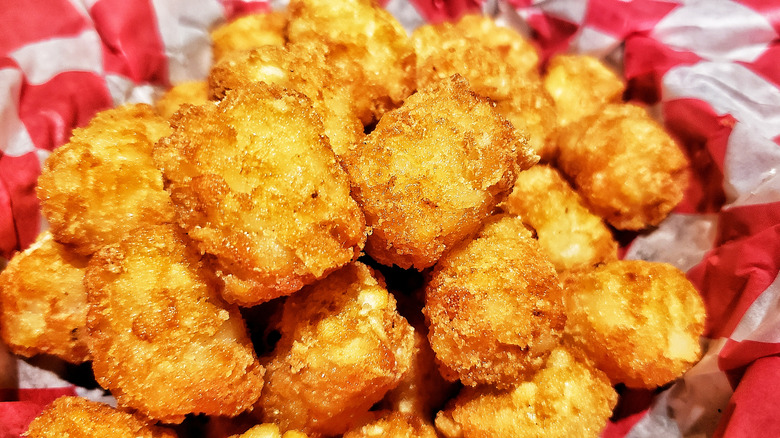 ifoodijourney/Shutterstock
Much like in hot dog eating contests, many of the competitors in the tater tot competition employed a spectacularly gross strategy of dipping their tots in water, creating a soggy, starchy mess (via Riverfront Times). Bar Louie offered both individual and team relay races where speed was paramount and contestants attempted to break world time records. In the relay, a team was served a pound of tots with the goal of finishing it faster than their opponents. For prizes, Bar Louie offered gift certificates to individual winners and free tater tots for a year to the winning relay team. But unfortunately, if you're looking to get in on the tater tot action, you're out of luck — according to one poster on EatFeats, the competition hasn't been held since 2017.
Also, if you were wondering whether this extreme level of gorging might present a real choking hazard, the answer is a resounding "yes." The Canadian Medical Association Journal described choking as "one of the greatest risks to average individuals who enter eating contests." Sadly, people have died from choking while competing in eating contests or challenges. Over one weekend in 2017, two competitors died in eating contest-related choking incidents (per Vice). Not to mention that even for professionals, the training you must put your body through to prepare for eating contests is brutal and potentially dangerous. So before you enter your name into the next food eating challenge, weigh the risks and rewards, and contemplate whether a gift certificate is a gain worth all that gastrointestinal pain.