Snowman Soup Recipe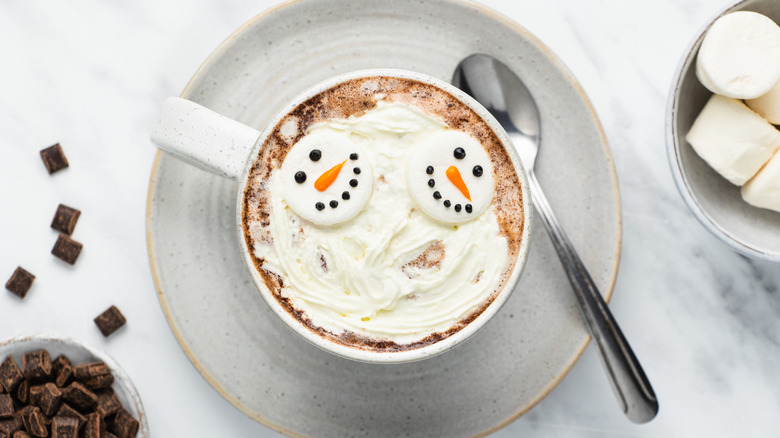 Catherine Brookes/Mashed
The winter holidays have so many symbols that make for cute decorating ideas –- not just for tree ornaments and your home, but also to dress up your food. The trouble is, many of these shapes can be a bit tricky to pull off. Who amongst us hasn't had a few spectacular Santa fails or a batch of reindeer cookies that came out looking more like blob monsters? There is one fairly fail-proof design though: a simple snowman. 
It stands to reason that since actual snowmen don't require any high-level architecture skills to build, a decent cookie (or pancake) facsimile is generally possible with even the most basic of skill sets. In fact, so simple is the standard snowman shape that you can even dress up a cup of hot chocolate to look like snowman soup. As recipe developer Catherine Brookes tells us, "This drink is so fun to make and sure to get you in the festive spirit!"
Gather up the ingredients for this snowman soup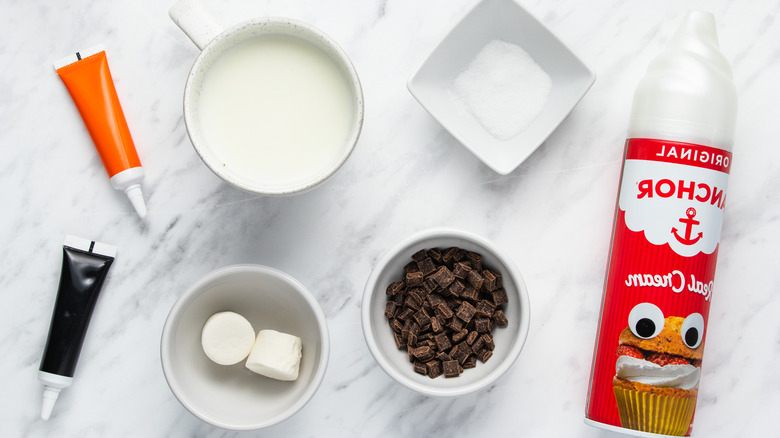 Catherine Brookes/Mashed
To make the hot chocolate, you'll need milk (dairy or not, whichever type you want), sugar, and chocolate chips. Brookes makes hers with semi-sweet chocolate chips but she says, "You could go for milk or white chocolate if preferred!"
For the snowmen, you'll need marshmallows (the big ones, not the minis) and some gel icing that comes in a tube with a writing tip. You'll also need whipped cream for your sweet soup. While Brookes uses the aerosol kind, she says it's "no problem at all" to use homemade whipped cream instead. If you'd like a vegan version of the drink, she also says, "You can make dairy-free whipped cream out of coconut cream."
Start by making the hot chocolate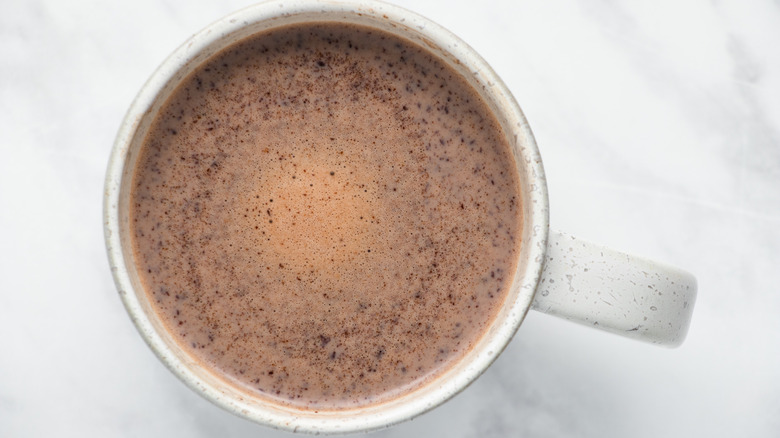 Catherine Brookes/Mashed
Pour milk into a mug without filling it all the way to the top. If you're measuring, you'll be using 1 cup (8 ounces) of milk, whereas the standard mug holds 12 ounces. Add the sugar and chocolate chips to the milk, stirring a bit so the sugar dissolves. Microwave the milk for 1 minute, stir it, then microwave it for 1 more minute. 
After this second go-round, stir the contents until all of the chocolate chips have melted. Feel free to leave the mug in the microwave in case it takes you a while to decorate the marshmallows and you want to reheat the drink for another 30 seconds or so.
Decorate the snowman marshmallows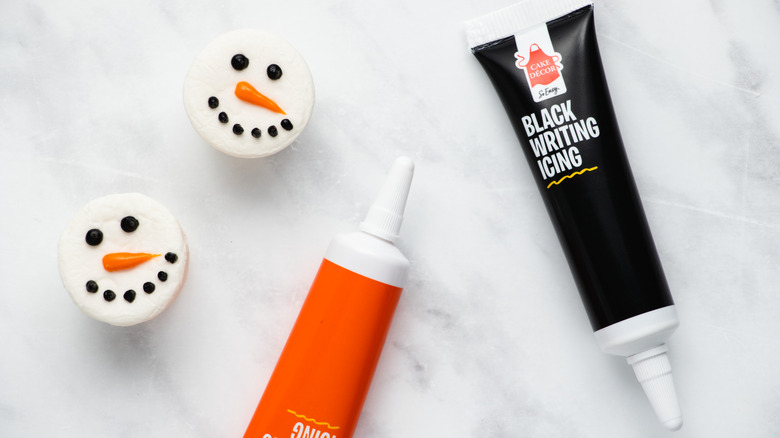 Catherine Brookes/Mashed
Use the gel icing to draw a snowman face on each of your marshmallows. Brookes puts 2 snowmen in her drink but she says you can make additional ones if you wish. She decorates the marshmallows by creating coal eyes and a mouth with black icing and a carrot nose with orange icing. If you want to use other colors or add extra details, you're only limited by your icing palette, your decorating skills, and the available surface on your marshmallows.
This soup makes the perfect winter afternoon treat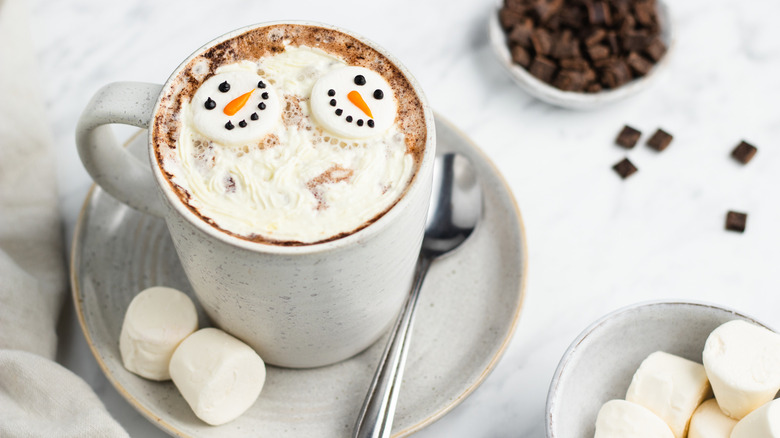 Catherine Brookes/Mashed
Finish by topping the hot chocolate with whipped cream and plopping in the snowman marshmallows. As Frosty himself would advise you, drink it up ASAP "before I melt away!" Brookes says of this snowman soup, "What more could you want than a rich homemade hot chocolate with plenty of cream and melty marshmallows?" 
If you do want more, say a little kick, she suggests adding spices like cinnamon, ginger, nutmeg, or chile powder. Or try something a bit more spirited such as Bailey's, rum, or bourbon. If you want some nibbles to go with your beverage, Brookes suggests this drink "would be great with gingerbread cookies or sugar cookies."
Snowman Soup Recipe
This snowman soup recipe is a fun and festive way to enjoy hot chocolate this winter. Sip on this cute creation with cookies on the side for an extra touch.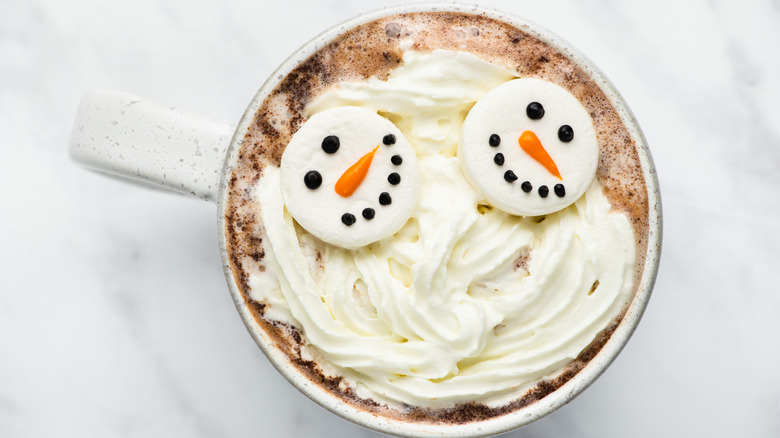 Ingredients
1 cup milk (or non-dairy substitute)
2 tablespoons semi-sweet chocolate chips
1 teaspoon sugar
¼ cup whipped cream
2 large white marshmallows
a few drops orange and black writing icing
Optional Ingredients
Directions
Pour the milk into a mug.
Mix the sugar and chocolate chips into the milk.
Microwave the milk for 1 minute, then stir.
Microwave the milk for another minute, then stir until the chocolate chips have all melted.
Use black and orange writing icing to draw a snowman face on each marshmallow.
Top the hot chocolate with approximately ¼ cup whipped cream (or more, to taste).
Finish off the "soup" by topping it with the snowman marshmallows.
Nutrition
| | |
| --- | --- |
| Calories per Serving | 370 |
| Total Fat | 18.1 g |
| Saturated Fat | 10.7 g |
| Trans Fat | 0.0 g |
| Cholesterol | 35.8 mg |
| | |
| --- | --- |
| Total Carbohydrates | 47.0 g |
| Dietary Fiber | 1.4 g |
| Total Sugars | 40.5 g |
| Sodium | 123.2 mg |
| Protein | 9.4 g |