Reddit Is Freaking Out Over The Artwork On This Starbucks Chalkboard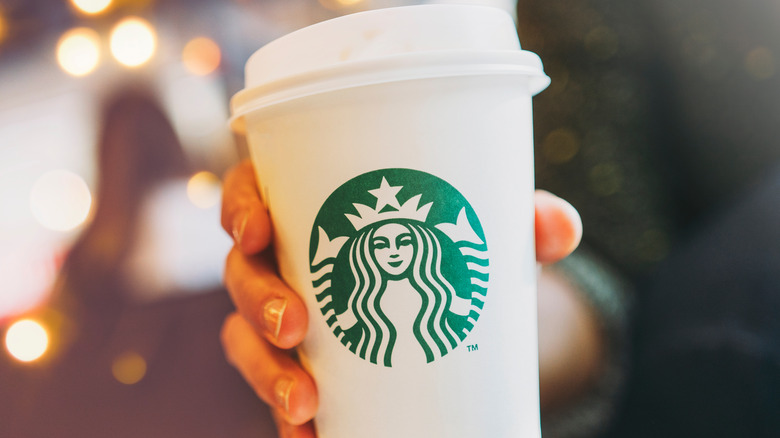 Manu Padilla/Shutterstock
For anybody who doesn't follow Starbucks on social media, the best way to know about their limited-edition drinks, festive offers, and discounts, or any other promotions is likely through the chalkboards placed outside a Starbucks store. Sometimes, it's the beautifully drawn coffee on the chalkboard that will make you want to walk inside and get yourself a real one, even when you never planned to!
It turns out that the chalkboards that you see in Starbucks are hand-drawn by employees, and have been so since 1971 (via Starbucks Stories & News). Starbucks baristas have also previously admitted on Reddit that although the message that is supposed to be written on the chalkboard is sent by Starbucks — and needs to be followed to the tee — the actual writing and designing is done by Starbucks employees during their shifts.
So, not only do Starbucks baristas have top-notch coffee brewing skills, but they also have serious artistic abilities. To prove it, a Starbucks employee shared a recent chalkboard that they had hand-drawn themselves — and the festive artwork has left Reddit seriously impressed.
The brilliant artwork has made Reddit question Starbucks' pay
Reddit could not get over just how brilliant the chalkboard artwork was, and couldn't help but clap for (and praise the design skills of) the Starbucks employee who had drawn it. This also made Reddit wonder just how much the employee was being paid for their artwork.
"Holy s*** You don't get paid enough to do that lol You should get a job painting murals across your town. Pays better," suggested one user, while others wondered how there was any time to draw such a detailed chalkboard during a working shift. To this, the employee said that although the pay that they were getting from Starbucks wasn't great, their store manager always scheduled "non-coverage" hours for them to have some time to draw on the chalkboard. The "non-coverage" hours, as another Reddit thread explains, are hours spent working off the floor that employees still get paid for.
The Starbucks employee also suggested that anybody else who'd like to draw on chalkboards should definitely ask their manager to be able to do so, as long as they are still being paid for it. In fact, forget being paid for — some Redditors even suggested that for a hand-drawn chalkboard as brilliant as that, the employee should get a hefty raise!