Aldi Fans Are Pumped For This Returning Festive Gouda Cheese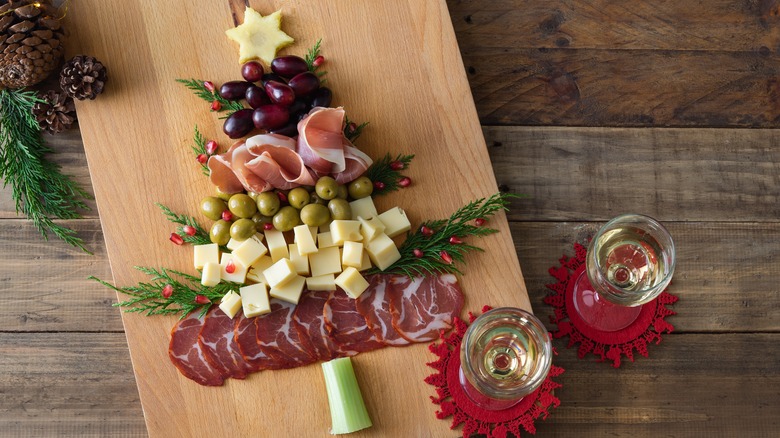 Maria Castellanos/Shutterstock
It's the holiday season, which means that for many of us, it's holiday party hosting season. With charcuterie and cheese boards being more popular than ever in the past few years, chances are we'll be assembling a platter of cheese and crackers at our own holiday gathering this month, and there's a fun way to set yours apart from the crowd. We're talking about Aldi's holiday food selection, which includes the return of their Christmas tree-shaped gouda. It's too gouda to be true!
Aldi's Emporium Selection Gouda Cheese is pre-sliced into Christmas tree shapes, so all you have to do when you're ready to serve is open the package and set the cheese on a serving tray. According to Instagram account AldiFavoriteFinds, the cheese is $3.99, which is pretty affordable for gouda, never mind gouda that's been cut into adorable Christmas tree shapes. Gouda isn't just delicious. It's also a great source of calcium, protein, and Vitamin K, making it a little more nutritious than the Christmas cookies you've been snacking on for most of December. 
Turn that gouda into a a feast with other Aldi foods
Holiday tree Gouda isn't the only festive seasonal product at Aldi. They're also selling two products that will make it easy for you to set up the snack table at your next party. The Specially Selected Charcuterie Board Kit, which is $9.99, is the perfect pairing for your Christmas tree gouda (via Aldi). Each kit includes cheese accompaniments like dried fruit, nuts, and chocolate. Pair with the gouda and another cheese (the packaging recommends goat cheese), along with some crackers, and your party is set.
You could also throw in the Specially Selected Antipasti Platter, which is $5.99 (via Aldi). It includes favorites like marinated mushrooms, artichoke hearts, sun-dried tomatoes, green olives, and Kalamata tapenade. Add this to your platter of gouda Christmas trees and your party guests will be able to eat their fill, and they won't even know that between the gouda, the Charcuterie Board Kit, and the Antipasti Platter, you only spent $20 at Aldi.