Popcorn Lovers Are Divided Over Aldi's Seasoning Line
If you love popcorn, Aldi usually has you covered. Aldi Reviewer discovered Stonemill Essentials popcorn seasonings back in 2016, and found that they were worth trying, but the ranch and white cheddar seasonings ranked above the butter or nacho cheddar flavor. Two years later, users over at r/Aldi expressed mixed feelings over the seasonings. One commenter said they've tried multiple flavors "and find them to be bland and tasteless. Ranch is especially off putting, very chemical tasting." Another noted that the white cheddar "is pretty tasty," but butter and nacho cheddar "were both a bust" and tasted mostly of salt.
It now appears these popcorn seasonings are once again a topic of internet interest. Aldi fan page @adventuresinaldi snapped a photo of the product and posted it on Instagram alongside the caption, "Who doesn't love a good popcorn seasoning?! There are four awesome choices right now! And they are only $1.79. Which ones are you grabbing?!"
A popcorn companion worth trying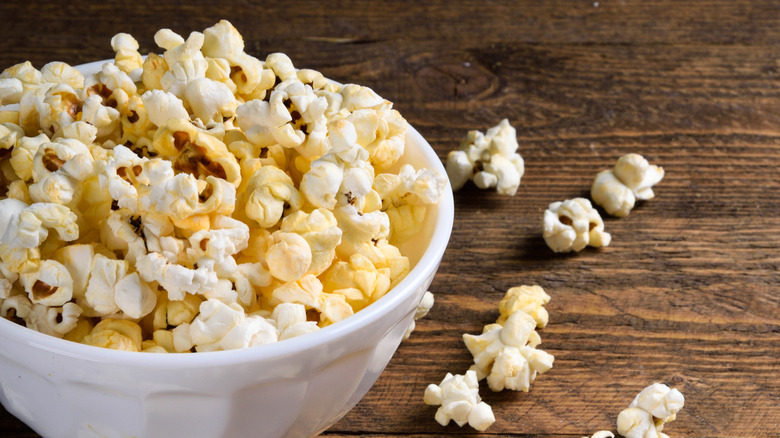 Zoomik/Shutterstock
@adventuresinaldi's Instagram post asked which popcorn seasoning flavors their followers wanted to stock up on, and one follower enthusiastically replied with, "All of them." In the past, some Aldi shoppers have even found ways to incorporate these seasonings in foods that aren't popcorn. Over at r/Aldi, one Redditor suggested using the butter flavor for baked potatoes, noting that it's especially convenient "if you take them to work." Another commenter added that they've "actually never tried the ranch on popcorn," but "did try it as a kind of dry rub on chicken a few times to moderate success."
The popcorn seasonings may not be universally loved, but other Redditors seem to enjoy the flavors — replies ranged from, "Down to my last bottle of white cheddar from last year's clearance! Perfect!" to "ranch is the best in our opinion!"
If you end up finding these spices at your local Aldi, give them a try and see which side of the debate you fall on. With any luck, you might just discover your new favorite popcorn seasoning or an easy hack for baked potatoes.