Eggnog Frosting Recipe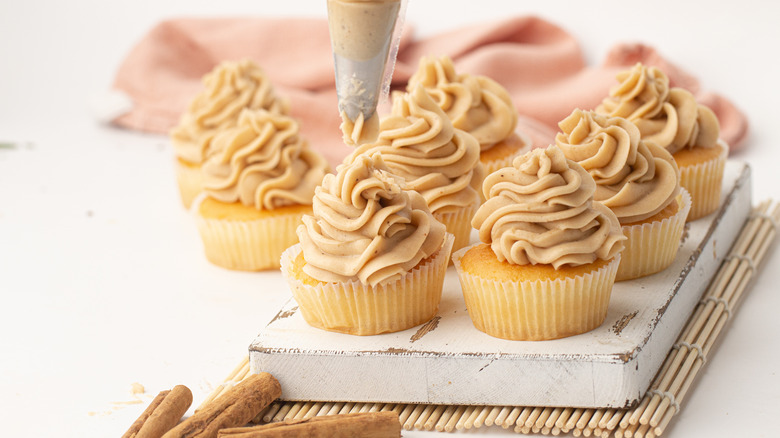 Susan Olayinka/Mashed
Is it just us, or is there something inexplicably fascinating about observing an expert dessert artisan pipe buttercream onto a cake? On the one hand, the buttercream appears sturdy, sculptural, weighty, and significant. Yet on the tongue, it's a completely different story as it smoothly melts into a puddle of creamy, quasi-intoxicating sweetness. To be clear, we're talking about American buttercream, one of few frostings that require no eggs or cooking (via Wilton Blog).
American buttercream gets its creamy sweetness and impressive structure from a whipped combination of confectioners' sugar, butter, and milk. Recipe developer and food blogger Susan Olayinka created an eggnog frosting recipe that follows that formula precisely — without eggs. And the eggnog taste? It's the real deal. "I love frosting," Olayinka tells Mashed, especially when it's flavored with "that eggnog spiced taste" she adds. And, did we mention, this frosting requires a prep time of 10 minutes max? Let's dive in and see how that can even be!
Gather your ingredients for eggnog frosting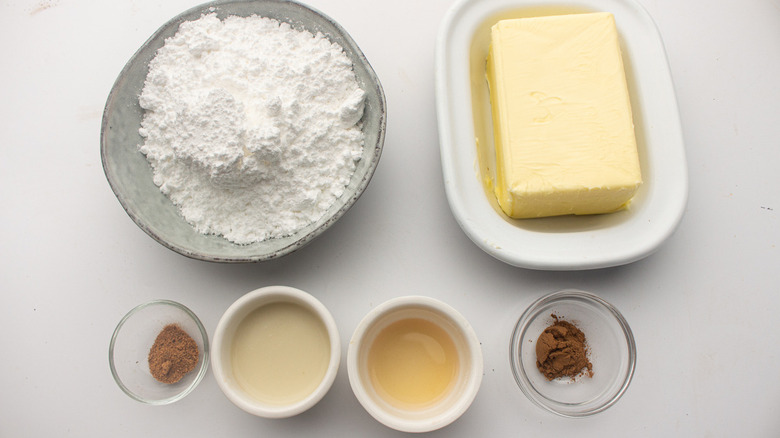 Susan Olayinka/Mashed
Since Olayinka's eggnog frosting is based on the American buttercream formulation, you won't need eggs. You'll still need plenty of butter and powdered sugar aka confectioners' sugar. Specifically, you'll need 2 sticks plus an extra tablespoon of unsalted butter and 1 ½ cups of confectioners' sugar. For a smooth texture, you'll need about 2 tablespoons worth of whole milk. For the eggnog flavor, you'll need 1 teaspoon each of vanilla extract and ground cinnamon, and ¼ teaspoon of ground nutmeg (it's that simple to achieve an eggnog flavor!)
Can you guess the secret to the creamiest buttercream?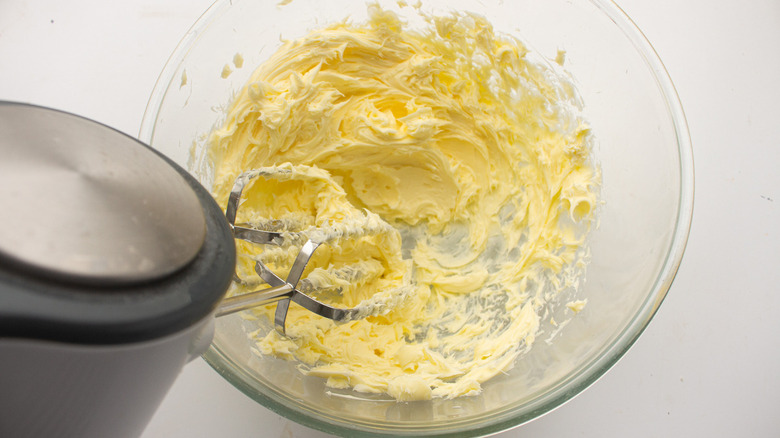 Susan Olayinka/Mashed
According to Olayinka, the secret to the creamiest buttercream frosting begins by working with room-temperature butter. So, at least a half-hour before even thinking about whipping up this eggnog frosting, you'll want to take the butter out of the fridge. You'll also want to chop it into smaller slices, which will expose more of the surface area to the air as it warms up to room temperature. But there's one more step that makes Olayinka's eggnog frosting so incredibly creamy: She whips the butter before adding in the sugar. Follow along and start whipping the butter in a bowl, using an electric mixer set to high.
It's time to add the sugar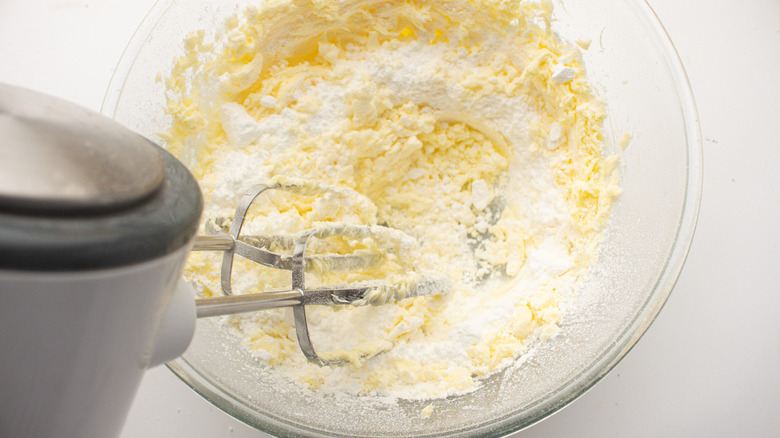 Susan Olayinka/Mashed
To get the most out of Olayinka's recipe for eggnog frosting, she recommends continuously whipping the butter until its color has transformed into a pastel yellow. Once the color has lightened, it's time to add in the confectioners' sugar. As you incorporate the sugar, reduce the speed of the electric mixer and add it in ½ a cup at a time. Olayinka notes that adding a bit of sugar at a time, "prevents it from going everywhere," which will be a relief come clean-up time.
Add the eggnog flavor, whip, and serve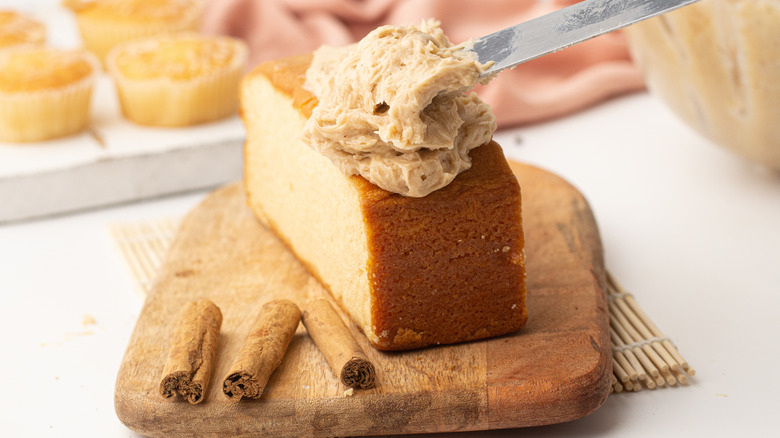 Susan Olayinka/Mashed
Once all of the confectioners' sugar has been incorporated, it's time to add the cinnamon, nutmeg, and vanilla extract to transform this blank slate into an eggnog-flavored delight. Then, pour in the milk and continue to whip with your electric mixer until your eggnog frosting is light and fluffy. At this point, the frosting is ready to use, although perhaps you've already realized by sneaking a taste. 
You should get about 1 ½ cups of frosting from this recipe. Olayinka recommends using it for a number of treats such as a 9-inch layer cake, a 13x9-inch sheet cake, or 12 cupcakes. You can also use it to stuff cream-filled donuts and other pastries or to add some holiday cheer to any muffin or quick bread.
Eggnog Frosting Recipe
This eggnog frosting recipe has all the flavors you love, using zero eggs! Transform your baked goods for the holidays thanks to this sweet and creamy topping.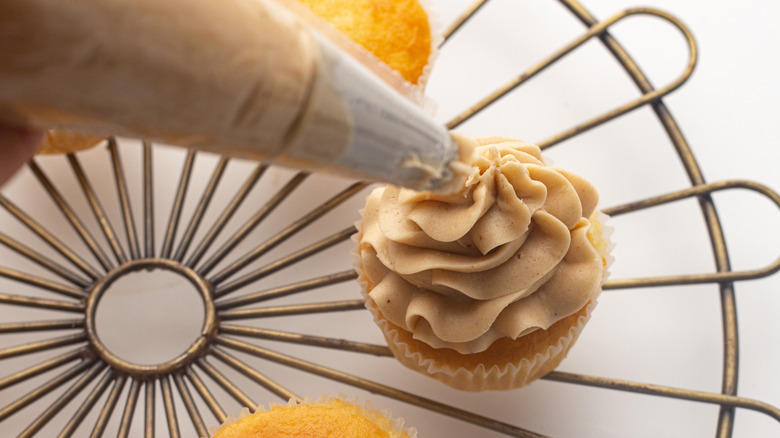 Ingredients
9 ounces unsalted butter (2 sticks + 1 tablespoon)
1 ½ cups confectioner's sugar
1 teaspoon cinnamon powder
¼ teaspoon nutmeg
1 teaspoon vanilla extract
2 tablespoons whole milk
Directions
Take the butter out of the fridge at least 30 minutes before beginning your prep to warm it up at room temperature.
Transfer the butter to a mixing bowl and whip it with an electric mixer on high until the color has slightly lightened.
Add the confectioner's sugar ½ a cup at a time, and reduce the speed of the electric mixer as you continue to whip.
Add the cinnamon, nutmeg, vanilla extract, and finally the milk.
Continue whipping the frosting until it is light and fluffy (this should happen in under a minute).
Serve the frosting as desired. (It will be enough for a 9-inch layer cake, a 13x9-inch sheet cake, or 12 cupcakes.)
Nutrition
| | |
| --- | --- |
| Calories per Serving | 205 |
| Total Fat | 16.3 g |
| Saturated Fat | 10.3 g |
| Trans Fat | 0.7 g |
| Cholesterol | 43.3 mg |
| | |
| --- | --- |
| Total Carbohydrates | 15.3 g |
| Dietary Fiber | 0.1 g |
| Total Sugars | 14.9 g |
| Sodium | 3.6 mg |
| Protein | 0.3 g |