Here's What Guy Fieri Eats When He's Not Traveling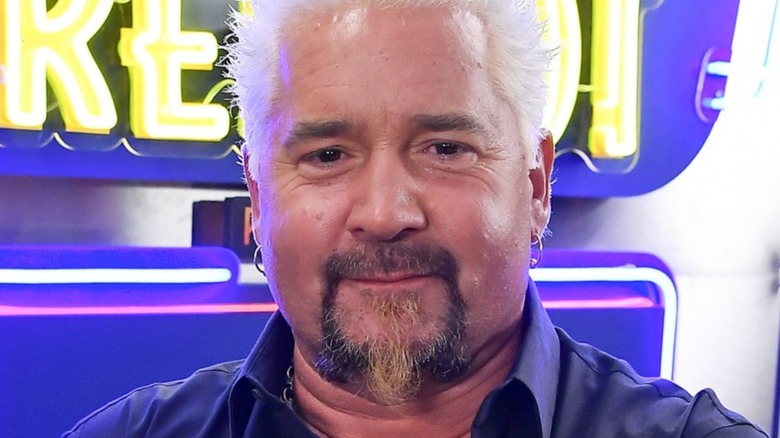 Ethan Miller/Getty Images
Guy Fieri has a serious love affair with food. According to Taste of Home, the chef and personality loves French cuisine, collard greens, chicken and dumplings, cilantro, and so, so much more. He also has a soft spot for vegetables — Fieri grew up eating a mostly-vegetarian diet and now claims to love produce — he even has a favorite veggie. These images paint a stark contrast to the television personality known to chow down on platters of soul food and massive sandwiches on "Diners, Drive-Ins, and Dives."
Fieri's signature recipes might have you convinced that the chef loves to eat over-the-top meals both on and off camera. Fieri's greatest recipes include decadent macaroni and cheese, Texas French toast bananas foster, double-fried french fries, and Guy-talian nachos, just to name a few (via Food Network). These items may match up with the persona Fieri has created for himself, but his regular diet actually looks nothing like these massive meals.
Fieri's light eating schedule
Steve Jennings/Getty Images
Fieri revealed his regular meal schedule and preferences during a recent interview with GQ. According to Fieri, the chef usually wakes up around 6 a.m. and starts the day with a solid Americano. He typically skips breakfast and has a light lunch, especially when he knows that he has to hit up a restaurant later that evening. "People always think that I must just eat deep-fried pizzas and cheeseburgers for lunch but I'm a big salad fan, big sushi fan, and Thai food fan," Fieri told GQ. Since the Food Network star constantly has to eat out while traveling, he also makes it a point to cook at home as much as possible.
In the Fieri household, the chef and one of his sons like to lobby for Korean, Thai, Chinese, Japanese, and Vietnamese cuisine, while his youngest son constantly suggests pizza and his wife goes for meat and potatoes. At the end of the day, Fieri's regular diet looks like many other eaters. You might never expect a chef who has a recipe for "Cin-ful peach cobbler" on Food Network to have eating preferences that look like the average diner, but Fieri's down-to-earth tastes make him that much more relatable.