Christmas Fudge Recipe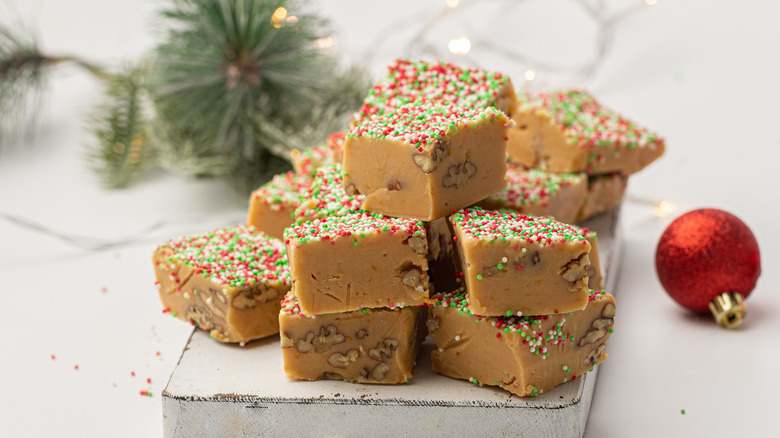 Susan Olayinka/Mashed
What comes to mind when you hear fudge? Butterscotch? Chocolate? Eggnog? Red velvet? Susan Olayinka, food photographer and recipe developer at The Flexible Fridge, has a sweet and simple recipe for toffee-flavored Christmas fudge with sprinkles. Share this tantalizing delight with your family this season and they'll surely be begging for more. Given there's no baking required, Olayinka's method comes together in 30 minutes, with an extra few hours of wait time while the fudge sets. The result is perfect for a holiday spread, and you'll only need eight ingredients to whip up this sweet treat.
Fudge is an American delicacy, although its invention wasn't actually intentional, Cocopotamus recounts. The story goes that in 1886, a confectioner accidentally overcooked a caramel recipe, resulting in what is now known as fudge. From then on, this crumbly, sweet, and rich treat has been enjoyed around the world. Various flavors have since been created, including gingerbread, Rocky Road, and M&M. Start with this Christmas version and then let your taste buds direct you to the next!
Gather the ingredients for this Christmas fudge recipe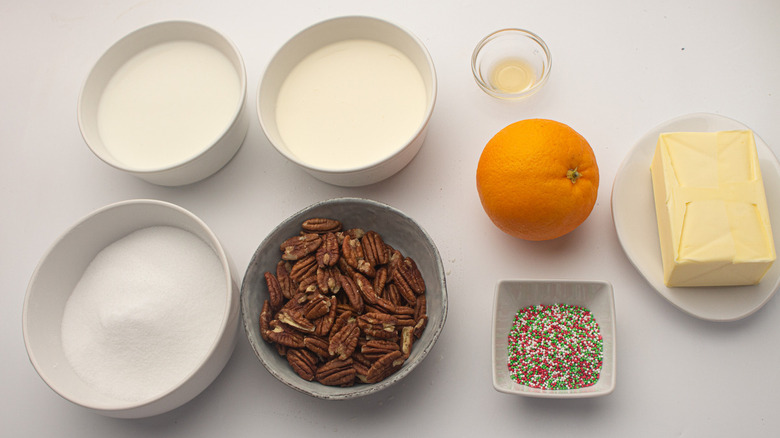 Susan Olayinka/Mashed
To commence this recipe, you'll need the following ingredients: 1 cup of whole milk, 2 cups of superfine white sugar, 1 cup of unsalted butter, 1 cup of heavy cream, 1 teaspoon of vanilla extract, and 1 cup of pecans. If you're unable to locate superfine sugar at the supermarket, our recipe developer confirms that granulated sugar works. She explains that "it will just take a bit longer to melt. Add an extra 5 [minutes] on the clock." Lastly, you'll need the zest of an orange and ¼ cup of Christmas-themed sprinkles (red, green, and white).
Melt the ingredients together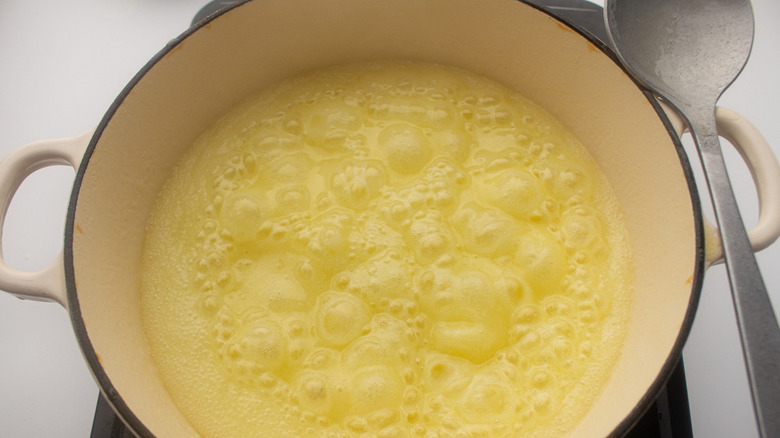 Susan Olayinka/Mashed
To begin, measure out the whole milk, sugar, butter, and heavy cream into a saucepan. Be sure to turn the heat up to medium-high so that the ingredients melt. As the contents come to a boil, stir the mixture continuously for 20 minutes while it cooks. In case you are using granulated sugar, keep going for a total of 25 minutes.
Let's dive into a little kitchen chemistry: Exposing these ingredients to high heat determines the final texture, according to All Recipes. By bringing the ingredients up to a boil, the sugar particles crystallize to create a smooth, melt-in-your-mouth consistency. 
As the mixture cools, whisk it into fudge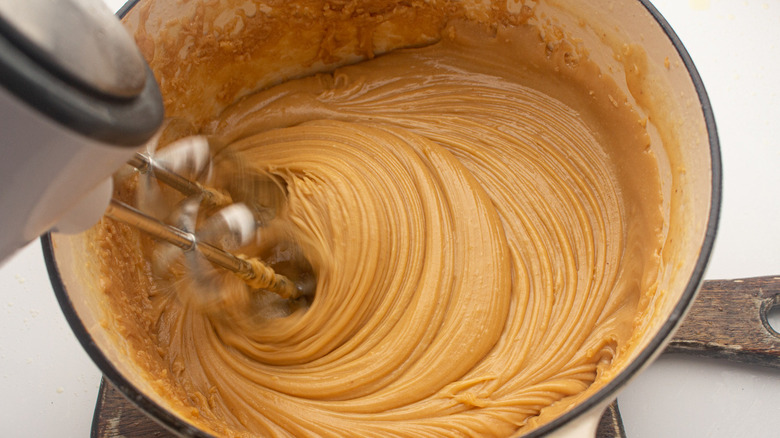 Susan Olayinka/Mashed
Once the mixture has come to a boil and held a consistently high temperature, remove it from the heat. Allow the fudge to sit for 5 minutes to briefly cool it down. Afterward, use an electric whisk and beat it for another 5 minutes. According to The Spruce Eats, beating the candy causes it to lose its sheen, but you'll achieve a thick and silky consistency minus the grit. After 5 minutes, immediately stop whisking to preserve the texture.
Mix in the final ingredients for added flavor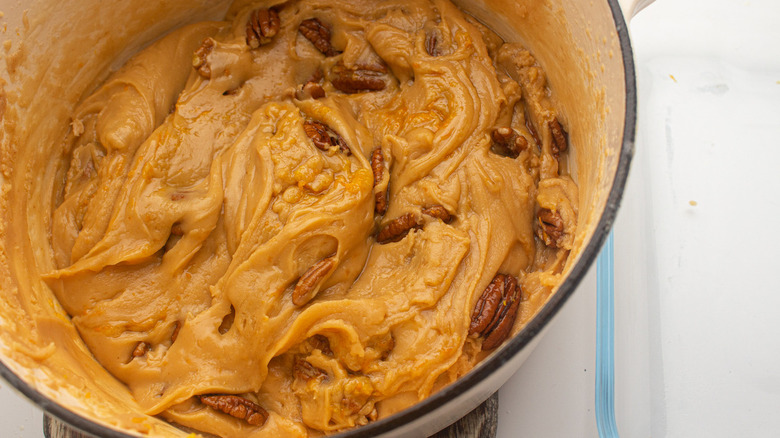 Susan Olayinka/Mashed
Once you've whisked everything, stir in the vanilla extract, pecans, and orange zest to combine. Adding the vanilla extract creates a savory taste similar to caramel candy. We asked Olayinka how she would describe the flavor and she compares it to "toffee taste but with a different texture." Can you guess her favorite part of making this dessert? It's the taste test! "This recipe is so delicious," Olayinka says, adding, "especially the orange ... you don't normally find it in fudge."
Sprinkle the fudge with some Christmas joy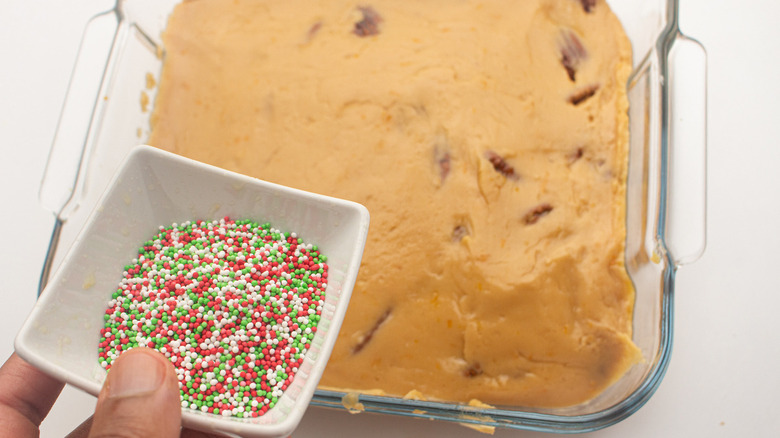 Susan Olayinka/Mashed
Now that you've combined all the goodies, grab a spatula and begin scooping the fudge into an 8x8-inch glass dish. As you transfer the fudge from pan to dish, be sure to spread the candy evenly. Level off the top with your spatula, then pour the Christmas-themed sprinkles proportionately across the surface of the fudge. Press them slightly into the top of the dessert so that they stick. Lastly, set the dish aside at room temperature for 4 hours. During the setting process, the fudge will dry into its traditional, crumbly texture.
Delight in your delicious homemade fudge!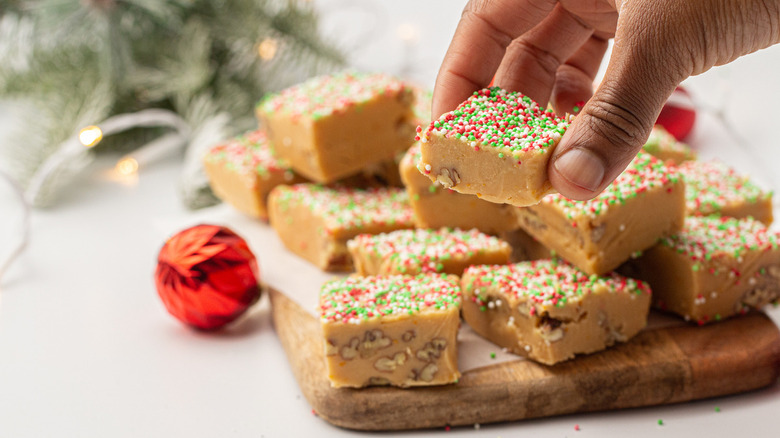 Susan Olayinka/Mashed
After setting for 4 hours, the fudge will have a firmer texture and you had better be ready to enjoy it! Olayinka confirms, "It's a must-try!" Take a sharp knife and cut the fudge into 16 even squares. Use a cake server or fork to carefully remove each piece from the dish. Display these luscious goodies in an appealing arrangement to treat your guests and family. Since it's undeniably simple, Olayinka suggests the best time to make this decadent dessert is "in the morning on the 24th [of] December!" Any extra fudge can be kept in an air-tight container.
Christmas Fudge Recipe
Satisfy your sweet tooth with this Christmas fudge recipe. Stuffed with pecans and topped with sprinkles, this toffee-like fudge will be an instant favorite.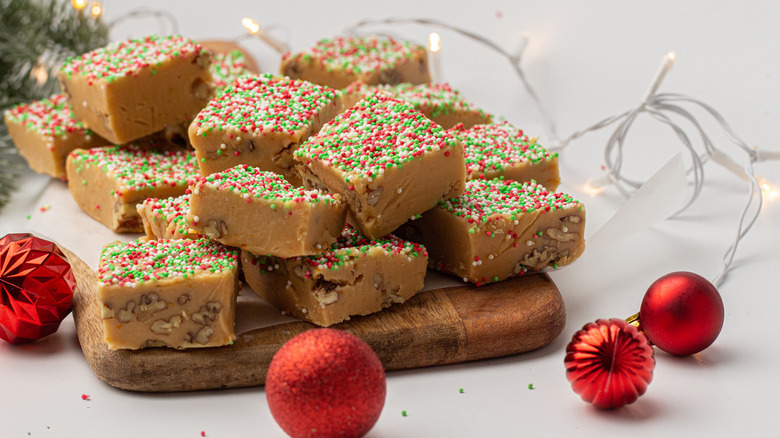 Ingredients
1 cup whole milk
2 cups superfine white sugar
1 cup unsalted butter
1 cup heavy cream
1 teaspoon vanilla extract
1 cup pecans
1 orange, zest
¼ cup Christmas-themed sprinkles
Directions
Place the whole milk, sugar, butter, and heavy cream into a saucepan and turn the heat up to medium-high.
Melt the ingredients in the saucepan as you bring the contents to a boil, stirring continuously for 20 minutes.
After 20 minutes, the mixture should transform in color from light brown to golden.
Remove the mixture from the heat and let it sit for 5 minutes.
Next, mix for 5 minutes using an electric whisk.
Then, add the vanilla extract, pecans, and orange zest to the mixture.
Transfer the mixture to an 8x8-inch glass serving dish.
Top it with Christmas-themed sprinkles, pressing them slightly into the mixture so that they stick.
Set the fudge aside at room temperature for 4 hours.
After 4 hours, the mixture should have a harder fudge texture.
Cut it into 16 pieces and serve.
Nutrition
| | |
| --- | --- |
| Calories per Serving | 319 |
| Total Fat | 22.0 g |
| Saturated Fat | 11.4 g |
| Trans Fat | 0.5 g |
| Cholesterol | 52.4 mg |
| | |
| --- | --- |
| Total Carbohydrates | 31.1 g |
| Dietary Fiber | 0.8 g |
| Total Sugars | 30.3 g |
| Sodium | 14.1 mg |
| Protein | 1.6 g |