Is Chick-Fil-A Open On New Year's Day 2022?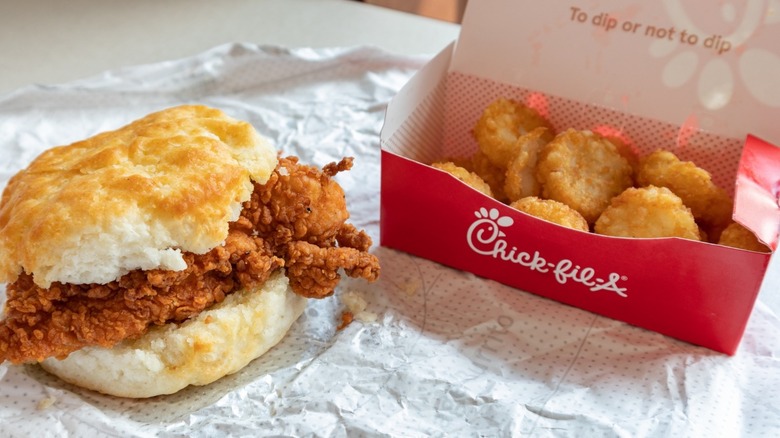 James Andrews1/Shutterstock
If you're a big fan of Chick-fil-A, you aren't alone. The national chain ranked as America's most satisfying fast food restaurant for the seventh year in a row, according to the American Customer Satisfaction Index report. There's a lot to love about Chick-fil-A, from its cheeky cow mascot to its friendly employees to its vast menu of drool-worthy eats. Whether you love the iconic chicken sandwich, the classic chicken nuggets (dipped in Chick-fil-A sauce, of course), the crispy waffle fries hot out of the fryer, or a tangy fresh-squeezed lemonade, it seems that there's something for everyone at the beloved chain.
Anyone who eats Chick-fil-A on the regular probably has the daily operating hours of your closest location memorized. But while you might know the everyday hours of your Chick-fil-A of choice, what about its holiday hours? Is the fast food chain open on New Year's Eve or New Year's Day in 2021? Here's what you need to know about Chick-fil-A's New Year's hours and whether or not you can get your fix over the holiday weekend.
Chick-fil-A will be open on both New Year's Eve and New Year's Day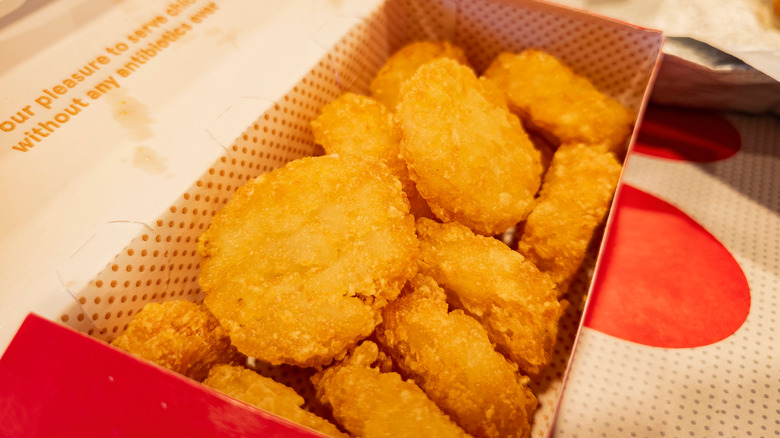 Kit Leong/Shutterstock
If you wake up on New Year's Day craving a Chick-fil-A chicken sandwich (after all, the combination of a fluffy biscuit and crispy fried chicken is a godsend for a hangover), you're in luck. Chick-fil-A recently announced on its website that locations across the country will be open on both New Year's Eve and New Year's Day. That means you could also hit up your local restaurant for a platter of chicken nuggets if you need a last-minute dish for your NYE party. Chick-fil-A says that the hours may vary by location, so it's best to call ahead to find out the specific hours at your nearest Chick-fil-A. The company says most restaurants will be open from 6:30 a.m. to 6:00 p.m. on New Year's Eve and from 10:30 a.m. to 6:00 p.m. on New Year's Day.
Note, however, that Chick-fil-A won't be open for the entirety of New Year's weekend. As most customers are aware, the fast food chain is closed every Sunday of the year, including the Sunday after New Year's Day (via Insider). So if you want to kick off 2022 with a Chick-fil-A run, you have to make it happen on January 1, not January 2.