Uno Pizzeria's Founder Originally Intended To Open This Type Of Restaurant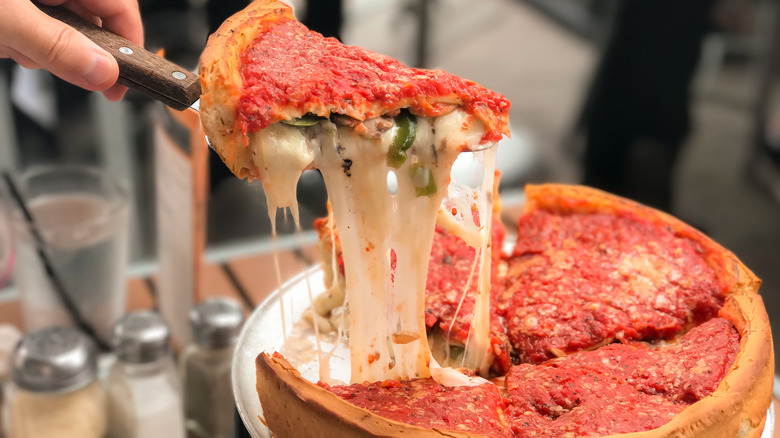 Supitcha McAdam/Shutterstock
Known as the grandfather of deep-dish pizza, Chicago icon and Uno Pizzeria & Grill founder Ike Sewell didn't always intend on having the number one pizza spot in the Windy City. In fact, he had big plans to open Chicago's first-ever authentic Mexican restaurant as an homage to his Texan roots (via Uno's website). Sewell missed tacos, enchiladas, and beans so much, he figured who better to open a Mexican restaurant than someone who grew up eating all those foods regularly? He went into business with Chicago restaurateur Ric Riccardo Sr., but sadly Sewell's dream came to a screeching halt during the menu tasting process. Legend has it, Riccardo got so tired of taste testing enchiladas that he begged Sewell to consider pivoting to a whole other cuisine (per Mental Floss). His suggestion? Pizza, of course.
With a little bit of convincing, Sewell was on board, but he wanted his restaurant to serve pizza you couldn't get anywhere else. Thus, Chicago deep-dish pizza was born. As described on Uno's website, it entails a "buttery 'out-of-this-world' crust that [has] a tall edge like a fruit pie" that is filled with authentic Italian spices, top quality tomatoes, and an unhealthy amount of cheese. Sewell and Riccardo secured a prime location in downtown Chicago on the corner of Ohio and Wabash Street, and a grand opening soon followed in December 1943. Despite long waits and a cook time of at least an hour, people braved the harsh winter elements to get their hands on the legendary deep-dish pizza pie.
Ike Sewell eventually got his Mexican restaurant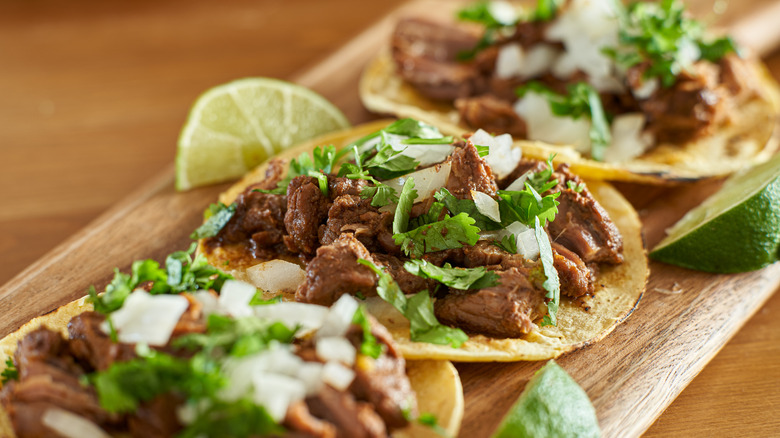 Joshua Resnick/Shutterstock
After a successful 12 years, Uno Pizzeria & Grill founders Ike Sewell and Ric Riccardo Sr. decided it was time to expand their deep-dish pizza business. Located on a lot across from Uno, the new Pizzeria Due opened in 1955 (via Uno's website). Owning two restaurants across the street from one another was a smart business move. If the line was too long at Uno, hungry guests could literally cross the street and enjoy a deep-dish slice at Due. At the time, Sewell had no idea, but he was on the cusp of developing his Mexican restaurant dream, Su Casa, which opened in 1963.
It took a lot of creativity and labor to get there, such as converting Due's outbuilding or "carriage house" into a functioning restaurant. That's right, Su Casa is located in Due's backyard, making it the third restaurant on the block under Sewell's name. According to Uber Eats, the Mexican restaurant offers a range of appetizers, tacos, fajitas, and burritos. Customer favorites include the freshly prepared guacamole and queso dip. As far as entrees go, the carnitas come highly recommended. So, the next time you're in the downtown Chicago area, be sure to check out one of Sewell's famous establishments — or more than one.