Instagram Is Raining Hearts On Martha Stewart's 'Perfect' New Horse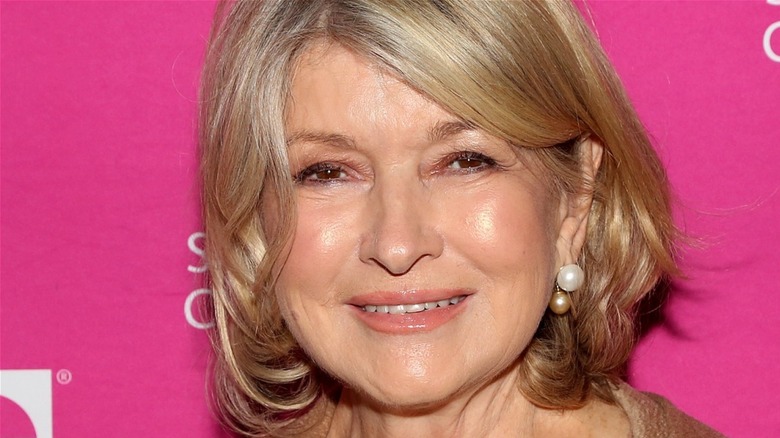 Bruce Glikas/Getty Images
By now, Martha Stewart's fans are accustomed to her appearing to do almost everything, well, perfectly. The entrepreneur's tenacity took her from a successful career on Wall Street to the launch of her own brand and media empire. As she told People in an interview, "I was the first self-made female billionaire." And an entire generation grew up knowing Stewart as the ultimate authority in cooking, interior design, gardening, housekeeping, and more.
So is it any surprise that Stewart would also have the perfect horse (or six)? Of course not, and on Instagram, she shared evidence of a recent achievement in equine excellence. The post features a video of a rider atop Stewart's newest Friesian horse. She captioned the post: "One of my new Friesian geldings!!! He looks perfect."
An animal lover, Stewart explained on her website in 2019 that her five (at the time) Friesian horses are a "focal point" of life at her Bedford, NY estate. What are Friesians and what makes them so special that Stewart would own a handful of them? Friesians are popular show horses, and can often be found at exhibitions and competitions. According to the US Equestrian Federation, the breed's distinguishing traits include its luxurious black coat, long mane and tails, and "feathers" around the ankles. These gorgeous creatures are known for their grace, nimbleness, and sprightly and distinctive high-stepping gait.
Martha Stewart's newest Friesian sparks awe and envy
Martha Stewart has 3.8 million Instagram followers, and many of them fell in love with the star's newest Friesian horse, a video of which she recently posted on Instagram. Many of those who commented on the post were taken with the elegant animal's inherent beauty and grace. "OMGoodness," wrote one fan. "He is gorgeous and that [gait]? Beautiful!!" Another follower commented, "Amazing horses...so elegant & I can only imagine...beautiful to ride." Said another: "What a beautiful animal. The rewards of a lot of hard work. Congrats."
Another fan declared that Stewart deserves good things like these horses. "Merry Christmas Martha! You work harder than anyone.....you deserve these magnificent animals. Enjoy!" Another follower echoed this sentiment: "So happy for you, a fairy tale come true, such unbelievably beautiful animals!! Please post lots of videos of them!!!"
Some fans didn't even try to conceal their Friesian envy. "Martha, Martha, Martha. I want to be you for just one day," read one comment, while another joked, "I have an empty stall if you and he don't work out." Undoubtedly, any horse lover would love to have one of these amazing animals, but with a price tag that can reach $47,000 (via Horsy Land), most will probably just have to enjoy watching Martha Stewart's Friesians.