Reddit's Got Jokes About This 'Micro' Pumpkin Loaf From Starbucks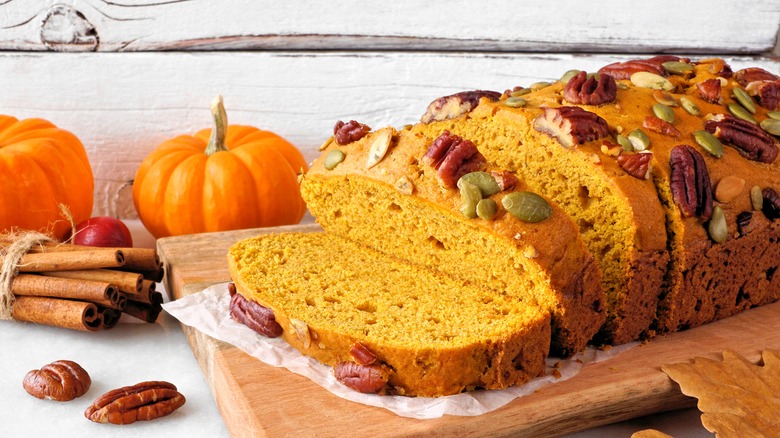 JeniFoto/Shutterstock
Starbucks might be most famous for its hot brewed coffee and frosty Frappuccinos, but the national java retailer has also risen in popularity for its menu of delicious eats. Step up to the counter at any of its locations as you order your cup of joe, and you'll be tempted by drool-worthy sweets and snacks filling the glass display case nearby. You can indulge in one of the brand's cult-favorite cake pops as a mid-morning dessert, fuel up for your day with a toasted bagel slathered in avocado spread, or — at this time of year — grab a couple of snowman cookies as a treat.
One of the most beloved baked goods at Starbucks is the pumpkin loaf. While it's available year-round at most locations, it's especially popular in the fall (and pairs perfectly with a pumpkin spice latte). Starbucks' website describes the dense loaf as "a gently spiced bread with pumpkin flavors and pepitas [that] gives you a tasty way to celebrate a seasonal favorite." However, while most slices of the pumpkin bread are thick and hefty, one Redditor was recently surprised to get a piece that was quite the opposite.
This Starbucks pumpkin loaf was abnormally small
"Got a micro pumpkin loaf in the order a couple weeks ago," a Reddit user and apparent Starbucks employee captioned a photo of an abnormally thin slice of the coffee chain's pumpkin bread. Despite their misfortune, the barista's tiny loaf amused other Redditors. "That's not a pumpkin loaf, that's a pumpkin crumb," one person commented, while another dubbed it "skinny" pumpkin loaf and someone else pointed out that it has "half the calories." Others joked that the thinner slice of bread was simply Starbucks' way of saving costs.
If you've never tried a piece of Starbucks pumpkin loaf, know that this "micro" slice isn't the norm; it was likely from a faulty batch. Other Starbucks employees chimed in on the thread about recent shipments of "flat" sugar plum cheese danishes. Nevertheless, employees were able to look at the situation with humor. As u/SoggyNacho wrote, "Somewhere in the world there's a thick a** loaf that got the rest of this one," to which the original poster replied, "Funny that you mention it. We did have a 3 inch thick loaf a few days later from the same box."