Duff Goldman Had A Hilarious Response To This Buddy Vs Duff Holiday Troll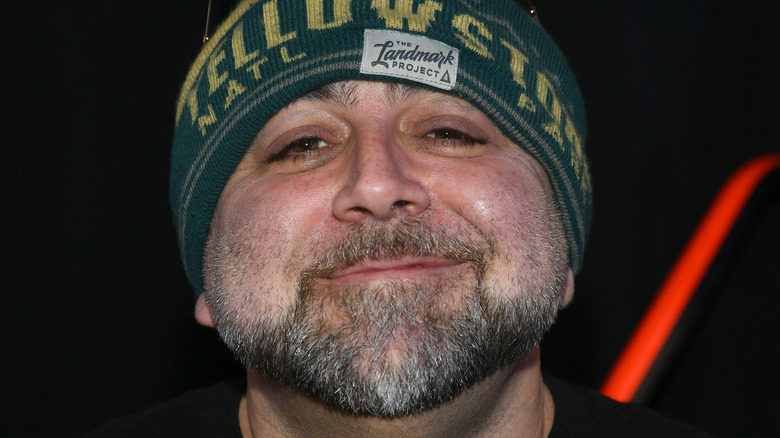 Dave Kotinsky/Getty Images
As fans of "Buddy vs. Duff" know, the competition series is a lighthearted, good-natured rivalry between two of television's most renowned celebrity pastry chefs, Buddy Valastro and Duff Goldman. While the stakes to being declared the "undisputed king of cake" can seem high at times, in the end, both teams are just eager to share their love for baking and cake creation with sweets-loving audiences.
Throughout the series' recent holiday-centric season, especially, there have been some pretty interesting themes for the bakers' creations, ranging from Cartoon Christmas to Santa's workshop, per the Food Network website. The season's final episode was assigned the theme of magical winter wonderland, as Goldman announced this weekend on Twitter. Though most of the replies to his tweet about the finale have been positive, one rather condescending comment captured the Food Network star's attention — so much so that he couldn't resist crafting the sassiest response possible.
Goldman told this Twitter user to "lighten up"
In a tweet announcing the "Buddy vs. Duff" winter wonderland episode, Goldman wrote, "Happy Holidays from #TeamDuff! Tonight is the finale of #BuddyvsDuff Holiday and you really don't want to miss this episode. We create our own magical winter wonderlands! It's going to be awesome." Although many fans headed to the comments to share how excited they were about the episode, @Cathey_Thomas wrote, "Did you guys really not know that there are no penguins in the arctic?" In response, Goldman said, "Did you really not know that we don't care? It's a cake decorating competition, not a biology PhD defense. Lighten up, Francis," presumably quoting the '80s film, "Stripes" (via Twitter).
The user had evidently seen the episode or Food Network's Twitter photo of Team Duff's cake creation, which included some very realistic-looking penguins, seals, and polar bears in an Arctic landscape. Another user agreed with @Cathey_Thomas, writing, "Cathy is correct! Polar Bears are in the northern hemisphere and penguins are in the Southern Hemisphere, and never the twain shall meet." Science aside, Goldman's cheeky reply prompted @Cathey_Thomas to say that they "didn't mean to hit a nerve," adding, "Your team made an AMAZINGLY beautiful cake despite many challenges, and I'm sincerely glad you won."