Jingle Juice Recipe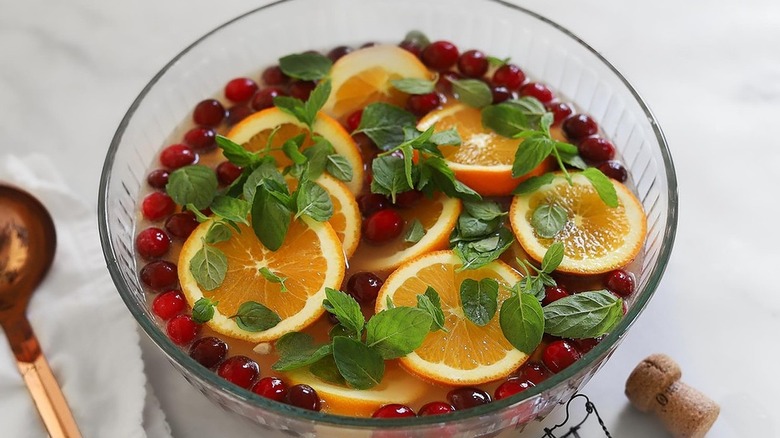 Kit Hondrum/Mashed
One of the greatest things about the holiday season — and there are many great things, indeed — is that nearly every day offers an excuse to celebrate something. And, what better way to celebrate than with a fizzy, fruity, party-perfect punch, made with three different spirits and three different fruit juices, and garnished with fresh cranberries, orange slices, and mint? We are aware that we're being really specific here, but conveniently, these ingredients are describing what goes into "jingle juice," courtesy of recipe developer Kit Hondrum of Kit's Kitchen.
"Jingle Juice is a fun holiday punch that's perfect for any holiday party," Hondrum tells Mashed. "It's full of flavor, easy to throw together, and perfect for a crowd." What could be better? When it comes to holiday cocktail recipes, it's always great to hit that sweet spot between delicious and easy to make. If you're hosting a holiday party (or are in charge of bringing the cocktail to one), then you'll want to take careful note of this delicious jingle juice recipe!
Gather your ingredients for jingle juice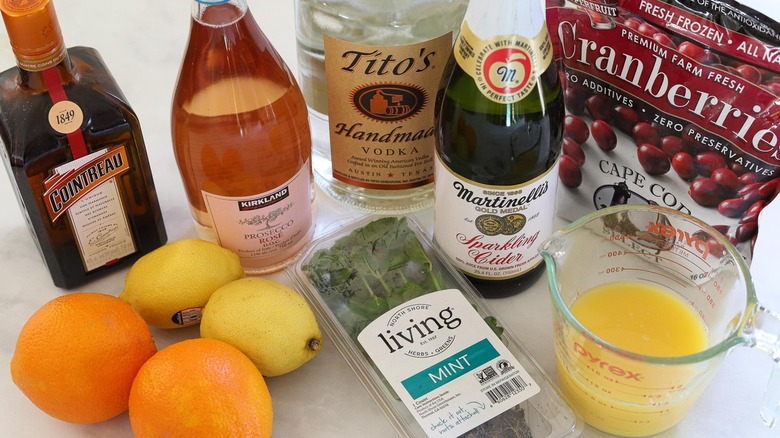 Kit Hondrum/Mashed
Gathering the ingredients for Hondrum's jingle juice recipe might involve a trip to your local purveyor of wines and spirits. You're going to need a bottle of sparkling rosé, a bottle of sparkling cider or sparkling cranberry juice, a cup of fresh orange juice, a cup of vodka, and ½ cup of Cointreau. Keep in mind that you'll want all of these liquids to be chilled before you start making the juice. Additionally, you'll need ¼ cup of fresh lemon juice, some frozen cranberries, oranges, and ½ cup of loosely packed fresh mint leaves. And, as a purely optional addition that Hondrum describes as "an extra comforting/cozy version" of the juice, you can add ⅛ teaspoon of almond extract.
Start by pouring in the liquids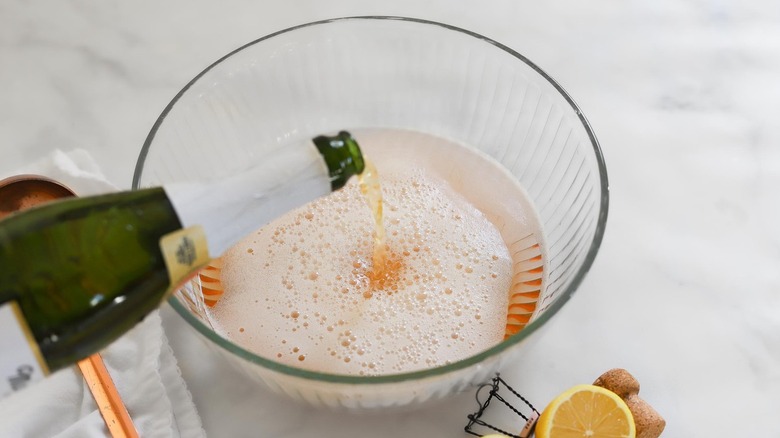 Kit Hondrum/Mashed
One thing that we should point out about this jingle juice recipe is that it's one of those recipes that you really can't make in advance. Since it's carbonated, and carbonation will only last so long, Hondrum suggests not even opening the bottles (at least not the sparkling rosé or the sparkling cider or cranberry juice) until within an hour (two at most) of when you're planning on serving your jingle juice. 
So, assuming your beverages are chilled and that you're less than two hours away from serving, it's time to open up your bottles of rosé, sparkling cider or cranberry juice, vodka, and Cointreau, and — with a dramatic flourish — pour them into your punch bowl. Follow immediately with the orange and lemon juices. 
Add the cranberries to your jingle juice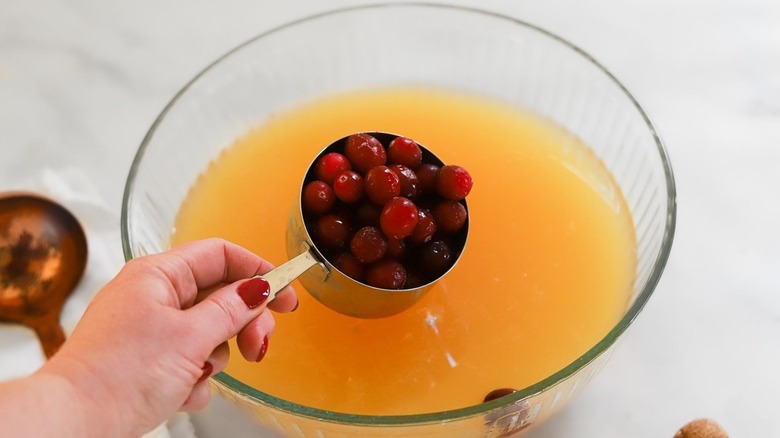 Kit Hondrum/Mashed
As we mentioned above, with one tiny tweak, you can take Hondrum's jingle juice into previous uncharted "extra comforting/cozy" territory. And that tweak is the addition of ⅛ of a teaspoon of almond extract. If you're so inclined, then this is the right time to stir it in. As soon as you do, you'll be glad that you did because of that aroma! It's almost intoxicating, right? 
Whether or not you're going with the almond extract, this will also be the time when you'll want to add the cranberries, and Hondrum suggests pouring them right out of the bag, frozen, because they will help keep your jingle juice cold.
Put the finishing touches on your jingle juice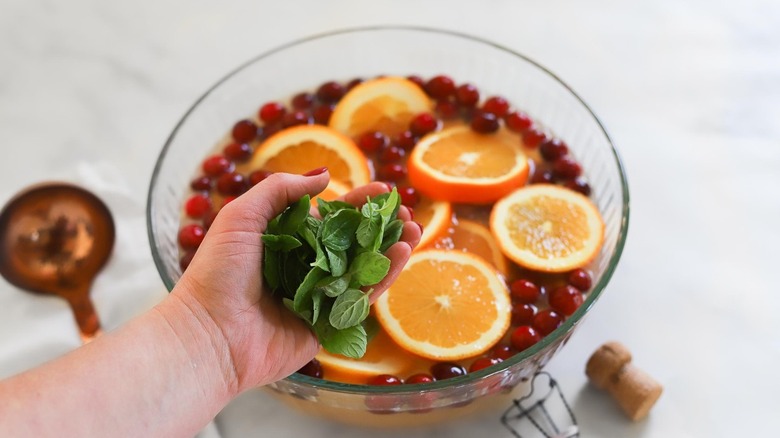 Kit Hondrum/Mashed
After tossing in your cranberries, rinse and pat dry your oranges and your mint leaves. For the oranges, slice them into discs as shown above. For the mint, pick the leaves you like off the stems, and leave them whole, as shown. Stir gently, and serve straight up in decorative glasses (the frozen cranberries should help keep your jingle juice cold for some time). "This is great for a holiday party," Hondrum reiterates. "I love this festive punch with a charcuterie board, some bacon-wrapped shrimp, and/or some Christmas cookies, of course!" Just like that, you have a fizzy, boozy, delicious punch that looks just as festive as it tastes. Cheers!
Jingle Juice Recipe
There's nothing better than a festive and boozy beverage to get you into the holiday spirit — and this jingle juice recipe is guaranteed to do just that.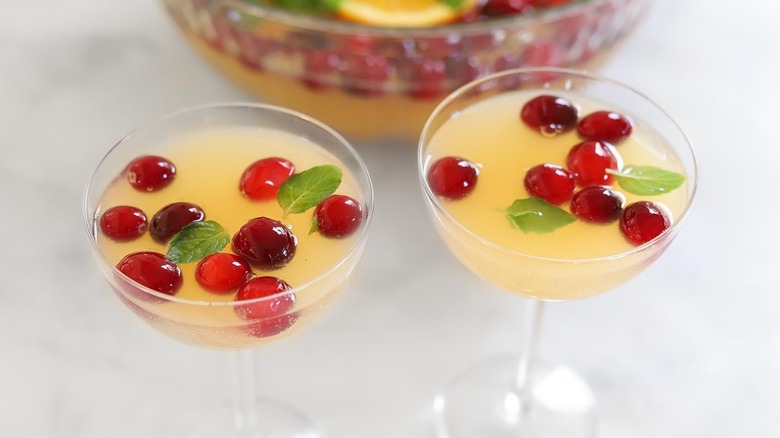 Ingredients
1 bottle sparkling rosé, chilled
1 bottle sparkling cider or sparkling cranberry juice, chilled
1 cup vodka, chilled
½ cup Cointreau, chilled
1 cup fresh orange juice, chilled
¼ cup fresh lemon juice, chilled
2 cups frozen cranberries
2 oranges, sliced
½ cup fresh mint leaves, loosely packed
Directions
Pour the rosé, sparkling cider or cranberry juice, vodka, Cointreau, orange juice, and lemon juice into a large bowl just before serving.
Add in the whole, frozen cranberries.
Slice the oranges into discs, and add them to the punch bowl.
Add the whole mint leaves into the punch.
Stir, and serve the jingle juice in decorative glasses.
Nutrition
| | |
| --- | --- |
| Calories per Serving | 182 |
| Total Fat | 0.2 g |
| Saturated Fat | 0.0 g |
| Trans Fat | 0.0 g |
| Cholesterol | 0.0 mg |
| | |
| --- | --- |
| Total Carbohydrates | 18.3 g |
| Dietary Fiber | 1.7 g |
| Total Sugars | 13.2 g |
| Sodium | 6.5 mg |
| Protein | 0.6 g |