This TikTok Hack Could Help You Save Money On Olive Garden Takeout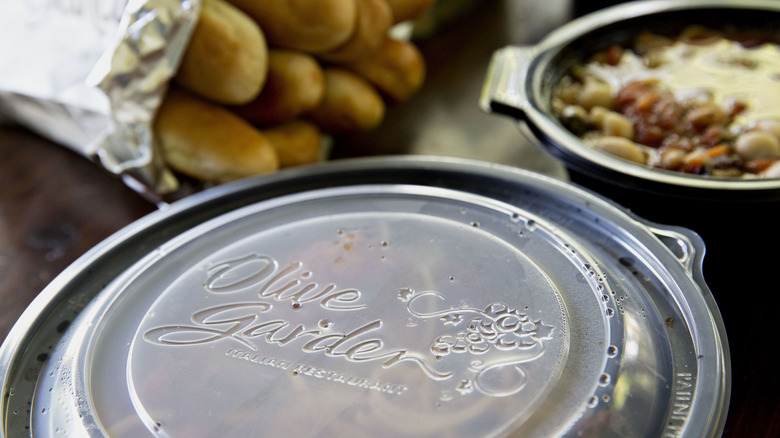 Bloomberg/Getty Images
Takeout has become increasingly popular (via Restaurant Business Online). Whether you're using a food delivery app or just picking up from your local sushi or pizza place, there's something special about eating your favorite meal in the comfort of your own home. If you're an Olive Garden fanatic, the idea of chomping down on those buttery, oven-fresh breadsticks, and a hot serving of Chicken Alfredo in front of the TV sounds almost too good to be true. Unfortunately, you would be right, there is a catch. 
If you're paying for delivery you're paying a pretty good chunk of change. All of that is on top of your already impressive bill. Even if you don't order delivery, you still may not feel like putting out $20 or more just for one entrée at the restaurant. You could find yourself stuck between paying a good chunk of change for more or paying less but still feeling hungry later.
Fortunately, Olive Garden fans don't have to settle on pizza when they want something Italian at home. There's a way you can get the same amount of food you would normally get for a far lower price — and it doesn't involve hassling the server for a so-called secret menu. According to one innovative mother and TikTok user, Natasha K, you can get a delicious three-course Olive Garden dinner for half the price by simply ordering from the kids menu (via In the Know Parenting).
Olive Garden's kids menu offers more for less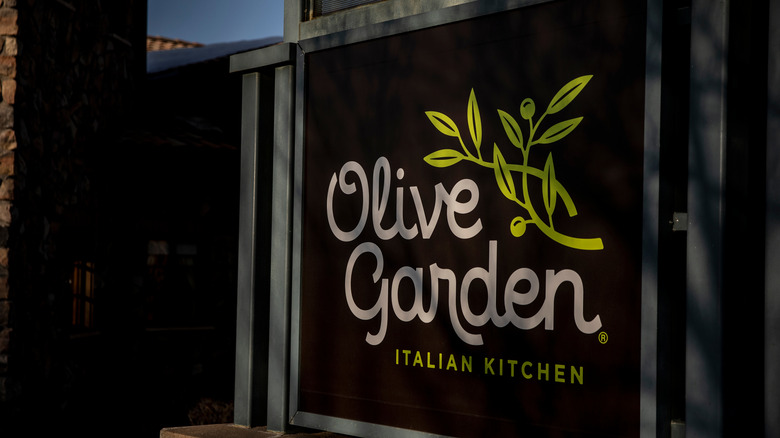 Bloomberg/Getty Images
You may think that ordering from a kids menu is a little childish. While it's forgivable to not want to look awkward ordering from this menu, according to Natasha21K's TikTok video, it may give you far more bang for your buck. "If you are ordering to-go, get the kids meal. Look at these portion sizes, they are enormous!" Natasha states in the video while showing off an impressive full-course meal from the Italian restaurant. For only $5.99, Natasha was able to order pasta, broccoli, and breadsticks all from the kids menu. The video claims that the portions are not only more than enough for a child, but can easily satisfy two hungry adults. 
There were, however, some mixed responses to this "hack." One commenter claimed that they had worked at an Olive Garden before and that Natasha had simply "gotten lucky" when it came to the amount of food she was served. Another user claimed that they couldn't even finish their meal because of how large the serving was. Keep in mind, it may vary by location, with different serving sizes at each Olive Garden. 
It would appear that this "hack" isn't exclusive to Olive Garden. Another TikTok user, @llamassc, noted that you could get a burrito at Chipotle for only $3.95 using the kids meal hack (via Delish). Thrillist also offers a list of different items to snag on kids meals from places like the Cheesecake Factory, Panera Bread, IHOP, and Chik-Fil-A.