Olive Garden May Have Sad News For Fans Of Its Never Ending Pasta Bowl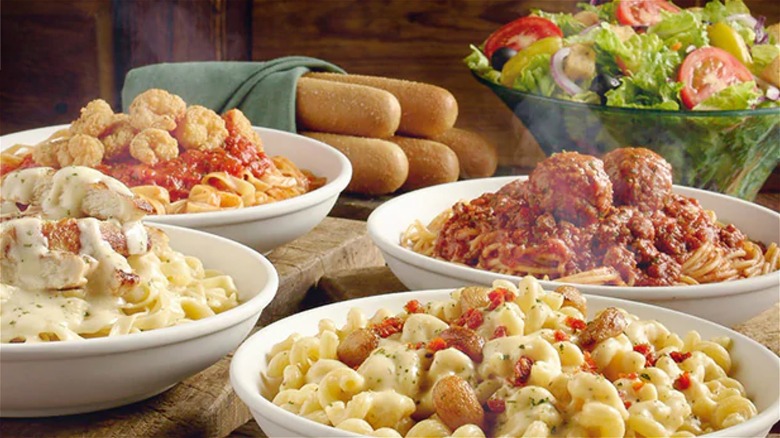 Olive Garden
If you're looking for a night out that includes heaping portions of pasta and all-you-can-eat soup, salad, and breadsticks that will most certainly leave your tummy feeling full, there's one eatery calling your name: Olive Garden. The Italian restaurant chain has been catering to hungry diners since 1982, offering menu favorites like lasagna, chicken parmigiana, and the cult-classic chicken alfredo (via Delish). Over the years, those in the know about Olive Garden promotions have no doubt flocked to locations for deals, including Buy One Take One, Lasagna Mia (via Food & Wine), and, perhaps the eatery's most famous sliver of marketing genius: the Never Ending Pasta Bowl, which offers unlimited portions and combinations of pasta and sauce – and unlimited soup or salad and breadsticks. Customers could have all that for a mere $10.99 as of the last promotional period in 2019 (per Business Insider)
If the potential of basking in all that pasta glory wasn't satisfying enough, during the promotions you could also buy and use a Never Ending Pasta Pass, which allowed you as many visits during the promotional period for $100 (via the Olive Garden website). And, if you were super lucky, you could be one of the select 50 people chosen for a Lifetime Pasta Pass, allowing you unlimited pasta for life for just $500. What a steal! However, all good things must come to an end, and it seems like Olive Garden's Never Ending Pasta Bowl might be slated to become a thing of the past.
Olive Garden might not bring back Never Ending Pasta Bowl promos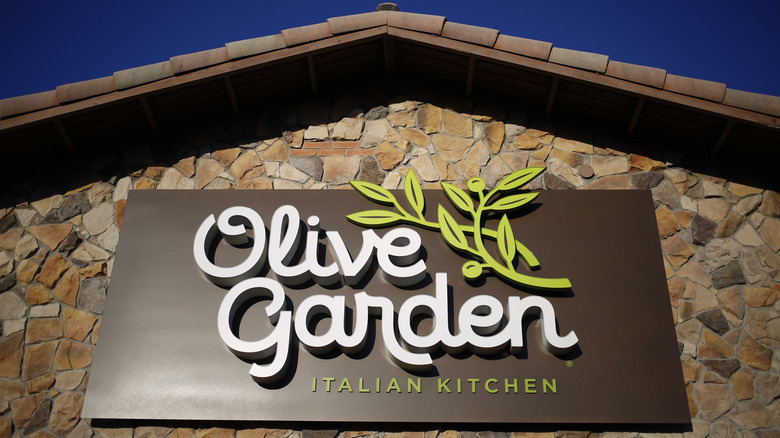 Bloomberg/Getty Images
As with most things in business, it all has to do with the bottom line. Olive Garden hasn't run the Never Ending Pasta Bowl promotion since before the start of the COVID-19 pandemic, and, in terms of revenue, it turns out it hasn't needed to. According to Business Insider, earnings are up since 2019, and "current sales are beating the last time Olive Garden had its never-ending pasta bowl promotion." And when business is good, there's no need for a promotion that, despite bringing diners into the restaurants, ultimately costs Olive Garden money.
The news was announced by Rick Cardenas, who will take over as CEO of Darden Restaurants Inc., the company that owns Olive Garden. "We're really proud of the fact that we comped over two years ago without Never-Ending Pasta Bowl running," Cardenas stated during an earnings call (via Restaurant Business), adding the promo had a "negative impact over the years." Leave it to a CEO, however, to put a positive spin on the perhaps devastating news. "As we look forward, we don't know if we'll bring and when we'll bring Never-Ending Pasta Bowl back because we have a never-ending abundance every day with our never-ending first course," Cardenas said. Of course, customers can still have unlimited soup, salad, and breadsticks. And, if more pasta is off the table, we'll have another round, please.