This Taco Bell Throwback Is A Roadside Relic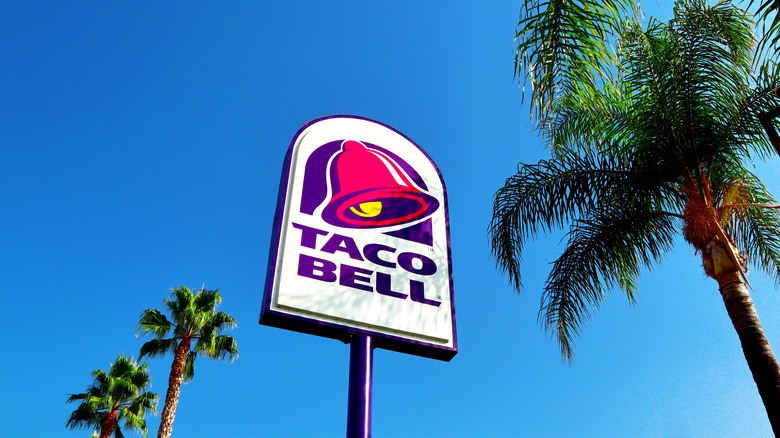 Walter Cicchetti/Shutterstock
We may not ponder history while chowing down on Taco Bell mainstays, like the Crunchwrap Supreme and seasoned beef chalupas, but the chain dates back to 1962. Back then, the menu featured only five items, rather than today's multitude of options, per the website. These included tacos, burritos, tostados (similar to the tostada on the current menu), frijoles, and something tantalizingly called the "chili burger," all available for just 19 cents each. Amazingly, Taco Bell still sells almost all of these items today, according to the menu on its website, with the chili burger being the only one yet to make a permanent comeback.
Much has changed about Taco Bell in the last six decades, including not only its food, but also its branding. Just like the chain's sorely missed discontinued items, from the Enchirito to the caramel apple empanada, this Taco Bell sign outside of one particular Savannah, Georgia, location is a total throwback.
This original Taco Bell sign still stands in Georgia
The sign right outside (well, technically one lot over from, according to Atlas Obscura) this particular Taco Bell outlet in the Victory Heights neighborhood of Savannah might be almost unrecognizable to modern fans of the popular fast-food chain. Taco Bell's current logo, with its purple background and white bell, was unveiled in 2016 (via Gray Flannel Suit) and is no-doubt iconic. However, the symbol has gone through many changes over the years.
While almost all iterations of the Taco Bell logo have always included a bell in some form, the original logo used from 1962 to 1972 featured a whimsical, lopsided design of a yellow sombrero reading "taco" atop a red serape, stacked on a yellow bell aptly reading "bell," based on pictures from Atlas Obscura. It's incredible that this sign has lasted the test of time and is still standing after more than 50 years — just as Taco Bell's crunchy taco has survived from the original menu (although it will set you back a little more than 19 cents these days).