The Real Reason You Always See Bags Of Potatoes Inside Five Guys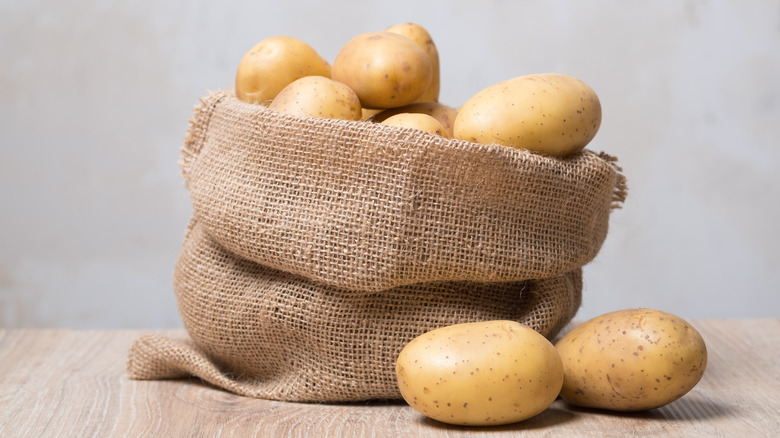 Yevgen Kravchenko/Shutterstock
With made-fresh-to-order burgers, Cajun-seasoned fries, and plenty of milkshakes on the menu, Five Guys is one of the most popular American fast food chains (via QSR Magazine). The first shop was opened in 1986 in Arlington, Virginia by the Murrell family, offering up juicy patties and an abundance of toppings. The original location drew sizable crowds such that the family decided to expand, opening locations in Washington, D.C., and in 2003, they set their sights even bigger, offering franchise possibilities. The move was well-received, leading to impressive growth, per the company's official website.
Now you can find Five Guys in many countries, including Canada, the United Kingdom, and many cities throughout Europe, Asia, and even the Middle East, totaling around 1,700 locations. So with few exceptions, wherever you find yourself craving an old-fashioned Americana burger experience, you won't have to look too far (provided you're in a big city) to get your hands on a Five Guys burger. Aside from the big block capital letters that command attention, when you walk in, you'll find an open, sleek design that tips its retro hat to vintage diners. Through the years, one odd design fixture has remained the same: the company's signature potato sacks. So what's the deal there?
The shockingly simple reason for those potato piles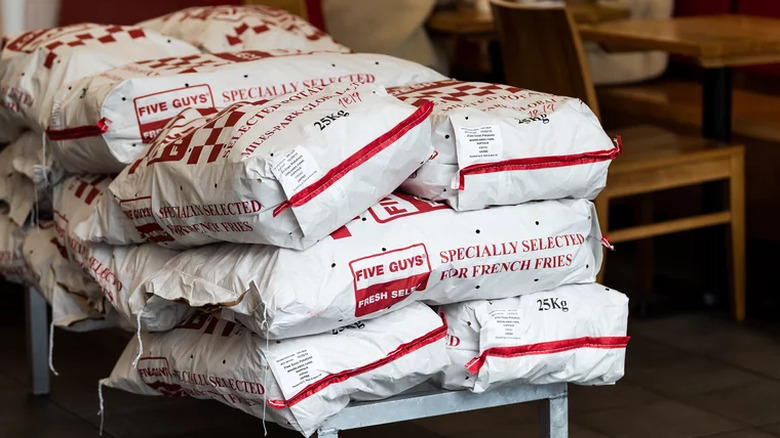 Kristi Blokhin/Shutterstock
It all comes down to practicality rather than solely being a function of aesthetic. Sure, the interior of this fast food joint has a chic diner's style decoration with red and white tiles and minimal furniture, but the stacks of bagged spuds aren't just a visual prop meant to connect the farm with those sitting at tables.
Most of the chain's locations have limited storage available, which is the reason for the bulky sacks of potatoes being scattered throughout the restaurant instead of hidden away out of sight from customers, according to The Daily Meal. The thing is, not only does this quirk add a certain charm, it's a reminder that the food you're about to eat is fresh. So in case you were worried whether those french fries you ordered were frozen, the answer is all around you. That's the power of spud-ggestion.