In Wolfgang Puck's Career, One Recipe Stands Above The Rest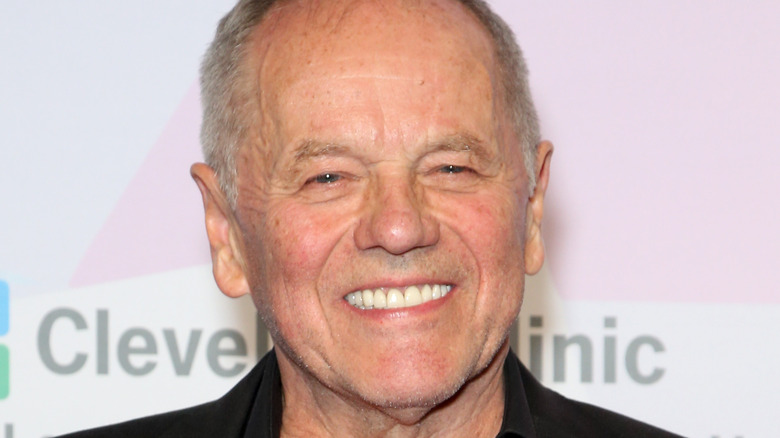 Gabe Ginsburg/Shutterstock
Becoming successful chef and restauranteur involves taking a huge leap of faith against unappealing odds. Not only has Wolfgang Puck achieved this challenging feat, but he's also considered one of the best chefs in the world, establishing a culinary brand that incorporates a whopping three companies and over 20 fine dining restaurants (via Wolfgang Puck). At age 14, the Austrian chef began his culinary training, eventually working in Monaco under the head chef at L'Oustau de Baumaniere, Raymond Thuillier, according to Food for Thought. Puck credits Thuiller as inspiring him to become a chef. "He brought into the kitchen Picasso, Elizabeth Taylor, and famous French singer Jonny Hallday," Puck shared. "I wanted to be like this guy."
When he was 24, Puck moved to the United States, and at 33 he launched his "first flagship restaurant," Spago, in Los Angeles, CA. The now-award winning restaurant was an instant success and quickly became a celebrity hotspot. Spago is known for A-list clientele, shares Qantas, including Sharon Stone, Gwen Stefani, and Tom Hanks. Spago's it-factor was, and still is, its pioneering California-style dishes, from the tuna sashimi with ponzu sauce to the angel-hair pasta with goat cheese and thyme (via First We Feast). While Puck has dozens of dishes that have helped define his career, there is one particular recipe that he is best known for — and it all began one fateful night at Spago.
Wolfgang Puck's most famous dish was created on a whim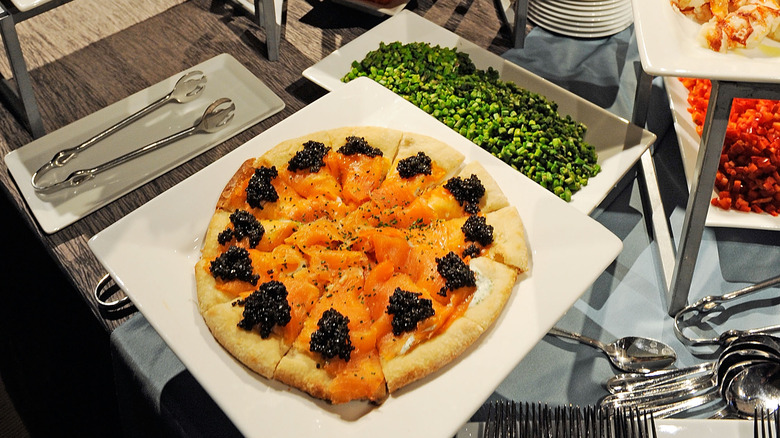 Kevork Djansezian/Getty Images
Known for his innovative recipes, there is one dish that perfectly encapsulates Puck's culinary genius: his smoked salmon pizza. Michelin Guide names this masterpiece as the epitome of Puck's groundbreaking cooking style, as do many food critics, according to Taste Atlas. Funnily enough, while this dish may be Puck's most famous, it started as a "happy accident" one night when Joan Collins walked into Spago and ordered the smoked salmon with brioche, as Puck shared with the Chicago Tribune. Catastrophically, the restaurant was out of bread, forcing Puck to improvise and whip up this now-famous creation.
Served every year at the Oscars Governors Ball, this signature dish features smoked salmon, red onion, dill crème fraîche, chives, and salmon roe (via Spago). While it may sound like a glorified bagel with cream cheese, the key to the success of this dish is the high quality ingredients. Michelin Guide shares that after being "seasoned with cloves, bay leaves, parsley, thyme, and brown sugar," the salmon is then smoked for up to four days. The pizza dough is drizzled with olive oil and dried onion before baking, while the crème fraîche is studded with dill and shallots. Topped with roe, the recipe creates the perfect combination of textures, flavors, and tempatures.
While it's of course not exactly the same experience as a trip to Spago, it is possible to recreate the dish at home using our Wolfgang Puck's Smoked Salmon with a twist recipe, which calls for more easily sourced ingredients.