Jet's Pizza Owes Its Success In Part To This Recipe
Jet's Pizza just might be synonymous with Michigan pizza. The chain, which originated in the Great Lakes state, was founded in 1978 by Eugene Jetts and his brother John. The way the pizza chain came about is quite surprising. According to the Jet's Pizza website, Eugene Jetts was actually on his way to purchase a home. He'd saved up enough money for a down payment, and he was planning to invest it in real estate. However, the plan changed when Jetts saw a building for lease and he realized he could take on a new project instead — a pizza shop.
He signed the lease on the building, and Jet's Pizza was born. The brothers worked hard to make the business a success, and its customers enjoy their Detroit-style pizza and other offerings to this day. However, the Jet's Pizza brand might not have succeeded had it not been for one important recipe.
Jet's Pizza success is in the sauce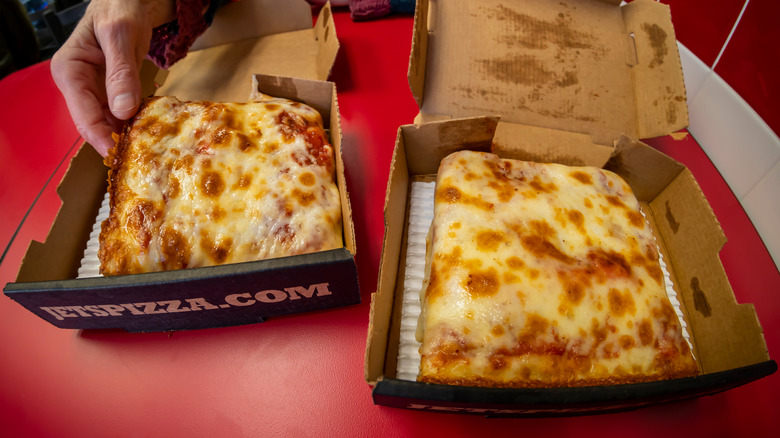 rblfmr/Shutterstock
It looks like Eugene and John Jetts might have had a good reason for getting into the pizza business — their mother's sauce. Jet's Pizza posted a Facebook video of a pot being stirred, and they noted in the caption that they have been using "Mama Jetts' secret sauce recipe since 1978," which is the year Jet's Pizza first opened its doors.
Though we don't have Mama Jetts' official recipe, Eugene Jetts did tell a local Michigan news station back in 2010 that it combines the company's own high-quality tomato sauce with some water (via YouTube). The sauce is mixed with a blend of spices that were not disclosed. Jetts also revealed that most of the recipes at Jet's Pizza actually came from his mother.
Sauce isn't the only important aspect of the pizza-making process, though. Jetts told the news station that all of the Jet's Pizza locations go through a combined 8.5 million pounds of cheese each year, which is sourced from cows who listen to opera to help them relax.