Bosket Bread Just Recalled 15 Products — Here's What To Know
They say that bread is the staff of life, but over the past several days, two bread companies have found themselves in the position of having to recall products that might actually cause harm if consumed by people with certain food allergies or sensitivities. On December 17, Flower Products — the makers of Wonder Bread and other nationally known brands — voluntarily recalled 3,000 loaves of its Nature's Own Honey Wheat Bread due to the undisclosed presence of milk (via a company release).
Then, just one day after the Flower Products recall was announced, the Leavenworth, Washington-based Bosket Bread Company issued its own recall with regards to 15 of its bread products, per an official announcement by the FDA — out of concern that the goods may contain undeclared milk, eggs, wheat, soy, and sesame. All of those ingredients, with the exception of sesame, have been identified by the FDA as among the foods that most commonly cause allergic reactions that may range from skin irritation all the way to anaphylaxis. 
As Food Poisoning Bulletin points out, "Anyone who is allergic to those ingredients, or who has celiac disease or lactose intolerance, could have a serious reaction if they eat these products." That being said, there have been no incidents reported in connection with the recalled products just yet. There were 54 units that Bosket Bread distributed in total among all 15 of their recalled products. All of them were distributed within the state of Washington through the end date of December 15, 2021. Here is why that matters, along with everything else you need to know about the Bosket Bread recall. 
These are the Bosket Bread products that may be affected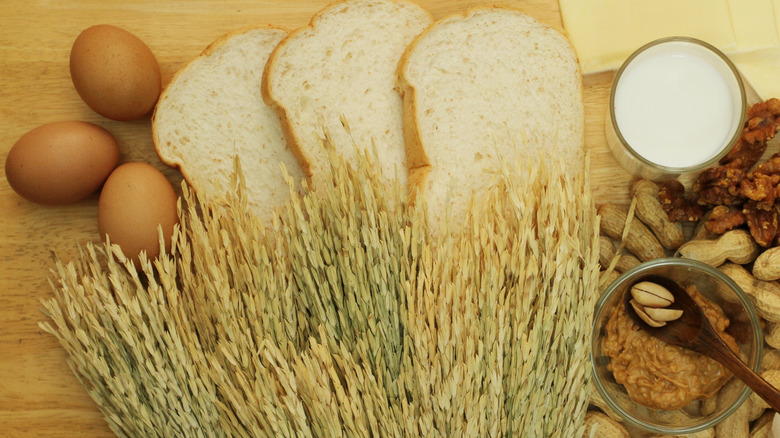 TassaneeT/Shutterstock
On December 18, 2021, Bosket Bread recalled 15 of its products due to concerns they may inadvertently contain egg, milk, sesame, soy, and/or wheat, none of which is declared as such on the labels for the applicable products (via an announcement by the FDA). All such products were sold at the Dan's Food Market, Sage Mt. Foods, and Rhubarb Market locations in Leavenworth and Wenatchee, Washington. 
All 15 of the recalled products had been distributed to these retail stores on or before December 15, 2021. All have a six-day shelf life at room temperature, and presumably last somewhat longer when stored in the refrigerator or freezer (in case you bought and stored them that way). If you have an allergy or severe sensitivity to any of the allergens named above, it's important to check for these products. All of the recalled items were packed in plastic bags bearing a black Bosket Bread logo sticker — but with no codes or dates visible on the bags. Affected items include 8-grain bread, baguettes, sourdough dinner rolls, rosemary bread, ciabatta loaves, cinnamon bread, cinnamon rolls, country loaf, brioche dinner rolls, English muffin bread, hotdog buns, jalapeno cheese bread, olive bread, sesame buns, and sourdough bread.
If you have any of these products, do not consume them. Rather, dispose of them or return to the place of purchase for a full refund.