This Jamba Secret Menu Item Tastes Just Like A Butterfinger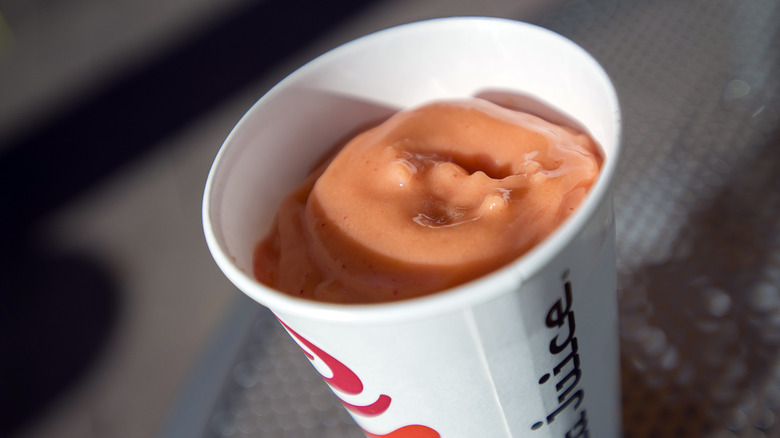 Bloomberg/Getty Images
Some of us may have experimented with homemade smoothies during quarantine health kicks, but if you have a blender that sits new and unused in your kitchen, Jamba might be your go-to for fresh, frozen drinks. The company, which specializes in fruit and vegetable smoothies, juices, bowls, and cafe eats, has been serving customers since 1990 (via the official website). Well-known for offerings that are as diverse as they are delicious, the chain has some iconic popular menu items – Mango-A-Go-Go, Strawberries Wild, and Watermelon Breeze, to name a few. But you can go beyond the beverages that are officially listed.
If you're a fan of Starbucks secret menu for customizable drinks, you'll be delighted to learn that you can also request unlisted items the next time you visit Jamba. This "secret menu" isn't actually endorsed by the company, but is a compilation of made-to-order recipes circulated around the internet by loyal fans. On the list shared by Spoon University, you'll find flavors and combinations you didn't know were possible. Think Blue-Topia, a combination of blueberry juice, ice, soy milk, frozen yogurt, and blueberries, or Orchard Oasis, which blends up a scoop of pineapple sherbert with ice, peach juice, blueberries, and strawberries. If you're in the mood for something that tastes more like a shake than a fruit smoothie, give the Butterfinger recipe a try; there's an ingredient in there that might surprise you.
What's in the Butterfinger smoothie on Jamba's secret menu?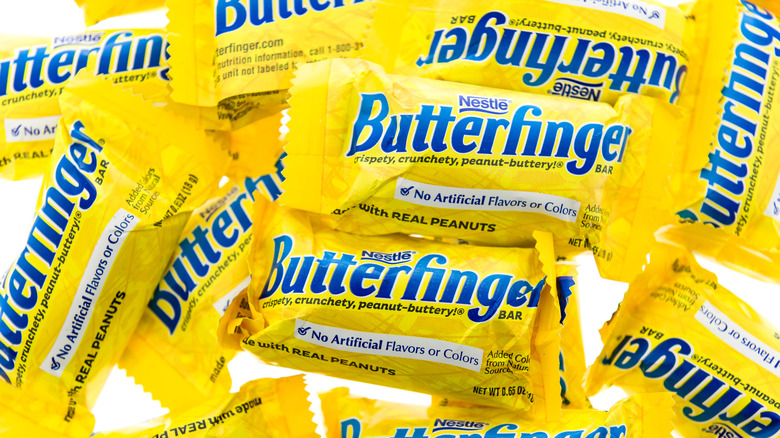 Keith Homan/Shutterstock
The classic Butterfinger candy bar is crispy and crunchy with smooth chocolate and full peanut butter flavor (via Food and Wine). To the Butterfinger enthusiast's delight, this secret drink from Jamba is equally as sweet. The smoothie might taste like dessert, but we promise that there's actually a hint of a healthier ingredient blended in there, too. According to Jamba Underground, the ingredients for a Butterfinger smoothie include frozen yogurt, peanut butter, chocolate, ice, and carrot juice. That's right, juice from an actual vegetable.
This isn't the only chocolate drink you'll find at Jamba. On the traditional menu, you can order the PB Chocolate Love smoothie, a similar contender that includes bananas, milk, chocolate, and peanut butter. Or, customers can opt for the Peanut Butter Moo'd, which is made with chocolate, peanut butter, fat-free vanilla frozen yogurt, soymilk, and bananas. Not the healthiest drinks on the menu, but definitely perfect options for the chocolate lovers out there.